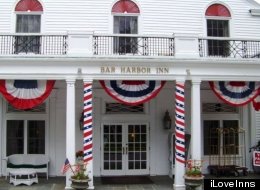 In the United States, Independence Day is commonly known as the Fourth of July. No matter what you call it, the national holiday honors America's birthday and commemorates the adoption of the Declaration of Independence in 1776.
The strong sentiments John Adams wrote in a letter to his wife Abigail, have become a very accurate prediction of the observance. The July 2, 1776 date reflects when he signed the historic document. It was approved by Congress two days later, the Fourth of July.
The second day of July, 1776, will be the most memorable epoch in the history of America. I am apt to believe that it will be celebrated by succeeding generations as the great anniversary festival. It ought to be commemorated as the day of deliverance, by solemn acts of devotion to God Almighty. It ought to be solemnized with pomp and parade, with shows, games, sports, guns, bells, bonfires and illuminations, from one end of this continent to the other, from this time forward forever more.
Regardless of what day the Fourth of July falls on each year, public and private events are plentiful. This year it is a Wednesday, so some patriotic festivities extend from weekend to weekend. People all across the country will celebrate the red, white and blue with pancake breakfasts, parades, picnics, potlucks and pool parties. Outdoor gatherings often include baseball games, badminton, lawn bowling and croquet.
Typically the week of Independence Day is a busy travel time as long weekends or vacations are maximized with a paid holiday. Though millions of dollars are forked out each year for flags and fireworks, you don't have to break your budget on an expensive getaway. Stay at an inviting bed and breakfast inn offering affordable multi-night specials amid colorful patriotic displays and related fun events.
Rain or shine, the Fourth of July brings backyard barbecues and beach bonfires with classic foods in abundance. Hot dogs, burgers, ribs, chicken and steak have become the foundation of many a menu on this summer holiday. Side dishes of all kinds are popular with some variation of potato, pasta, and jello salads sure to show up. Even kids who won't touch a veggie, will gobble up corn on the cob. Are you hungry yet? Makes my mouth water just thinking about it!
America is a melting pot of cultures and so is our food. Traditional family recipes are often prepared from memory or from folded and splattered scraps of paper. My mother-in-law's famous potato salad and my deviled eggs are absolutes at our annual gathering. Tacos and burritos are the standard fare at a neighbor's Fourth of July block party; while Hawaiian friends, nearby, feast on Kalua pork and poi at their Independence Day luau.
And dessert! What screams Americana louder than apple pie? Oh yeah, cherry pie, peach cobbler, strawberry shortcake and ice cream, lots of ice cream! Holiday calories don't count, right? Seconds anyone?
Evening activities feature a crescendo of concerts from coast to coast as bursts of colorful fireworks light up the sky. The Fourth of July is Independence Day and in the United States we put aside our political preferences to celebrate the freedom of America the beautiful, from sea to shining sea.
-- Shirley Anitra Swagerty
24 Top Bed and Breakfasts To Visit This Fourth Of July
Providence, Rhode Island is an elegantly comfortable inn only a 15-minute walk or a five-minute drive to India Point Park where you can watch the fireworks overlooking the water.

Jackson, New Hampshire is perfectly located to watch the fireworks from the front lawn amid the Victorian design by New England architect Stanford White.

Bar Harbor, Maine boasts numerous local events. Start with the Blueberry Pancake Breakfast, watch the parade, explore the Seafood Festival, experience fireworks and more!

Old Orchard Beach, Maine is the area's premier family beach resort. Gather for professional fireworks in the square next to the pier for an extensive fourth of July show and fireworks displays every Thursday night through late August.

Reading, Pennsylvania offers a double play at First Energy Stadium with a game played by the Reading Phillies followed by fireworks.

Pittsburgh, Pennsylvania features total relaxation with porches, a tropical courtyard, water fountain, gecko swing and a beach. The location is conveniently near the convention center, sporting events at Heinz Field and PNC Park for Fourth of July fun.

Gettysburg, Pennsylvania is the ideal choice for an Independence Day getaway in a country setting at the edge of the battlefield in historic Gettysburg.

Asbury Park, New Jersey provides an authentic historic ambiance near Asbury Park Boardwalk and the Shopping District. The Fourth of July Fireworks begin at 9 p.m. on 3rd Avenue Beach.

Tuckerton, New Jersey makes getting away more affordable with a multiple night discount. Fireworks are set off over Pohatcong Lake with festivities held in the center of town.

Avon By The Sea, New Jersey is located a couple of blocks from where the local fireworks burst over the ocean beginning at dusk on the beach. Colorful displays from three neighboring towns can also be seen from this seaside location.

Saratoga Springs, New York graces the heart of downtown at Historic Congress Park where you can comfortably sit outside the High Victorian Gothic mansion and watch the fireworks display.

West Dover, Vermont sits amid resort towns in the gateway to the Green Mountains. Annual Independence Day celebrations include the Wardsboro Parade, a fair at Baker's Field with a BBQ, live entertainment, games, vendors and fireworks in the evening.

San Diego, California is four blocks from the fireworks display in Balboa Park. The inn is also within walking distance to many popular attractions.

Shaver Lake, California boasts an offshore fireworks display on Saturday, July 7 to avoid crowds. The 20-minute show begins at sunset from Honeymoon Island. Long lines of boats line up to travel the lake area and take position.

Portland, Oregon is a little more than four miles from the Safeway Waterfront Blues Festival held over the Fourth of July weekend. The large fireworks display is choreographed to a music soundtrack.

Aspen, Colorado offers a summer special and guests can watch the fireworks over the Aspen Mountains.

Ouray, Colorado boasts a direct view of Mt. Abrams. The fireworks are set off over the Million Dollar Highway and resound down the cliff walls.

Huntley, Montana is a Victorian-style house in a quiet country setting. It will put on a fireworks display for guests, friends and family at dusk.

Gooding, Idaho offers opportunities to explore caves, fossil beds, springs and the Malad Gorge before settling in to enjoy the fireworks in town.

Lincoln, Nebraska is a gorgeous neoclassical Georgian Revival mansion situated two blocks from the capitol. Numerous fireworks displays will be held in the area.

Pierre, South Dakota celebrates Independence Day western style by attending a parade, rodeo and fireworks.

Branson, Missouri is perfect for patriotic summer fun for everyone with many fireworks displays that are free to the public.

Saluda, North Carolina provides transportation to and from the Fourth of July and Coon Dog Day Festival. This homecoming event features a parade, live music, dog shows, rides, food, crafts and even a square dance.

Key West, Florida offers a special multi-night promotion. Dazzling fireworks are launched from the White Street Pier shortly after sunset on the south side of the island.