5 Gin Cocktails For Summer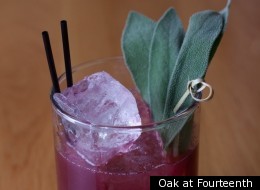 Warm weather is creeping in and summer is around the corner, so we think it's time to go ahead and declare the next few months the summer of gin. These days, there's a gin out there for everyone, and the options are better than ever. And while we'll forever be fans of a classic Martini or a fizzy G&T, this season we're planning to kick back with some more varied gin cocktails, including these five refreshers. And for more on the history of gin and its modern makeover, click here.
And for more of the best liquid culture, click here.
5 Gin Cocktails for Summer
Cucumber Cooler A contemporary take on the classic G&T, this cocktail refreshes with fresh cucumber and a splash of Aperol. Click here for the recipe. Photo: Courtesy The Bedford

The Tom Nichol Four different citrus fruits mingle with a classic juniper-forward gin and a hint of chamomile in this bright and zippy sipper. Click here for the recipe.

East Aspen Heights Like summer in a glass, this cocktail combines gin and yellow Chartreuse with fresh berries, herbs and citrus. Click here for the recipe. Photo: Courtesy Oak at Fourteenth

The Honey Beer Beer cocktails are arguably the ultimate summer refresher, and this version adds in gin, lemon juice and a sweet honey rim. Click here for the recipe. Photo: Courtesy JoeDoe

Southside Fizz First mixed in the 1950s, this quenching classic cools with dry gin, fresh mint and a splash of bubbles. Click here for the recipe. Photo: Stuart Mullenberg
Follow Imbibe on Twitter: www.twitter.com/imbibe