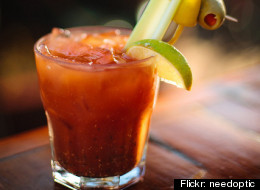 A Bloody Mary made from scratch with fresh ingredients can be one of late summer's best treats, but while we all wait for tomato season to arrive, there are plenty of bottled Bloody Mary mixes on the market, and there's a version out there for everyone. Featuring a diverse crop of ingredients ranging from cucumbers to pickle juice to fresh dill, here are seven Mary mixes we love.
And for more of the best liquid culture, click here.
Imbibe Picks: Best Bloody Mary Mixes
McClure's Spicy Bloody Mary Mix If you like dill pickles, you'll love this dynamic Mary mix from Detroit pickle darling McClure's. Chock-full of spicy, tangy goodness, this mix will leave your mouth watering for another sip. Garden-fresh flavors of ripe tomato, dill and garlic meet a bright, pickle tang, crunchy bits of cucumber and loads of black and chile pepper heat on the finish. It mixes well with vodka and gin, but we especially love it with beer.

Stu's This is Bloody Mary It was the brown stubby bottle that first caught our eye, but the contents inside keep us coming back for more. A liquid concentrate of flavors like garlic, black pepper and pickle juice, simply splash in some booze (it mixes equally well with vodka and gin) and tomato juice for one of the freshest tasting Marys you'll find.

Fat & Juicy Roasted veggies, fresh horseradish, tomatoes, a splash of Frank's RedHot -- all these ingredients and more combine for one tasty pre-made Mary that mixes equally well with vodka and tequila -- the former amps up the spice factor and the latter the smoke.

Ripe San Marzano Bloody Mary Mix This refrigerated Mary mix from two Connecticut-based business partners is as fresh as you can get short of plucking the tomatoes from the vine and squeezing the citrus yourself. Made with fresh produce (including fresh-pressed celery juice, fresh-ground horseradish and California lemons), milled San Marzano tomatoes and a splash of Balsamic vinegar, this Bloody Mary mix is bright and fresh without being overly spicy, and it makes the best virgin Mary of the bunch (though it's also delicious mixed with vodka).

Charleston Mix Vegetarians, look away. This meaty Mary mix combines tangy Worcestershire and a beef broth base with roasted veggies, tomato paste, habanero peppers and cider vinegar for a deeply flavored, spicy drink that mixes especially well with vodka.

MXR Essentials This is a smooth, easy-drinking Bloody Mary mix with a classic flavor profile. When mixed with vodka, it creates probably the most traditional-tasting Mary of the bunch, with bold tomato flavors mixing with notes of celery, lemon and Worcestershire and a nice balance between spicy and sweet.

Hoosier Momma As thick as cocktail sauce, this densely concentrated Mary mix packs in loads of chunky tomato, fresh celery and citrus flavors with a serious kick of black and hot pepper spice on the finish. It stays nice and thick when mixed in a cocktail, and performs best with vodka, which brings the natural tomato sweetness to the foreground. Just be sure to garnish with a towering skewer of cocktail shrimp, of course.
Follow Imbibe on Twitter: www.twitter.com/imbibe