5 Cocktails To Celebrate Bourbon Heritage Month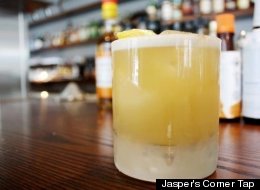 September is Bourbon Heritage Month, and with the Kentucky Bourbon Festival kicking off early next week, we can't think of a better time to raise a glass to America's native spirit. And even if you're not planning a trip down the Bourbon Trail, here are a few delicious ways to celebrate at home.
And for more of the best liquid culture, click here.
5 Cocktails to Celebrate Bourbon Heritage Month
Seelbach Named after the Louisville, Kentucky hotel where it was first crafted in 1917, the Seelbach cocktail is a classic mix of bourbon, Cointreau and both Angostura and Peychaud's bitters. Click here for the recipe. Photo: Jeff Moore of Garnish Food Photography, Courtesy Green Olive Media

Lindsey's Lament A hearty bourbon pour gets a sweet-spicy kick thanks to a dose of Becherovka, maple syrup and a savory salt tincture. Click here for the recipe. Photo: Cory Ryan, courtesy Midnight Cowboy

Artemis Flower Garden-fresh ingredients flavor this sophisticated bourbon sipper from Cure cocktail bar in New Orleans. Click here for the recipe. Photo: Stuart Mullenberg

Weissen Sour Who knew bourbon and beer mix so well together? That would be Francisco bartender Kevin Diedrich. Click here for the recipe. Photo: Courtesy Jasper's Corner Tap

Bourbon Chocolate Milkshake We've never met a milkshake we didn't like, including this frosty combo of bourbon, chocolate syrup and vanilla ice cream. Click here for the recipe. Photo: Courtesy West Egg Cafe
Follow Imbibe on Twitter: www.twitter.com/imbibe