An Imbiber's Father's Day Gift Guide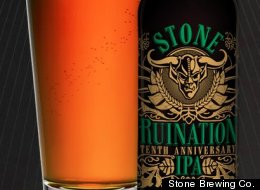 Father's Day is just around the corner and if you're still looking for the perfect gift we're here to help. From wallet-friendly whiskies to a one-off beer, this year you can indulge Dad with one of these Imbibe-inspired gifts. Because why buy him another tie when you can help him tie one on instead?
And for more of the best liquid culture, click here.
An Imbibers Father's Day Gift Guide
Wallet-Friendly Scotch Whiskies Scotch, scotch, scotch -- whose Dad doesn't love scotch? And while it used to be an expensive habit, a growing number of budget-minded bottles have recently popped up, making it easier than ever to find a tasty bottle that doesn't break the bank. Thanks to this growing trend, wallet-friendly scotch whiskies made our list of the "50 Drinks of the Moment" in our current May/June issue, and a few of our favorites -- like the BenRiach 12-year, Pig's Nose and Great King Street -- come in at less than $40 a bottle, making them a great gift for Dad no matter your budget. Imbibemagazine.com

Stone Ruination 10th Anniversary IPA If Dad's a hophead then he'll love this one-time offering from the granddaddy of super-hopped beers, Stone Brewing Co. A special release to commemorate the brewery's 10th anniversary, this beer gets dosed with massive malts and double the hops of their trademark Ruination IPA bringing the ABV to 10.8% and the IBUs to a bracingly bitter 110. Stonebrew.com for distribution info

Knob Creek Rye Spice up your gift for Dad's Day with a bottle of this recently released rye whiskey from one of the country's most beloved bourbon producers. It hits the mark with savory-yet-smooth flavors, and with rye's redolent black and white pepper spice and just a trace of vanilla coming in on the finish. Tell Dad to sip over a few ice cubes, or mixed in rye cocktails like the Prescription Julep, Red Hook or Souracher. $40, woodswholesalewine.com

Tomr's Tonic Is Dad a classic G&T man? Dad, meet Tomr -- Tomr, Dad. A concentrated syrup made in small batches by a Brooklyn-based bartender, this flavorful tonic offers a delicious bittersweet balance of flavors that highlights, not hides, a gin's botanicals. It makes a thoughtful (and tasty) gift on its own, or you can add in your favorite bottle of gin and a bag of limes for a present he won't soon forget (unless he's sipped too many at once, that is). $12, kegworks.com

Dale's Pale Ale Hot Sauce From the crafty canned beer crew behind Colorado's Oskar Blues Brewing Co. comes this piquant chipotle pepper sauce spiked with a hearty splash of their flagship Dale's Pale Ale. $7, oskarblues.com

Hario Slim Coffee Mill What's that? Dad's a coffee geek and the outdoorsy type? Then he's sure to appreciate this super-compact, adjustable grinder that makes fresh-ground coffee at the turn of a handle. Pair it with a pound of beans from your favorite roaster for a gift that will really have him buzzing. $39, espressoparts.com

Blonde Ale Burgers Does your gift to Dad come in food form? If so, then you'll score big with these homemade beer-spiked burgers and their mix of Belgian blonde ale, Dijon mustard and fresh tarragon. Though the real cherry on top just might be this recipe for decadent, dad-approved maple bacon bourbon ice cream for dessert. Click here and here for the recipes. Imbibemagazine.com Photo: Stuart Mullenberg

Dad-Approved Cocktails Want to show Dad some extra appreciation this Father's Day? Play bartender on Sunday and make him a cocktail to go with that dinner you're planning. Whether he's partial to whiskey, gin or tequila, here are seven cocktails that your dad is sure to love. Click here for the recipes. Imbibemagazine.com Photo: Stuart Mullenberg

Ponzi Pinot Noir Rosé 2011 Real men drink pink. Or at least ones with a taste for good vino do. And this bottle, made from 100% Pinot Noir grown in Oregon's Willamette Valley by one of the regions most lauded (and longstanding) producers, offers aromas of fresh herbs and wild strawberries, rich tropical fruit flavors, and a playful balance of bright acid and residual sugar on the finish -- just the thing to show Dad you care. $18, ponziwines.com

Imbibe Subscription Last but not least, you can treat Dad to the gift of liquid culture that keeps on giving all year long -- a subscription to Imbibe! Click here to subscribe online. Imbibemagazine.com
Follow Imbibe on Twitter: www.twitter.com/imbibe