Mint Juleps For Derby Day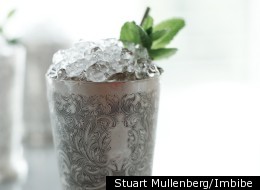 Saturday is Derby Day, which means it's time to make some Mint Juleps! The pre-Prohibition refresher has long been the official cocktail of the Kentucky Derby, and even if thoroughbreds, frou-frou hats and pastel-colored suits aren't your thing, it's still reason enough to raise a julep cup -- especially with one of these Derby Day-inspired sippers in hand. And for tips on making the perfect Mint Julep, click here.
For more of the best liquid culture, click here.
Mint Juleps for Derby Day
Cheater Tin Julep Kick back with a julep of a different sort with this spearmint-flecked version that introduces genever, white Port and Italian amaro to the glass. Click here for the recipe. Photo: Stuart Mullenberg

Kalamazoo Julep A double dose of celery adds another layer of refreshment in this julep from Austin bartender Brian Dressel. Click here for the recipe. Photo: Cory Ryan, courtesy Midnight Cowboy

Pitcher of Juleps Hosting a Derby Day party this weekend? Streamline the Mint Julep-making process with this super-simple punch. Click here for the recipe. Photo: Robert M. Peacock, courtesy Chronicle Books

Prescription Julep This pre-Prohibition sipper hits the spot with its cooling combo of Cognac, fresh mint and crushed ice. Click here for the recipe. Photo: Courtesy Jbird

Chris McMillian's Mint Julep This refreshing porch cooler offers up a tasty trifecta of southern flavors with its mix of bourbon, fresh mint and peach. Click here for the recipe. Photo: Brian Hagiwara, courtesy Harvard Common Press
Follow Imbibe on Twitter: www.twitter.com/imbibe