8 Cocktails For National Rum Day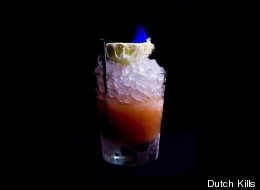 Thursday is National Rum Day, and we're toasting with a treasure trove of rum-spiked cocktails. From a tropical punch to a flaming spiced-rum cocktail, these recipes celebrate the spirit of rum at its best.
And for more of the best liquid culture, click here.
8 Cocktails for National Rum Day
Big Ship It's all-flavors aboard in this icy cooler combining spiced rum, pear brandy, allspice and orgeat. Click here for the recipe. Photo: Kate N.G. Sommers, courtesy Borealis Books

Bitter Pill There's nothing hard to swallow about this mix of aged rum, Fernet-Branca and rich demerara syrup. Click here for the recipe. Photo: John Ales

Wicked Wahine Say aloha to this tropical fusion of spiced rum, citrus, passionfruit and grenadine. Click here for the recipe. Photo: Stuart Mullenberg

Pineapple Trainwreck This spicy-sweet combo of aged rum, pineapple juice and ginger syrup is summer perfection. Click here for the recipe. Photo: John Valls

Gold Coast Punch Want to impress your rum-loving friends? Look no further than this rum-, pineapple- and allspice-spiked punch. Click here for the recipe. Photo: Doron Gild

Doppelganger You'll do a double take over this Chartreuse-flecked glass of genever, fruit juices and sugarcane rum. Click here for the recipe. Photo: Martim Smith-Mattsson

Montegomatica Overproof rum, Fernet-Branca, falernum and lime juice combine for a summery taste of the tropics. Click here for the recipe. Photo: S.F. Hollywood III

Cradle of Life Two types of rum and a fiery garnish make for one impressive cocktail. Click here for the recipe. Photo: courtesy Dutch Kills
Follow Imbibe on Twitter: www.twitter.com/imbibe