6 Refreshing Cocktails For Spring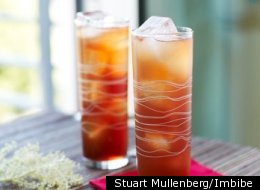 Spring is in the air, which means it's time to pull out the patio furniture and gear up for some warm-weather imbibing. From bright, citrusy cocktails to drinks infused with market-fresh ingredients, this crop of seasonally inspired recipes will help you usher in the warmer weather ahead.
And for more of the best liquid culture, click here.
HuffPo: 6 Refreshing Cocktails for Spring
Oaxacan Dream Who needs Spring Break when you've got this beachy mix of mezcal and fruit juices. Click here for the recipe. Photo: Oleg March, courtesy Viktor & Spoils

Cucumber Cooler Stay cool as a cucumber with this refreshing twist on the classic G&T. Click here for the recipe. Photo: Courtesy The Bedford

Jimmy Dean With its combo of OJ, black tea and bourbon, this cocktail fits right in with springtime brunch spreads. Click here for the recipe. Photo: Beall + Thomas, courtesy Restaurant Eugene

Tequila and Sage Smash Aged tequila, fresh sage and citrus are no stranger to warmer climates, and this cocktail combines the three deliciously. Click here for the recipe. Photo: Stuart Mullenberg

Tom Nichol A quadruple dose of fresh citrus adds a bright and springy kick to this chamomile-infused gin cocktail. Click here for the recipe.

Singapore Sling First created at a Singapore hotel in the early 1900s, this gin- and cherry brandy-spiked classic cools to the core. Click here for the recipe. Photo: Stuart Mullenberg
Follow Imbibe on Twitter: www.twitter.com/imbibe