7 Icy Cocktails To Keep You Cool This Summer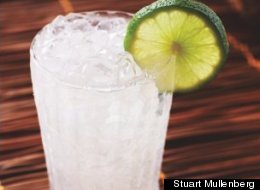 As warmer weather ramps up, Imbibe is keeping cool with its July/August Summer Drinks issue featuring an array of iced cocktails. Crushed, cubed, sphered and speared, ice is an essential cocktail element, and never more so than when the mercury rises. Try any of these seven cocktails, and you'll have instant summer refreshment.
And for more of the best liquid culture, click here.
7 Icy Cocktails To Keep You Cool This Summer
Barbadian Gin Punch Swizzle This Caribbean cooler combines a trio of refreshment -- coconut water, genever and crushed ice cubes -- that you swizzle together until a frosty layer forms on the outside of the glass. Click here for the recipe. Photo: Stuart Mullenberg

Southside Fizz A long ice spear helps minimize dilution while maximizing refreshment in this classic gin sipper. Click here for the recipe. Photo: Stuart Mullenberg

Pineapple Trainwreck Like a little liquid vacation, this icy combo of aged rum, pineapple and fresh ginger tastes like a cool tropical breeze. Click here for the recipe. Photo: John Valls

Kalamazoo Julep Piled high with crushed ice, this celery-spiked mint Julep cools to the core. Click here for the recipe. Photo: Cory Ryan, courtesy Midnight Cowboy

Panache Beer cocktails are great for summer sipping, and we especially love this combo of lemon juice, aperitif wine, elderflower liqueur and beer. Click here for the recipe. Photo: Emily Baker, courtesy Riffle

Daiquiri No. 3 Served over crushed ice, the Daiquiri is the original Cuban cooler. This adaptation adds a spent lime shell to the shaker for an extra layer of citrusy refreshment. Click here for the recipe. And for a few of our favorite bars serving up killer Daiquiris coast to coast, click here. Photo: Courtesy 320 Main

Piña Colada Blended drinks are a summertime must, and the tropically tinged Piña Colada offers total warm-weather refreshment. Click here for the recipe. Photo: Stuart Mullenberg
Follow Imbibe on Twitter: www.twitter.com/imbibe