Summery Cocktails To Kick Off Memorial Day Weekend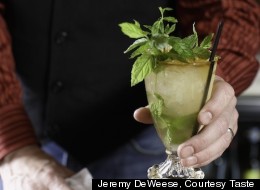 Memorial Day marks the unofficial start to summer, and we'll be soaking up the long holiday weekend with a batch of warm weather-ready drinks. From a suds-splashed beer cocktail to a re-imagined take on the white wine spritzer, these summery sippers will help you enjoy the leisurely weekend ahead.
And for more of the best liquid culture, click here.
Weissen Sour The Memorial Day weekend traditionally means lots of beer, and this summer refresher fuses a bottled brew with spirits in its fizzy combo of bourbon, lemon juice, orange marmalade and white ale. Click here for the recipe. Photo: Courtesy Jasper's Corner Tap & Kitchen

Bourbon Street With fresh strawberries and rhubarb in high season, this bourbon cocktail offers a delicious glimpse of some garden-fresh sipping. Click here for the recipe. Photo: Courtesy One-Eyed Gypsy

Vermouth Spritzer Forget your preconceived notions about the white wine spritzer -- this updated version combines fresh fruit, two aperitif wines and fizzy water to sublime effect. Click here for the recipe. Photo: Anjali Pinto, courtesy RPM Italian

Benton Park Swizzle A frosty swizzle is a quintessential cooler of summer, and this variation combines aged rum and fresh mint with a squeeze of lime and a splash of Fernet-Branca for a great Memorial Day refresher. Click here for the recipe. Photo: Jeremy DeWesse, courtesy Taste

Silver Raspberry Collins A handful of fresh raspberries update the classic Tom Collins in this summery gin sipper. Click here for the recipe.

Eva Péron One part sweet, with a splash of peppery, ginger spice, this cocktail's easy-to-remember formula offers maximum refreshment with minimal effort, making it perfect for on-the-fly mixing at weekend get-togethers. Click here for the recipe. Photo: Sheri Giblin, courtesy Chronicle Books
Follow Imbibe on Twitter: www.twitter.com/imbibe