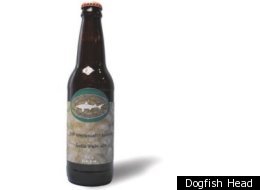 Super Bowl XLVI is just a few days away, and if you still haven't decided which beers to pour on game day, no worries--we've put together a six-pack primed for Sunday's big game. Whether you'll be ordering pizza, mixing up a pot of chili or grilling burgers, these brews all fit the bill, and they're low-ABV to boot.
For more of the best liquid culture, click here.
Your Ultimate Super Bowl Six-Pack
Stone Levitation Ale Escondido, California 4.4 percent ABV They say slow and steady wins the race, and come game day, low-alcohol beers like this modestly malted, citrus-hopped amber ale from California's Stone Brewing Co. (as well as these additional low-ABV brews) can keep you perfectly paced without needing a nap before halftime. Photo: StudioSchulz.com

Sierra Nevada Ruthless Rye Chico, California 6.6 percent ABV The latest release in Sierra Nevada's stellar lineup, this rye ale is bright and snappy with peppery rye spice and grapefruit-y hops that cut right through fatty football snacks. More nachos, anyone? Learn more about rye's beer-fueled resurgence, here.

Urthel Saisonniere Ruiselede, Belgium 6.0 percent ABV Urthel is becoming one of Belgium's most interesting breweries, and this beer shows why. Brewed with 20 percent wheat, this Belgian farmhouse ale is fruity and spicy with a trademark saison funkiness, and at 6 percent ABV, it's nice and light.

Dogfish Head 60 Minute IPA Milton, Delaware 6 percent ABV Need a perfect beer for all that pizza you'll be eating on Sunday? This is your brew. It's bright, crisp and hoppy, and at just 6 percent ABV, it's also incredibly easy-drinking. It's one of those beers that everyone will love.

New Belgium Dig Fort Collins, Colorado, 5.6 percent ABV This new early spring seasonal is chockfull of hoppy brightness thanks to the addition of five different hop varieties, with tangy lemon notes and hints of tropical flavors throughout. It's bright and zippy, and perfect for game day drinking.

Alaskan Stout Juneau, Alaska, 5.7 percent There's nothing like a stout on a winter day, and this one's a winner. The blend of oats and malts yield a smooth beer with notes of chocolate, caramel and coffee. Save this one for when it's time to pull out the chocolate chip cookies. And click here to read more about stouts.
Follow Imbibe on Twitter: www.twitter.com/imbibe