The Ultimate Super Bowl Six-Pack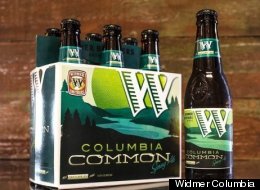 With the Super Bowl just a few days away, we think it's time to plan your beer cooler's starting lineup. To help, we've put together a mixed six-pack of easy-drinking beers from brewers coast to coast. Whether you'll be diving into dozens of wings or digging into a six-foot party sub, these brews are perfectly primed for game-day drinking from kickoff to the final play.
And for more of the best liquid culture, click here.
The Ultimate Super Bowl Six-Pack
Widmer Columbia Common Spring Ale 4.7% ABV, Portland, Oregon The hops in this low-ABV, easy-drinking common lend a brisk, snappy bite that's perfect for game day.

Dogfish Head 60 Minute IPA 6% ABV, Milton, Delaware Looking to score a touchdown for your tastebuds? This is your brew. It's bright, crisp and hoppy, and at just 6% ABV, it's also incredibly easy-drinking. It's one of those beers that everyone will love.

Brooklyn Dry Irish Stout 4.7% ABV, New York, New York Don't be fooled by the inky blackness of this Irish-style stout—it's surprisingly sessionable with a super-sippable balance of black barley malts and palate-cleansing hops, all with a low ABV. And for more low-alcohol beers we love, click here.

Anchor Steam 4.9% ABV, San Francisco, California Is Anchor Steam the original session ale? This beer from the 49ers home turf is a straightforward game day sipper, no matter which team you're pulling for.

Grand Teton Bitch Creek 6% ABV, Victor, Idaho The flagship beer of eastern Idaho's Grand Teton Brewing Company, this ESB drinks like a hopped-up amber with mild maltiness and notes of buttered toast, citrus and fresh herbs.

Flying Dog Atlantic Lager 4.7% ABV, Frederick, Maryland Looking to bypass mass-produced lagers on game day? This easy-drinking offering (and a Raven's home state favorite) is the snappy, thirst-quenching answer to a heaping plate of hot wings or a sizzling pepperoni pie. For more lager love, click here.
Follow Imbibe on Twitter: www.twitter.com/imbibe