Memorial Day weekend is a time of family get-togethers, barbecues and the traditional start of the summer swimming season. Hundreds of thousands of children will flock to community and backyard swimming pools to cool off and splash around. Unfortunately, it has already been a tragic start to the year for many. In the first five months of 2011, there have been 118 drownings and near-drownings reported in 29 states, including Guam, across America. My message to parents this Memorial Day weekend is a simple one: be aware of pool safely and be vigilant in and around the water.
At the U.S. Consumer Product Safety Commission (CPSC), we believe that one incident is one too many. Drowning is a leading cause of death for children, but it is preventable.
In the past few months, there have been 18 drownings and near-drownings in Arizona. Fourteen of these incidents have been since the beginning of April. In the Buffalo area, there have been four near-drownings, including an incident involving two two-year-old boys. In February, two boys, ages nine and 10, nearly drowned in a Cheektowaga, NY, hotel pool.
Unfortunately, these scenarios are replayed across the country.
A look at last year's pool and spa incidents indicates that the number of injuries and deaths remains too high. In 2010, the media reported more than 530 drowning and near-drowning incidents nationwide.
Each of these incidents represents a family tragedy.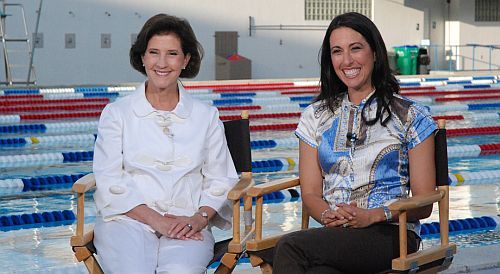 As the Chairman of the CPSC, I have been traveling the country urging parents and children to follow simple water safety steps to protect themselves in and around pools and spas. I am proud to be joined by Olympic swimmer, Janet Evans, in Southern California to kick-off the second year of our national public safety campaign. Pool Safely: Simple Steps Save Lives aims to reduce childhood drownings, near-drownings and entrapments in and around swimming pools and spas. The campaign was created as part of the Virginia Graeme Baker Pool and Spa Safety Act (P&SSAct), which mandated new safety requirements for swimming pools and spas, including a national education campaign.
We all remember -- and applaud -- the heroic actions of a young boy last month who used a Pool Safely safety step -- CPR -- to save his sister in Mesa. Our Pool Safely partners, Safe Kids USA and the American Red, appeared on NBC's Today Show to offer water safety tips. And on Mother's Day weekend, a young girl saved her three-year-old cousin from drowning in South Carolina (my home state) because she was watching and alert.
To pool safely is to watch your children at all times, know life-saving water skills like CPR (or know how to swim) and ensure you have the appropriate safety equipment installed in your pool or spa. Pool alarms and self-latching gates can help keep the little ones from getting into the pool area. Installing a four-foot fence around residential swimming pools and spas is another simple water safety step that can help to prevent an incident. The Pool Safely campaign recommends adopting as many water safety steps as possible.
Adding just one extra safety step around the water can make all the difference. You can never know which safety step will save a life -- until it does.