Denis Wood: Emotional Cartographer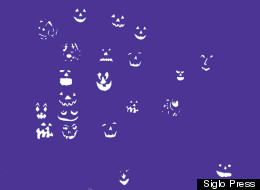 This is taken from the introduction to Everything Sings: Maps for a Narrative Atlas by Denis Wood ($32, Siglio Press), a series of idiosyncratic maps of a small North Carolina neighborhood, created over several decades. The second edition of the book was recently published.
When I encountered these maps of Boylan Heights years ago, what I first loved was how impractical they were. Most maps are entirely about doing a job. They are dull salarymen who clock in early and spend their days telling you where stuff is with unrelenting precision. They never vary an inch from these appointed rounds.
Not these maps. One of my favorites, Pools of Light, is a dreamy rendering in blurry white circles of the light cast by street lamps. Even if you were in Boylan Heights on a dark night and badly needed to find a street lamp, it's hard to imagine how this map would help you. For one thing, you'd need to get under a street lamp to read the damn map, and once you'd accomplished that, well, you'd have achieved your goal, wouldn't you?
Granted, the map that's dotted with jack-o'-lanterns indicating which houses set them out for Halloween--another favorite--could conceivably be a guide for neighborhood toughs on an unusually thorough smashing binge. But how likely is that? What kind of ten-year-olds would have the impulse to kick in a few pumpkins and also have enough of an OCDish drive to decimate every single one that they'd consult a map?
These maps are completely unnecessary. The world didn't ask for them. They aid no navigation or civic-minded purpose. They're just for pleasure. They laugh at the stupid Google map I consult five times a day on my phone. They laugh at what a square that map is. At its small-mindedness. They know it's a sad, workaholic salaryman.
Their mission is more novelistic. Which I also love. What they chart isn't Boylan Heights exactly but Wood's feelings about Boylan Heights, his curiosity about it, and his sense of wonder at all the things about the place that are overlooked and unnamed.
That a cartographer could set out on a mission that's so emotional, so personal, so idiosyncratic, was news to me. It reminds me of how a recent generation of comic book artists turned that hack medium of superhero adventures into a medium of novelistic stories drenched in feeling and personality. It reminds me of all the bloggers and tumblrs and tweeters who've taken a global computer network designed for engineers and the defense establishment and transformed it into their noisy, messy clubhouse.
And these maps remind me of all the radio stories I love most. After all, radio is mostly a boring salaryman, waking up before you and me to announce the headlines or play the hits to some predetermined demographic. Yet some radio stories elbow their way into the world in defiance of that unrelentingly practical mission, with the same goal Denis Wood's maps have: to take a form that's not intended for feeling or mystery and make it breathe with human life.
Which brings me to the oddest thing about these maps. They describe human lives without ever showing us any people. Instead, we see the underground structures that humans build for waste and the paths they make for squirrels in the sky. We see which homes have wind chimes and which ones call the cops. We see the route of the letter carrier and the life cycle of the daily paper. Wood is writing a novel where we never meet the main characters, but their stuff is everywhere. I don't know exactly how to describe the feeling that creates. It's like walking around a world that's been decimated by a neutron bomb and walking into all the houses. You miss the people who lived here, and you think about their daily routines. You can count the scraps of toast left on their plates and smell the bacon they were preparing right before they were vaporized. Their lives seem far away and utterly present, both at the same time. Which somehow makes our world seem fragile and very precious. Maybe it's just me, but that seems like the opposite of the feeling ordinary maps give us, with their rock solid facts and their obsession with street names. They make the world seem anything but fragile.
Though, of course, the world is fragile. And fleeting. And so Denis Wood's maps are a far more accurate depiction of Boylan Heights than any normal map could ever hope to be.
7 Ways Denis Wood Mapped His Neighborhood
This is what Boylan Heights looked like. Central Prison is in the upper left corner, and Triangle Correction Center is in the upper right of the prison site next to the Norfolk & Southern tracks. Cabarrus Street runs straight east-west across the neighborhood. Toward the east, there's a circular structure, the gasometer built for the old coal gasification plant. The street running south of the gasometer is South Saunders. To its east, in the lower right, is Heritage Park, a public housing project. Everything west of South Saunders and south of Boylan Heights is Dorothea Dix. Rocky Branch runs beneath the dark band of trees lining the northern edge of Dorothea Dix. The lazy S is Boylan Avenue. Just to its left, Montfort Hall is circled. At its intersection with Cabarrus is the old elementary school. To the east of the schoolyard, Florence Street runs north-south. If you look carefully at the eastern edge of the backyards on Florence, you can see Gas House Creek. Rosengarten Place, just east of the creek, wasn't paved yet. It was the western edge of the "colored town" my aunt Marie walked through to get to school in the 1920s. If you didn't see any of this, that's what the maps are for. Flip to page 55. There's a map of neighborhood streets—abstracted, classified (surfaced and unsurfaced), named—but nothing else.

In Kelsey and Guild's vision of the ideal, white, middle-class suburb there were only single-family homes. As their 1907 neighborhood plan filled in, some exceptions appeared: a few two-family houses and five four-unit apartment buildings. Still, as the 1950s dawned, Boylan Heights was essentially a neighborhood of single family homes. Nothing about Boylan Heights remained fashionable by then and the neighborhood had settled into a complacent, middle- and lower-middle-class respectability, white (it goes without saying in those Jim Crow years), and middle-aged. The residents worked downtown as clerks in the government offices, as tellers in the banks, as floorwalkers in the department stores; or up on Dix Hill as clerks or nurses in the mental hospital. A few had jobs with the railroad. The more marginal lived in the often tiny houses at the bottom of the hill, the more respectable higher up in the grander ones, and it was these—too large for modern, post-war families—that attracted the attention of landlords as older residents aged out or died off. The 3,100 square footer at Cutler and Cabarrus yielded five apartments, the 2,600er at 311 Cutler seven rooms, the 2,400er at 602 South Boylan five. Renters are not homeowners, and many of the new residents had blue-collar jobs or no jobs at all and, with the passing of Jim Crow, some were even black. They were not welcome. As the wife of a janitor told us in 1975, "Nobody won't have nothing to do with me 'cause I'm black." This was how absentee landlords diluted the homogeneity of Boylan Heights. On the map here, except for the few two-family houses and the four-unit apartment buildings, all the numbers higher than 2 are single-family houses that had been broken up by 1974 (when the City of Raleigh collected these data). The 5's and the 7's had been broken up into rooming houses, the G's into group homes. These four group homes, while not as troubling as the blacks to the older residents, worried them nonetheless. There were two "Rehabilitation Homes," the Christian Fellowship Home (in fact a halfway house for alcoholic/drug dependent adult men, often house painters), and the Full Gospel Student Fellowship (good Christian boys). The map's sole C, once William Montfort Boylan's home, was a whole other story. In 1952 a bunch of neighbors had converted the mansion into the Boylan Heights Baptist Church. Beginning with sixty-five members, it had grown to 213 by the time these data were collected. No one seemed to mind this conversion: it was the invariable site of the neighborhood's Memorial and Labor Day picnics. Actually, the map understates things. In many of the 1's a room upstairs was let to a nice girl from Meredith College or an engineering student at State. Who couldn't use the extra income? This doesn't apply to the 1's at the bottom of the hill. They rarely had an upstairs, much less a rentable room. Here's a measure of the neighborhood's gentrification, that is, a measure of its return to the social structure Kelsey and Guild originally imagined for it: in 1974 there were only 149 single-family homes in Boylan Heights. Today there are 205. This is a good thing unless you're looking for a room to rent.

The street plan is like an Annunciation, not Gabriel to Mary, but Boylan Heights to Raleigh: "Rejoice, for the eighteenth century is over!" In 1792, in the waning days of the Enlightenment, William Christ-mas drew Raleigh's original plan as a gridded square, a mile on a side, the neoclassic vision of an urban capital. A hundred and fifteen years later, Kelsey and Guild, under the waxing influence of Frederick Law Olmsted, laid out Boylan Heights as a Romantic residential garden, its curvilinear streets endowing the subdivision with a suitably "natural" form. They had a pretty clean slate. William Montfort Boylan had kept the growing city at bay: the city streets stopped dead at his property. When Kelsey and Guild platted Boylan Heights, there was only the mansion, the remnants of its orchard and kitchen garden, and the reverting fields of the former plantation. Kelsey and Guild first connected the new neighborhood to the city by extending existing parallel streets from the 1792 plan—Cabarrus, Lenoir, and South Streets—but curving them so that they crossed. Nine of the new streets were named after William Montford Boylan's family: Mountford and Boylan after Boylan himself; Stokes and McCullough after Boylan's mother, Elizabeth Stokes McCullough; Kinsey after Boylan's wife, Mary Kinsey Boylan; and Florence after a daughter, Florence Boylan Tucker. There were few cars in 1907. Instead, Kelsey and Guild thought about pedestrians, street cars, and maybe a horse. This explains the absence of driveways (alley access is another reason) and garages. It also explains why, now in the 21st century, Boylan Heights has a surprisingly urban feel: most everyone parks on the street.

If there were no strangers moving through the neighborhood, there would be a kind of silence: no signs. On this map, many local streets wholly vanish. Others are merely hinted at by stop signs. Where strangers travel through the neighborhood, where the streets are city streets, there are a lot of signs with a lot to say. The streets Kelsey and Guild extended to connect the neighborhood to the city were seized by city planners. They yoked Lenoir Street and Cabarrus streets into a one-way pair with Dorothea Drive and South Street to move traffic between the growing suburb of Cary to the west and downtown Raleigh to the east. Eliot said, "I do not know much about gods; but I think that the river is a strong brown god—sullen, untamed, intractable," and so was the traffic that poured east through the neighborhood in the morning, west in the afternoon. The signs are informative, but at the same time they bespeak a politics of control. The city demonstrates its authority, limns the limits of neighborhood autonomy by directing a river of steel through it. The only signs the neighborhood itself put up were two decorative wooden ones that simply say, "Boylan Heights."

Like commuters Tommy Rogers drives through the neighborhood. But since he's the mailman, he stops at every house number. Letters in, letters out, bills in, checks out. Tommy is a medium, and though he seems to belong to the neighborhood, he never stays. Everybody knows his route. You know where he's been and where he's going. While people brace themselves for the rush hour traffic that pours through the neighborhood, they eagerly await Tommy's arrival: "Has the mail come yet?" It sets up a daily rhythm—and a weekly one when he's not there on Sundays.

In August 1974, out of the ferment from which arose the Boylan Heights Restoration and Preservation Association, the neighborhood acquired a newsletter. Folksy and attentive to the arrival of newcomers, winners of contests, and the health of residents, it had an agenda: foster home improvement, foment interest in neighborhood down-zoning, and ultimately increase property values. Just as the popular kids appear most frequently in high school yearbooks, those most active in neighborhood "restoration" were most frequently mentioned in the newsletter. The newsletter is a record of social structure: its contents begged to be mapped. I recorded every reference to an address or, absent an address, the address of anyone mentioned in the first ninety-six newsletters (1974-1982). The addresses referred to most often were on Boylan Avenue, at the top of the hill, where four addresses alone account for a fifth of all mentions. Frequently mentioned addresses were most likely to concern themselves with neighborhood business (hence the darker circle), no matter who lived there. During these eight years, three very different people lived at 324 S. Boylan. This address, the one most frequently referred to, held its rank independent of the occupants. In other words, it was the house, the address, the location that chose the movers and shakers, not the other way around. Kelsey and Guild knew their stuff. Their 1907 plan didn't just determine property values, it fixed the social hierarchy. In 2010 the mayor of Raleigh and his wife, a member of the Wake County School Board, lived at 324 S. Boylan. The Representative for North Carolina House District 3 lived just a few doors down. In this case: still the same old map.

I rode through the neighborhood on my bicycle—it was 1982—and took pictures of all the jack-o'-lanterns. On the map, there's a jack-o'-lantern at every address where there was one or more pumpkins on the porch, and most of those porches were at addresses that were frequently mentioned in the newsletter.