Last weekend I had the pleasure of being at a ground breaking conference on food addiction and the obesity epidemic. I will be writing a series of blogs, over the next few months, to share what I learned with you.
The legendary Jack LaLanne was there to speak and accept a lifetime achievement award for his visionary work in fitness, health and food addiction. Jack was a pioneer in both exercise and nutrition. He was telling us as early as the l950's to avoid white sugar, white flour and refined carbohydrates. He was one of the first to link alcohol addiction to sugar addiction.
When Jack was 15 he heard a lecture on health and wellness and as a chubby, unhealthy teenager was inspired to turn his life around. He is now 94! He still works out 2 hours a day, drives a corvette and eats right. He doesn't eat white sugar or white flour and hasn't since he was 15. Neither does his wife, Elaine, and at 83 she is beautiful, vibrant and fit.
So here are some of my favorite things Jack said last weekend:
"Your waistline is your lifeline."
"If it tastes good, spit it out."
"Everyday is a good day if I wake up."
"You are the most important person here."
Elaine was talking about meeting Jack and how at the time she was smoking and eating doughnuts. Jack told her she needed to get rid of the cigs, eat fruits and vegetables, and exercise. He also told her that he wouldn't be telling her that if he didn't like her. So Elaine said,
"You changed my life."
Jack corrected her and said,
"No, Elaine. You changed your life."
Jack is saying what I have been saying for years. Take responsibility for your health and credit for your successes.
So Connie Bennett, who was interviewing Jack, asked him to lead us in some exercise. So Jack said,
"OK, get up. Sit down. Get up. Sit down. Now raise your knee to your chest. Now the other knee. Now both at once..."
Jack was doing all this with us and better than most of us who were half his age. This man practiced what he preached and is living proof of what eating right and exercising can do for you.
I heard from Davey, who was the young man in charge of getting Jack to and from where he was supposed to be, that when he went to take his arm to help Jack walk, Jack pulled his arm away. Jack LaLanne does not need help. Neither will you if you choose to get healthy.
Lastly, Jack said,
"No one is putting bad food in your mouth."
So thank you Jack for being a visionary and for being a living example of what taking good care of yourself can do. If Jack can do it, you can do it because you are the most important person here.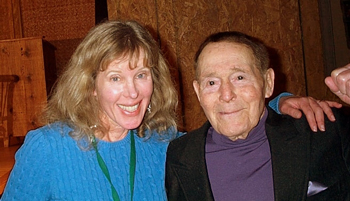 Jack and I
If you are interested in seeing what Jack is up to these days you can visit his website http://www.jacklalanne.com/.