Every cruise has a mix of virgins and veterans but about half of those who sail on Queen Victoria have already cruised on other Cunard ships. Much like fans who follow rock stars, one might call these inveterate travelers "groupies" because of their loyalty to the line.
The hallmarks of the venerable Cunard Line are its 169-year history, its sense of tradition, and its reputation for British formality and grace. This makes the onboard experience fairly predictable: three distinct classes of cabins, each with separate dining facilities (Brittania, and the more upscale Princess and Queen Grills); fixed rather than free-style seating for meals; an international melange of more mature and well-heeled passengers; ballroom dancing to live music on at least three formal dress-up nights each week; and impeccable White Star steward service.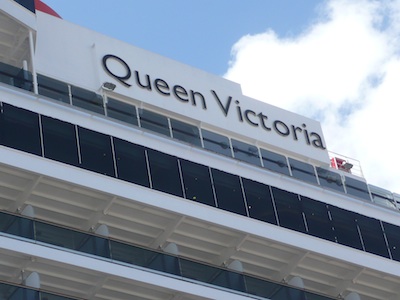 The 106-day long maiden voyage of the Queen Victoria in December 2007 got off to a rocky start. Passengers were disappointed with the modest size of the Brittania cabins, the lack of adequate drawer space, inconsistent service, malfunctioning toilets, and an outbreak of a contagious stomach virus sent more than 80 guests and crew scurrying to the ship's infirmary. One media report hinted at the possibility of a passenger mutiny.
Yet after leaving Southampton, UK, the waters settled a bit and Victoria peacefully arrived in New York Harbor on January 13th, heralding an historic moment when the three Queens (Queen Mary 2, Queen Elizabeth 2 and Victoria) all posed together under a shower of brilliant fireworks beside the Statue of Liberty. But much like new restaurants or Broadway shows, new ships need time to get their sea legs. The management and crew of Victoria (many of them experienced emigres from the sister ships) worked feverishly to overcome first impressions. Despite the start-up pains, the overall experience on Queen Victoria is still Cunardish with pleasant surprises to be found onboard for virgins and old sea dogs alike.
Here's an introduction to six of Victoria's secrets:
Tucked into a corner on Deck 2 in the Grand Lobby, more centrally located than the one on the QM2, is celebrity chef Todd English's 100-seat restaurant where even Brittania passengers can dine like royalty at a pittance. For a supplement of $30 per person for dinner or $20 for lunch (exclusive of wine, liquor and soft drinks), diners can enjoy a three-course dinner from an exhaustive menu that includes various meats, duck and venison. Order the truffled potato "Love Letters," one of the signature dishes of the restaurant and the mouth-watering Tiramasu.
If you want to feel very British, stop in the Golden Lion Pub for traditional fare and ale on tap or cocktails. One of the few places where every class is equal, there's no additional tariff for belly-warming dishes like fish and chips, bangers and mashed potatoes, and cottage or shepherd's pie.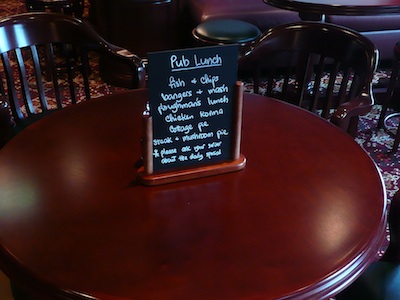 Temptation tea in the Queen's Room
Afternoon tea in the Queen's Room is surely one of the traditions that entice passengers to return. Each day at 3PM, passengers sit down for tea sandwiches, and mouth-watering scones, whipped cream and strawberry preserves as live classical music fills the double-height ceiling that's decorated with elegant crystal chandeliers.

Breakfast in bed
If you are tired of long lines in the Lido buffet (as there sometimes are) and would rather use the sink rather than the ubiquitous bottles of hand gel found on board, you can order meals in your cabin from the somewhat limited room-service menu. Not well-advertised is that staff try to accommodate your tastes even if something isn't on the menu. Order the foamy cappuccino each morning to start the day.

Sybaritic spa on Deck 9
If the thought of being pampered at a spa seems either too self-indulgent or too pricey, you can ease your entry by whittling the day away at the Spa's Thermal Suite that offers huge picture windows overlooking the sea. For a $30 day pass, you'll receive a spa robe and slippers and locker for your belongings. The pass allows unlimited use of the Suite's warm tile beds and aromatic showers. You can also descend into the relaxing Hydropool to ease your aches and pains from dancing the night away.
If you do elect to have a spa treatment, there is no fee for the use of the Suite on that day; on port days, spa treatments are discounted 20 percent. Just be careful not to blow your savings by succumbing to the temptation to purchase face moisturizer priced at $157 per jar.
To add a special Je ne sais quoi to the theatre experience, reserve a seat in one of the sixteen private boxes that overlook the three-tiered, 800-seat Royal Court Theatre that accommodate up to 8 persons each. The boxes are a first on the high seas. Guests can lean back on opulent velvety armchairs and sip Veuve Clicquot champagne, elegantly served by a white-gloved waiter. After the show, they can meet the cast backstage. The beautiful theatre is modeled after one of those in London's West End. Cost: $50; experience: priceless.
Technology meets art

Stop by the purser's desk and pick up a free Apple IPod for an 80-minute self-guided tour of the ship's art collection, which includes 25 significant works. The pieces in the Queen's Room document the life of Queen Victoria, Prince Albert, their children, grandchildren and pets. Especially charming are the black and white etchings (circa 1940)---which Victoria and Albert made of their dogs, Islay, Eos and Carinach----discretely tucked in a corner.
Reigning for more than 63 years during the period of the Industrial Revolution, Queen Victoria transitioned the monarchy into the 20th century. She was thoroughly modern: the first English royal to have a telephone and ride a train, to be photographed, and to host a World's Fair. While this new liner in the Cunard fleet can't boast the same innovation and moxie as her namesake, she continues to admirably uphold the Cunard tradition for luxury and grace while offering some scintillating secrets and surprises.

Passengers cruising on Queen Victoria on January 13, 2011 will meet up with her sister ships, Queen Mary 2 and the new Queen Elizabeth, in New York Harbor for a Cunard Royal Rendezvous. Although QE has replaced the retired QE2, this is the same port where three Queens met up in 2008. On-board and spectator festivities (from the shores of Manhattan) for the event, which will include a fireworks Sail Away, are in the planning stage.
This Blogger's Books and Other Items from...
FOLLOW HUFFPOST