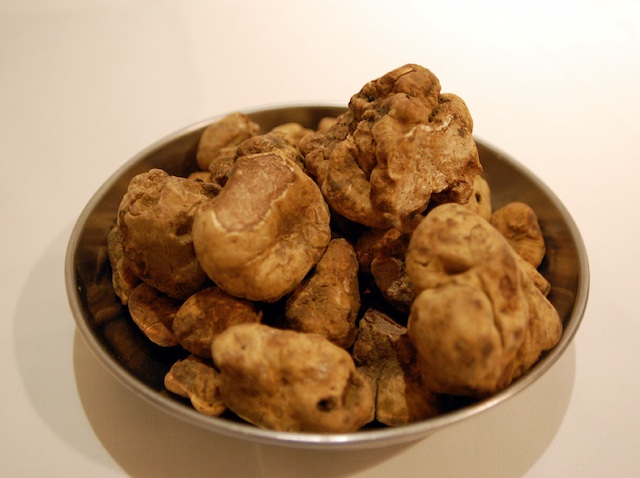 Photo courtesy Sandro's NYC
Nothing compares to the savory taste of a dish prepared with Italian white or French black truffles served at their peak of freshness. Americans are large importers of these fungi (importing 15,000-20,000 tons a year, according to Oregon mycologist Charles Lefevre), and there is also a growing industry of domestic producers in states like Oregon, California and North Carolina.
One of the most expensive and exotic foods on earth, premium white truffles (tartufi bianchi) can sell for up to $2000 a pound. Depending on the year, the season when they are available in the U.S. generally falls between November and March, with the supply of white ones usually over by the end of the calendar year.
For those staying close to home: Recipes for Italian risotto vary---according to the region and season---but no risotto is better enjoyed on a special holiday occasion than the version made with white truffles.
Executive Chef Mark Ferguson of Wolfgang Puck's Spago at the Ritz-Carlton at Bachelor Gulch, Colorado generously shared his recipe for this classic dish with readers of The Huffington Post:
Mark Ferguson's White Truffle Risotto
Ingredients
8 ounce Carnaroli rice, 3 ounce onion diced, 3 ounce olive oil, 2 ounce garlic chopped, 3 ounce fennel chopped, 2 ounce shallots chopped, 1 cup white wine, 3-4 cups stock (chicken or vegetable), 3 Tablespoons butter, 1 ounce extra virgin olive oil, 3 ounces Parmigiano Reggiano grated, sea salt to taste, generous truffle shavings
Directions
In a thick-bottomed sauce pan (preferably stainless steel), heat the olive oil and sweat the onion, shallot, fennel and garlic. Add the rice and toast it in the oil until it becomes slightly opaque, without browning. Add salt and wine and work into the rice with a wooden spoon. Reduce until it is almost dry and tastes sweet. Add more salt to taste and enough stock to cover the rice, stirring continuously to prevent sticking. Add more stock as the rice absorbs and sample its consistency. Continue process until the rice is just cooked. Remove from stove and add butter and cheese, right before serving. Shave generous amounts of truffle over the top. Serve immediately.

This slide show offers a few creative and mouth-watering ways truffles can be enjoyed at restaurants around the country.
This decadent dish is on the White Truffle Menu of Quattro Gastronomia Italiana at Trump Soho in New York, and will be available until December 23, 2010. The restaurant also sells whole truffles, which are weighed and priced before they are shaved at the table. Identical twin brothers, chefs Fabrizio and Nicola Carro, from the Piemonte region of Italy prepare the identical dish (as well as other Italian classics) at Quattro Gastronomia Italiana in Miami's South Beach. Their personal sourcing and hand selection of white truffles, Tuber Magnatum Pico from Alba in Langa, assures their quality and perfume.

It is already too late for this dish. Poggio Trattoria in Sausalito sold out its first supply of truffles in five days. The second order was exhausted the next weekend. Executive Chef Peter McNee personally travels to Piemonte in search of tartufi bianchi (white truffles).

One of the best deals around, the Ritz-Carlton Cleveland offers a special truffle menu throughout December at its restaurant Muse. The three-course prix-fixe menu costs $30 per person, $45 with wine pairings. Black truffles are more economical than white ones (they also have a different taste) and domestic truffles are less costly than imported ones.

Holly Smith, the James Beard award-winning chef-owner of Cafe Juanita in Kirkland, Washington will be hosting two dinners, on February 6 and February 24, 2011. With dishes featuring either white or black truffles (based on availability), she will bring the flavors of Italy to her restaurant just outside Seattle, pairing Italian truffles and wines with her cuisine. Holly will be one of the featured chefs at the Oregon Truffle Festival, held in Eugene, Oregon from January 28-30, 2011.

On February 12, during its second annual Winter Wine Festival (which runs from January 14-February 26, 2011) Wentworth by the Sea will be hosting a Black Diamond Truffle & Coastal Pinot Noir Grand Vinter Dinner. The historic grand hotel is located in New Castle, New Hampshire on the coast of the Atlantic. Guest chef Adam Savage of the Sagamore Resort will team up with Susan Rice Black Truffle Diamonds to create the four-course menu, each course with truffles.

Ken Frank is the owner-chef of the Michelin Star-rated La Toque restaurant, located at the Westin Verasa in Napa, California. Chef Frank, considered one of the leading truffle experts in the country, calls them a gift from nature. He leads courses on home preparation techniques at the Napa Truffle Festival, which was recently held between December 10-12 at the hotel. The Annual All Truffle Menu at the restaurant will debut on January 7, 2011 and extends nightly into February.

Shawn McClain is the chef-creator of Sage at Aria Resort & Casino at CityCenter in Las Vegas. Esquire Magazine named it a 2009 not-to-be-missed restaurant. Chef McClain adds white truffles to taglietelli and king trumpet mushrooms with a savory brown butter sauce. Roasted scallops are a perfect dish for the truffle supplement.

Although truffle availability can never be guaranteed, Sirio Ristorante at Aria Resort & Casino at Citycenter in Las Vegas (perfect for foodies spending New Years Eve on The Strip) hopes to serve its truffle menu through January. Shaved truffles are also available on any dish for a supplementary fee. The kitchen is overseen by chef Sirio Maccioni, whose roots are in Tuscany.

World-renowned pastry chef Francois Payard is creating this incredible chocolate tart with real black truffles for New Years Eve that will serve 8. A sable Breton shell is sprinkled with dry girolle mushroom powder and topped with a layer of chocolate ganache that is mixed with fresh black truffle shavings, a drizzle of black truffle oil, pieces of hazelnut nougatine and a hint of fleur de sel. The limited edition of only 25 tarts will be available for $65 at his new bakery on Houston Street in New York or online.

Roman chef Sandro Fioriti at Sandros in Manhattan is offering a four-course White Truffle Dinner that changes daily with an antipasto, pasta, entree dessert for what might be considered a great value in New York City, $120. Dessert options include this luscious dish of gelato with shaved truffles or panna cotta drizzled with balsamic and topped with truffles. A truffle dessert alone costs $29.

Executive Chef Mark Ferguson of Wolfgang Pucks Spago at the Ritz-Carlton at Bachelor Gulch, Colorado offers a variety of delicious truffle dishes on his menu through the holidays and, at a minimum, through January. But he will order more, if necessary, through ski season.
Follow Dr. Irene S. Levine on Twitter: www.twitter.com/moretime2travel