Once reviled, native plants -- sometimes called "weeds" -- are making a comeback. A growing number of landlords and building owners in the Mid-Atlantic region are embracing the low maintenance and natural beauty of ornamental grasses and native plants. Ornamental grasses can be integrated as fillers or centerpieces in planned landscaping design while native plants can have a visual impact in controlled areas.
From corporate office parks to private country club golf courses, the notion of "going wild," carefully applied within landscape design, makes a lot of sense. Some owners are motivated by its inherent sustainability, which can help corporate buildings attract environmentally-conscious tenants and earn LEED certification from the U.S. Green Building Council. Others want the relatively low maintenance -- no watering, no fertilizing, one trim per year -- coupled with the drama the plants can bring.
The effect of ornamental grasses can range from willowy to majestic, depending on the species chosen and where you decide to place it in your landscape. Several ornamental grasses to consider for your private haven:
• Silver Spike Grasses organized in a grid. The organization of the grid offset by the graceful and free-flowing nature of Achnatherum calamagrostis will bring delight to your eyes.
• Japanese Cabaret Silver Grass is one of many ornamental grasses that grow tall and wide. Miscanthus Sinensis 'Cabaret' is a great option for those seeking drama and privacy.
• Pumila Pampas Grass blooms with fanciful, puffy white flowers resembling sheep wool. Try Cortaderia Selloana against a strong backdrop such as a solid-colored wall.
If you are feeling the call, go wild and let your tall grasses grow.
Tall ornamental grasses bordering a paving stone patio provide a dramatic effect while offering privacy.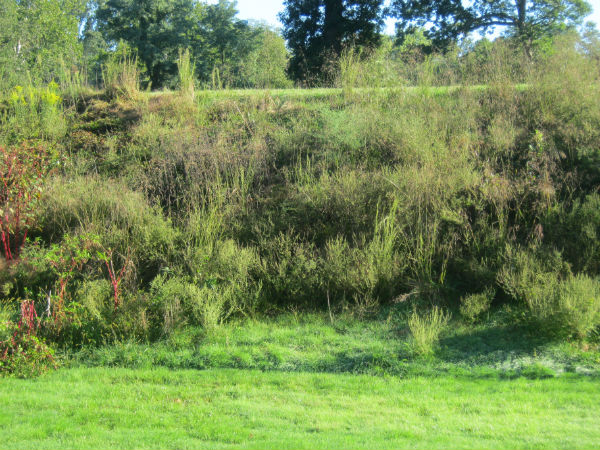 A steep hill slope is an ideal and convenient place to stop mowing. Just wait and see what comes up!
A steep hill slope is an ideal and convenient place to stop mowing. Just wait and see what comes up!
SUBSCRIBE AND FOLLOW
Get top stories and blog posts emailed to me each day. Newsletters may offer personalized content or advertisements.
Learn more