Co-authored by Dr. Sandro Galea, Gelman Professor and Chair of Epidemiology, Columbia University's Mailman School of Public Health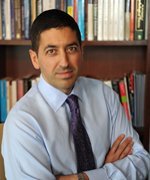 The tenth anniversary of September 11 presents an opportunity to assess the progress made in the U.S. capacity to respond more effectively to a major disaster, be it a result of terrorism or a natural event. The aftermath of September 11 brought an unprecedented reorganization of government and the creation of new laws and funding designed to improve disaster preparedness, response, and recovery. Yet ten years on the central question is: Are we less vulnerable and more resilient as a nation than we were on September 11, 2001?
Unfortunately, the nation remains far less prepared than it should be. How and why that is so will be explored at a conference being held at Columbia University in early September. The essential discussion will not, however, center on "what happened?" on September 11. Instead the focus will be on how science has informed public policy on effective disaster planning and what gaps exist. One of the most important -- though least recognized -- barriers to assuring a maximally resilient society has been an unfortunate break-down of substantive communications among problem-solving scientists and responders who have critically analyzed our vulnerabilities and capacities on the one hand, and policy-makers who can implement necessary programs on the other. Gaps between these two groups remain far too wide and the barriers increasingly difficult to surmount.
Consider these three examples:
Interoperable Communications. Several studies after September 11 showed how breakdown in inter-agency communications contributed to the loss of lives at the World Trade Center. Reinforcing this, the 9/11 Commission found -- and police, fire, and emergency medical service officials have long asserted -- that without interoperable communications systems between police and fire departments and emergency medical services, optimal disaster response cannot be achieved and risks the lives of first responders. This is most paramount in events like September 11 where police, fire, and emergency medical services converge quickly to an unknown and complex scenario. Despite existing technology that can solve this challenge, ten years after September 11, interoperable communication remains unfulfilled with no legislative mandate and appropriate funding to achieve it.
Children and Disasters. Several studies in the aftermath of September 11 highlighted the particular vulnerabilities of children -- a full 25% of the population -- to the consequences of disasters. As a result the National Commission on Children and Disasters, was established by a bipartisan Congressional order to make recommendations on how the US can best prepare children and their families and communities for disasters. However, the Child Safety Act, which was to make many of the Commission's key recommendations in to law, has been buried due to a provision on school vouchers that was not recommended by the Commission and inserted into the Act, which as a result has become politically contentious and never brought to a vote.
Public Preparedness. A broad range of responders have long agreed that a prepared public can significantly reduce deaths and damages in a disaster. As a result FEMA's Ready campaign suggests having three-days food and water, a go-bag, and evacuation plans, among other measures to promote citizen preparedness. However, study after study has shown that the American public does not take up these personal preparedness measures. Despite this evidence, the Ready campaign remains essentially unchanged and funded at the same levels with little systematic effort being made to improve its salability or uptake.
While the Departments of Homeland Security and Health and Human Services and the National Science Foundation have supported academic research that aims to advance the understanding of disaster preparedness, response, and recovery, there is little evidence that the work is being applied. Further, many initiatives, like the Preparedness and Emergency Response Learning Centers supported by HHS, are being cut prematurely despite promising gains in their objectives.
History provides numerous examples of how science can be successfully translated into effective public policy. Many of the advances in the space program and in large infrastructure projects have been informed by university-sponsored research. The gaps and barriers we currently observe between the science community and homeland security can be overcome, given suitable political will and recognition of the magnitude of the gulf between research and practice.
We believe this starts with a recommitment at DHS and HHS to support university-based work and to explicitly link that support to mechanisms that can translate the findings into public policy when appropriate. This means Congress must restore critically cut funding to university programs, and speak with the academic community about where progress is being made and what areas of exploration should be on the horizon. A decade on from September 11, much remains to be done. We hope that the next ten years will demonstrate how good science and good policy can make a difference in the capacity of the nation to plan for and respond effectively to any disaster.

FOLLOW HUFFPOST