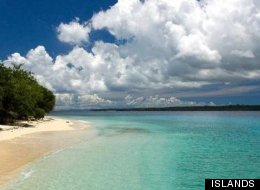 As ISLANDS inspires you to take the ultimate trips on your travel bucket list, we've compiled all of our Wish List stories of recent years into one ultimate list of our Top 100 suggestions, each with a link to more editors' expert advice.
And to have some fun, we've ranked them from No. 100 (have a Painkiller drink in the BVI) to No. 1 (?).
But we wouldn't dare try to numb your brain by showing you all 100 ideas right here. Instead, here are 10 great ideas from our list that you should seriously consider when planning your 2013 vacations.
10 Great Vacation Ideas for 2013
This stunning Greek island is made for travel photography. Every year, we receive incredible photos of Santorini in our ISLANDS Photo Contest. Being there is truly like stepping into a photo. Download an ISLANDS wallpaper of Santorini.

A villa vacation is ideal for an ISLANDS traveler. You get to live like a local, trying out what it would be like if you decided to move to this island. Stay at Samudra on Ko Samui in Thailand or one of our other Top 10 picks for world's best island villas.

Big ships, small ships and every ship in between. ISLANDS editors have found great island-hopping cruises for 2013 as an easy way for you to check off some of the world's top islands. See our list of the Top Cruise Itineraries for 2013.

Contact the Conrad Maldives Resort & Spa on Rangali Island in the Maldives two weeks in advance to reserve one of only 14 tables at the resort's Ithaa Undersea Restaurant. If you want to spend the night, it'll cost you — about $1,000 an hour. Must give a two weeks' notice to reserve the overnight suite. Imagine returning home and starting the dinner conversation with "During the night I spent underwater ..."

Pink Sands beach on Harbour Island in the Bahamas is a must-do, but there are so many others that we could do a Wish List on beaches alone. Instead we made a big map of all the best island beaches.

To celebrate the natural beauty of islands, our favorite place is Vanuatu. UNESCO World Heritage sites honor Chief Roi Mata on Éfaté, Lelepa and Artok islands; the Vatthe Conservation Area offers an oasis of biodiversity on Espiritu Santo; and low-impact resorts such as the Epi Island Guesthouse provide responsible lodging. See our Top 10 Pure Islands list.

Sail at sunset on the Hula Kai. Snorkelers as young as 5 are welcome. No mantas? Fair Wind will take you again for free.

If you've subscribed to ISLANDS magazine for at least a couple years, you've no doubt seen Jade Mountain on our Wish List, our romantic list, our best resorts list -- this resort is that spectacular. See a quick photo tour from one of our trips to Jade Mountain.

"The most biodiverse marine life in the world" is how our dive and snorkeling expert described the experience here in Indonesia. If you're serious about scuba diving and snorkeling, see our Top 10 Best Island Reefs -- with Raja Ampat at No. 1 in the ranking.

When we first saw this photo of the view from the Viceroy Bali, we knew we had seen the ultimate scenic resort. See why the Viceroy Bali is No. 1 on our list of the Top 10 Best Rooms with a View.
Follow Islands on Twitter: www.twitter.com/islandsmagazine