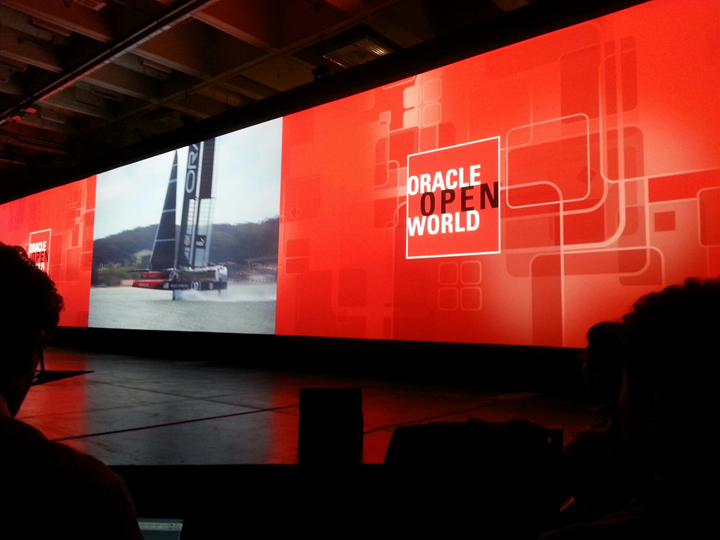 The age of the customer is the theme around #oow13, where best practices to meet those customers' demands and expectations with the latest and greatest innovative technologies and services were shared. Buzz words that I've heard all week long: scalable, agility, flexible, integration, delivery, customers, innovation, social, mobile, big data, fusion, HCM, transformation, platform, development, the internet of things, and many more...
Here is my quick recap and some highlights from the event in 140 characters or less. I've got the scoop on Deloitte, Accenture, KPMG, EMC, Intel, DELL, tech Mahindra and AT&T, which presented as sponsors for the event. See the full list here.
Attendance is up in 2013
65K+ techie, geeky peeps were in attendance over the six days of the conference. From clouds virtualization, software and hardware, big data, customer centric focuses, case studies and innovative technology, we got a full dose of what Oracle is all about. What did we learn? With real time and network fusing into the real world, how do we break through the clutter of analyzing big data and Internet of things? Information is in real time with social media, and it's continuously exploding. We must be able to standardize a scalable and secure platform to handle real time data and the amounts that users experience.
Keynotes from thought leaders across all industries
Here are some keynotes from EMC, Lego, Tesco, Oracle, Dell, and Deutsche Telekom that give us snapshot sof their partnership with Oracle and what it takes to move toward the integration process in technology to be ahead of the game. Yes, Dell is going private! And, no, Larry Edison didn't show up in the keynote because he had to attend the America's Cup.
Disruptive and opportunistic in transforming our IT business-- mobility, cloud computing, big data and social -- Joe Tucci, EMC CEO
EMC Partnered w/ Cisco, Vblock -- converged infrastructure: single point, point of management & support -- Joe Tucci
Our strategy gives customers choice, works well together -- whether its vmware, pivotal, oracle, SAP, IBM, & others -- Joe Tucci
Simplify the task: Data backup application-Integration between enterprise manager & data domain is key -- Jeremy Burton of EMC
The cloud makes it simple: We are deploying Vblock in massive virtualizations -- Jeremy Burton
We believed that the new world is architecture horizontally. Easily consumable -- Jeremy Burton, Oracle
"Success won't be measure by short-term results; rather than long-term 5-10 years into the future" -- @michaeldell
We leverage partnerships like @oracle who could help us to the end point view customers with frictionless of IT solutions -- @Dell
Drive innovation, and become a world-class end to end solutions from consumers to large enterprise. -- @Dell
We are the world's largest "SUCCESSFUL" start-ups -- Adriana Karaboutis, CIO of DELL
Retail 2020 will be radically different from today's. Technology that's super fast Internet, cloud computing, and mobile -- Mike McNamara, CIO Tesco
Smartphones and tablets are the way to connect to Internet -- Matt Atkinson, CMO Tesco
Ninety-eight percent IT spent growth will be from 3rd platform technologies by 2020 -- Edward Screven, Chief Architect of Oracle
Managing complexity: By 2020, 50B devices will create vast amounts of Data -- Edward Screven
What's happening around the conference
Fun tech geek peeps united to have a fun time! Everything from creating your own cupcakes, oxygen bar, cigars, brew tap, game zone, ice cream, bocce ball field, golf, Maroon 5, to taking a nap to recharge at the tranquility lounge, giveaways and fun educational sessions. You name it, and it's there for your comfort at #oow13.
Highlights of Events: Appreciation event + Team Oracle winning 34th Americas cup
Yes, Oracle team USA won it again, making it nine consecutive years in a row at the 34th America's Cup. While Larry Edison is missing the keynotes on Tuesday (bummer!), it's for the good of the team.
During the appreciation event, we were hauled by bus to the Treasure Island. This was an awesome experience, and the first time ever I felt secure to be rockin' it with all of the geeky men singing along to Adam Levine. There'd be no drama or weird stories -- this was just how people rocked out at Oracle! It was, of course, the shortest concert ever but, hey what can you expect when we have to get up for the next early keynote session in the morning?
A special Note to OOW13 team: Oracle Open World should bring more buses to the location or have chartered the jet plane for our transportation. It was quite hectic to get there. Super glad that we caught the last 5 songs of Maroon 5, though!
Follow hashtag #oow13 to read all of what was tweeted up!
Photo credit: 24Notion/Ivo Lukas