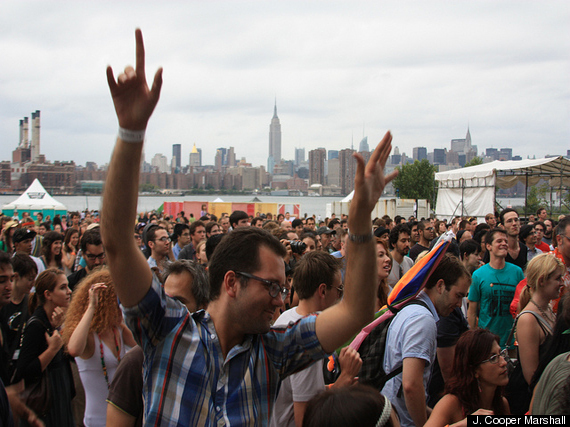 Ominous skies and occasional rain didn't stop fans from showing up to yesterday's Pool
Party at the Williamsburg Waterfront. Four bands, covering a wide range of musical
influence, played to an energetic crowd that slowly grew to about four thousand by the
time !!! (pronounced "chk chk chk") hit the stage. Baltimore's Future Islands kicked
things off with a curiously strange and entertaining set. Backed by bass guitar and 80's
goth-sounding synthesizer keyboard, singer J. Gerrit Welmer's crooned the crowd with
his unique baritone, while spastically roaming the stage and periodically punching
himself in the face.
Strange Boys took the stage next, right as the rain began. Their Austin-based garage rock
benefited from singer Ryan Sambol's strong vocals and saxophonist Jenna Thornhill-
DeWitt. Much of the crowd streamed out as the rain increased, seeking shelter in a
nearby bar.
Lee Fields' energetic set was a much-needed energy boost for the remaining wet
and weary fans. With his far-reaching, powerful voice and stellar backing band The
Expressions, Fields conjured up the sweet sounds of classic soul. The band balanced
scorching funk jams with softer ballads reminiscent of Motown in it's hey day. Fields
was talkative throughout, and promised to sign copies of the band's 2009 album My
World for everybody after his set.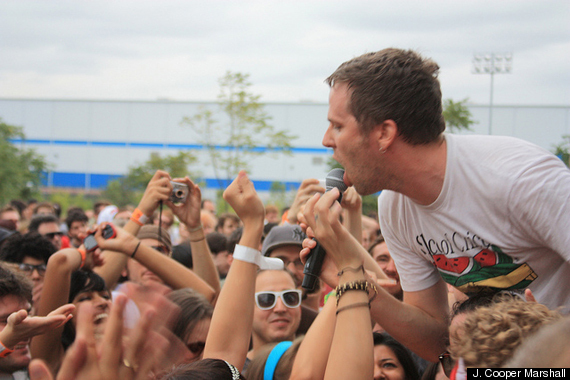 Seventies soul gave way to disco funk as !!! took the stage for a high energy dance party.
Lead vocalist Nic Offer was a non-stop one-man show as he tore about the stage, jumping
into the crowd on more than one occasion. The band is currently touring off their new
album Strange Weather, Isn't It? which comes out later this month. New songs like "AM/
FM" and "Steady as the Sidewalk Cracks" showcased the band's gritty dance punk style,
while old favorites like "Must Be The Moon" and "Heart of Hearts" proved to be the
biggest crowd pleasers. For those that braved the rain, yesterday's show was yet another
reason why the Jelly Pool Party is arguably New York's best free concert series of the
summer.
SUBSCRIBE TO & FOLLOW THE MORNING EMAIL
Start your workday the right way with the news that matters most. Learn more