While architects across the nation suffer the brunt of this Great Recession -- to the tune of about 40 percent unemployment -- one southeastern design firm is thriving.
Raleigh-based Clearscapes succeeds because for 30 years, a substantial portion of its practice has been based on what some call a necessity of life, even in tough economic times: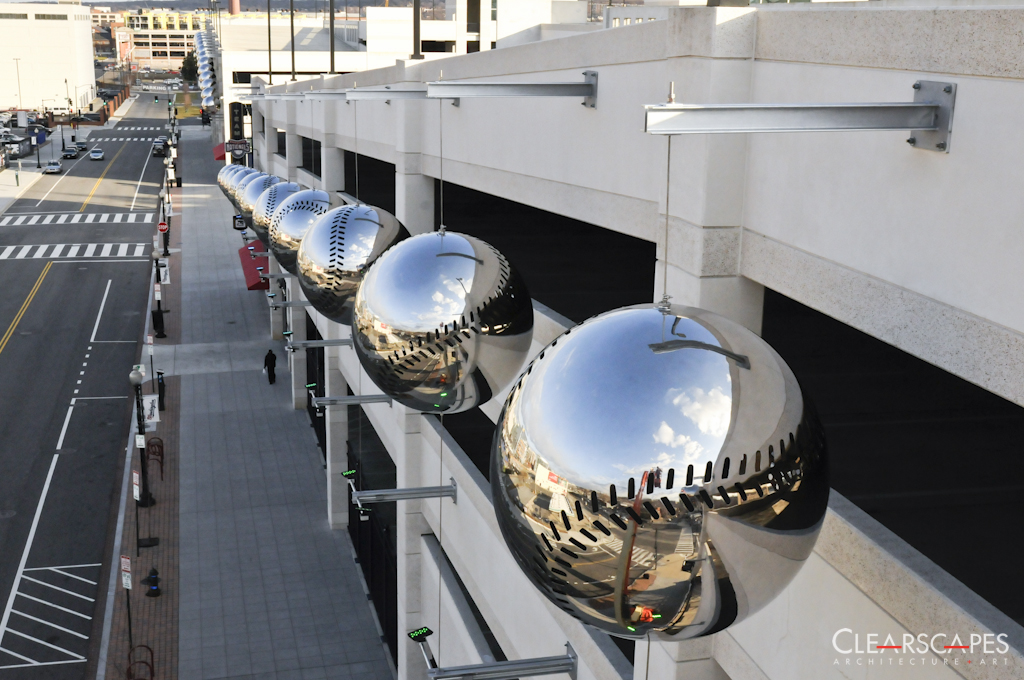 "Somewhere between art and architecture is where Clearscapes started and wanted to be," said Thomas Sayre, founder of the 22-person firm. "One version of that is public art."
He and architect Steve Schuster began to collaborate in 1981, renovating facilities for developmentally disabled residents of North Carolina.
"It was neither furniture nor architecture nor art," Sayre said. "They were play environments. We did a dozen of them across the country."
From that collaboration, Clearscapes was born.
These days, Sayre's circular earth castings are featured prominently on the campus of the North Carolina Museum of Art, and his work was the subject of a retrospective exhibit two years ago at North Carolina State University.

Working recently with O'Brien Atkins and TVS on Raleigh's new convention center, Sayre proposed a "shimmer wall" for its exterior. He outlined the shape of a giant oak tree onto one of the primary vistas for those coming in and out of the city.
The finished piece is a 9,284-square-foot wall made up of 79,464 light and dark aluminum squares that change shape and disappear as the wind moves them. At night it's backlit by 56 light-emitting LEDs programmed to flash and display a million different colors.
In 2010, Clearscapes completed seven new public art projects across the nation, each integrated into its site:
In Anacostia, a southeast Washington, D.C., neighborhood, after HOK designed and built a new baseball stadium for the Washington Nationals in 2008, the city held a competition for public art to enhance the decks.
Sayre's winning entry, installed a couple of weeks ago, is a veritable home run -- and a sinking fastball too.
It's a series of stainless-steel baseballs just under seven feet in diameter, polished like mirrors, with the requisite 216 lace marks.
On the north façade of the eastern parking deck, 18 of the baseballs depict the trajectory of a spinning, sinking fastball. On the north face of the western deck, 12 consecutive balls form the arc of a home run.
In Nashville, on historic Courthouse Square, Sayre created two 30-foot-high towers, with bases that mimic the columns of the courthouse, and figures atop. People can spin a wheel at their base and point the statues' arms above in whatever direction they want.
"Over the years there's been a lot of pointing the way from that site," Sayre said. "Fisk University is nearby, and it's the spot where the mayor, confronted by students from the school during the civil rights movement, said that if integration was coming, then the city needed to do it in a civilized way. It's become a symbol of working together, of leadership."
In Tucson, at the center of a highway in the suburbs where the road is to be widened, where birds, snakes and Gila monsters still live, Sayre chose earth casting as his medium.
He cast six 25'-long pieces, and then stood them up, forming the shape of vessels containing water. They are symbolic of the result of constant suburban expansion against the movement of water.
"They're a casting of what was there, he said. "People are messing with a fragile terrain with virulent growth. It represents the dance between human intent, of imposing our will with geometry, mathematics and engineering, onto the green of nature."
In San Jose, in the new police station stands a 10-foot by 36-foot plate glass map of the city, textured to reveal mountains, wetlands and city features. Behind it is an LED screen that gives off a heat signature of anyone entering the space behind the map.
"The place where people are served is always static," Sayre said. "But the people being served are always changing. It's entertainment while they're waiting."
In the Oklahoma City suburbs, on a city block near Lincoln Boulevard, Sayre created four lacy stainless-steel discs 25 feet tall, accompanied by three earth castings.
They're about the agricultural heritage of this 100-year-old state, but about its commitment to technology, too.
"They form a triangle plan, with berms and light at night," he said. "Agriculture's important at one end, and a radar-like disc important on the other."
Where Denver Stapleton Airport's runway once lay, 15,000 people now live, work and play. The airport once buried a creek there, then placed the runway on top. Now the creek's totally day lit, with paths, trails and crossings in an outdoors setting for couples and their kids.
Again, Sayre relied here on earth casting, using a huge hydraulic tree spade to excavate a number of in the ground, then filling it with concrete. The result is an array of 19 spade-shaped forms eight feet in diameter and four-and-a-half-feet tall.
"They're really cool as objects," he said. "But what's interesting is the human interaction with nature, and nature pushing back."
Closer to home, in Durham, at the site of a new public library, Sayre again used earth castings for a 17-foot-tall sculpture of stacked concrete slabs. "It's an earth-cast tobacco barn, and a pagoda -- like where Buddha met a tobacco barn," he said.
His earth castings are a way to work on a very large scale in an inexpensive and sustainable way. "When we're done, the site is restored, and the grass is always greener, because we've aerated the soil."
Most of the firm's public art projects are funded by a program known as "percent for art" in more than 300 communities across the nation. States and municipalities will request that private developers commit a percentage of construction costs to for arts projects. Percentages can range from less than a half percent to as much as two percent. On the west coast, Seattle and Portland are very involved in the program. In Florida, Broward County has benefitted from it for years.
Over the years, Clearscapes has become quite adept at targeting and winning the competitions that result from the "percent for art" programs. "People who compete against us have to assemble a team to do what we do, rather than doing it every day like we do," Sayre said.

SUBSCRIBE AND FOLLOW
Get top stories and blog posts emailed to me each day. Newsletters may offer personalized content or advertisements.
Learn more