It may be safe to say - whether you favor the site of Renzo Piano's new pavilion or not - that Louis Kahn's Kimbell Art Museum has never looked as good as it does today.
That's because the new structure, sited some 65 yards to the west of Kahn's barrel-vaulted masterpiece, has been designed deliberately to offer a long and dramatic vista of its predecessor.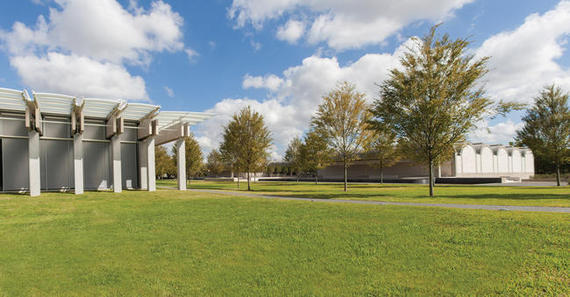 When a visitor emerges from the new underground parking lot's stairway or elevator, the view is aligned and directed toward the 1972 museum. Even from deep within the new building's transparent spaces, the original beckons.
"It's the strongest possible relationship with the existing building," says Daniel Hammerman of Piano's studio.
The sight of Kahn's opaque, travertine-clad structure, behind its lengthy horizontal fountain and entry grid of Yaupon hollies, is magnificent enough to make the visitor wonder, almost out loud, about what might be inside.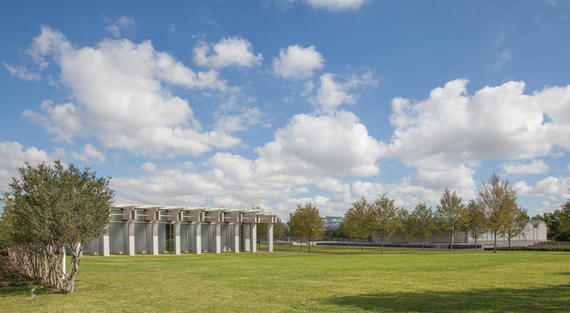 On the other hand, Piano's pavilion reveals all - through 15-feet-tall panels of floor-to-ceiling glass at six foot intervals. Its columns and walls are luminous concrete tinted with two percent titanium oxide, for a near-marbleizing effect. Its light-transmitting skylights and louvers are supported by a steel structure bound to a series of 29 laminated bands of Douglas fir, 100 feet long and 10 feet apart, whitewashed to mute their naturally reddish tone.
Even at night, Piano's emphasis is on transparency, with sun-filtering window screens raised to allow outsiders a glimpse of sculptures, paintings and activities inside. "It's a whole different thing at night," says Onur Teke, also of Piano's workshop. "You're looking into a gallery with some of the finest art in the United States."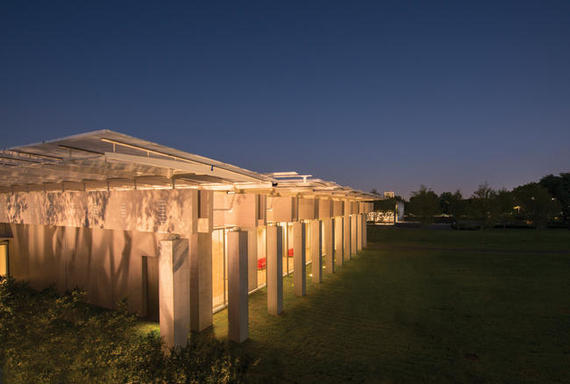 Some say Piano's building is engaged in a father/son conversation with Kahn's, but a more accurate assessment might be that the 76-year-old Italian architect simply looked and listened with excruciating care to what came before him - and then worked mightily to reinterpret it.
So now we have a new structure that's all glass, wood, steel and concrete, hovering in the distance ("It's a Piano building - it has to float," says Hammerman). Created in a similar one-story scale with a tripartite plan, this is the Kahn building, stripped down to its bare-bone essence of shimmering light and weightlessness. Here, though, there are no curves, no barrel vaults and no sinew. Instead, the new pavilion is all about right angles and carefully poured concrete walls that cant at 10 degrees for staircase and light well.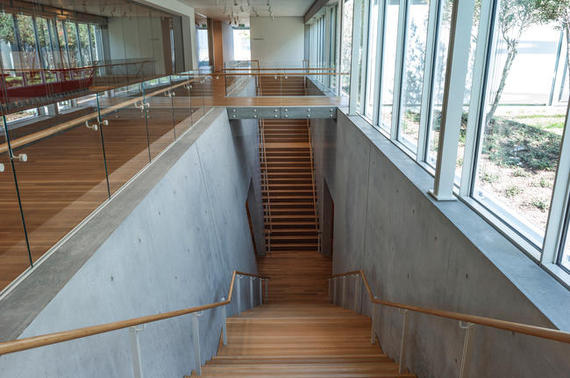 Indeed, the staircase and light well, inspired by Kahn's own design, stand as symbols of Piano's desire to defer to the man for whom he once worked, but still assert his considerable ability as an architect.
In all that, he succeeds. And eventually, the long view of his own building, as seen from its predecessor, also will be revealed. At the moment, though, it's obscured by that grove of young Yaupon hollies, replanted to make way for the underground parking lot.
But over time they'll grow, the vista will open up, and we'll have an even clearer look at the architect's vision.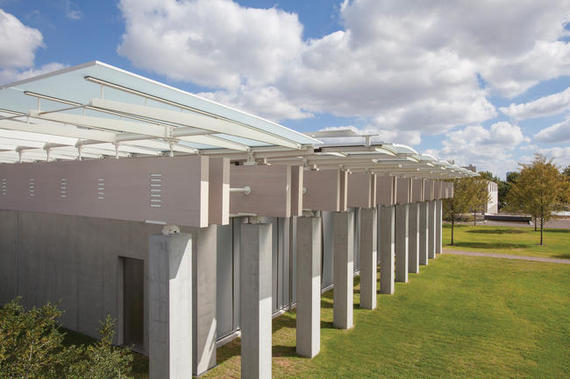 The Galleries
Inside the new pavilion, the sound of hard leather heels on "breathable floors" in the galleries amplifies the quiet of the spaces, a little like the sound of deep, tumbling water on a fast trout stream.
The whole floor is a vent, with air pressure pushing up from two feet of hollow space between an open grid of quarter-sawn white oak boards and the concrete below them. The aural effect is akin to the ephemeral nature of the light falling through skylights, louvers and screens onto concrete walls, each laden with art.
"The light quality slows you down," says Eric Lee, director of the Kimbell. "And the floors contribute to putting you in the proper frame of mind to experience this art."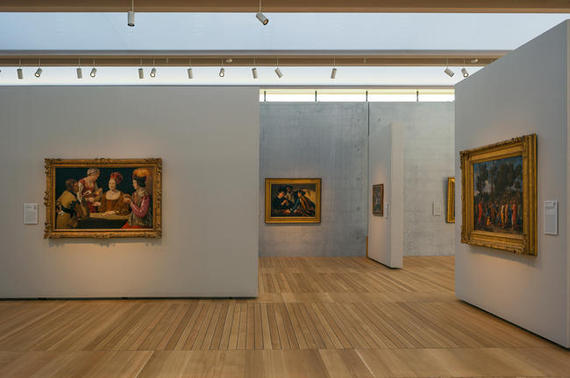 He's referring to the museum's permanent collection of Western, African, Pre-Columbian and Asian art, now at home in three spacious and well-lit galleries. The museum owns about 350 extraordinary works - about the same number it did when it opened in 1972, but refined considerably in the 1980s and '90s. In recent years, the Kimbell has been challenged by space constraints, so that much of the permanent collection had to be placed in storage when loan exhibitions were presented.
That's no longer a problem. The new south gallery houses classical works by Bernini, Michelangelo, Rubens, Velazquez and Rembrandt. The north gallery showcases Pre-Columbian and African art, and the west gallery highlights the museum's collections of Asian art. Each piece is generously placed for maximum effect from natural light above, much of it hung onto concrete walls that recall the look of alabaster.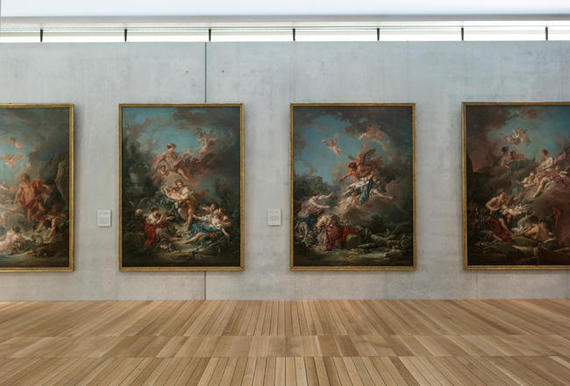 "By virtue of giving each one its own space, each has its own zone, aura and power," says Jennifer Price, curator for Asian and Non-Western Art. "Here, they're floating in space, more powerful than ever before."
A ten-foot-tall work of art actually look better than in the Kahn building, she believes. "It's sublime and meditative," she says. "It's found a home in that space."
And like the Kahn building, it's a home filled with reverence for light, sound and beauty.
For more information, go to https://www.kimbellart.org/
J. Michael Welton writes about architecture, art and design for national and international publications. He also edits and publishes an online design magazine at www.architectsandartisans.com, where portions of this article appeared first.
Images by Robert Polidaori and Robert LaPrelle, courtesy of the Kimbell Museum of Art.