On a journey through Argentina explore each of the three unique wine regions to discover the Malbec, Torrontes and Pinot Noir that they are so famous for.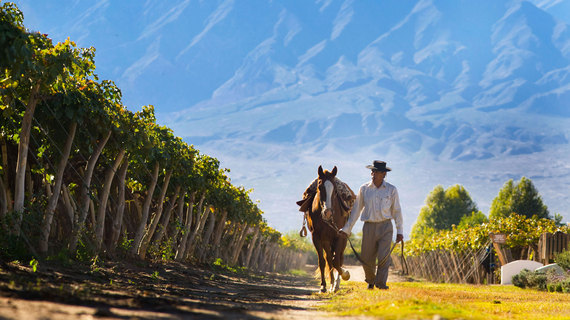 From rugged mountaintops and glaciers to vast desert landscape, Argentina has an incredible wealth of natural beauty, but it's the country's oases amidst the arid regions throughout broad valleys and plains that provide the ideal conditions for growing grapes. Argentina's wine producing regions are situated within three distinct environments: the rugged red landscape of the north, the arid central valleys fed by rivers that flow down from the Andes, and lowland Patagonia.

NORTH: Salta and the Calchaqui Valleys
THE REGION'S WINE The country's highest altitude vineyards lie within the Salta Province's Calchaqui Valleys at elevations of between 3,280 and 9,800 feet above sea level. The town of Cafayate is at the heart of this wine region, where lush green vineyards contrast starkly with the red mountains that encircle them. Due to the high altitude, temperatures are low at night with great exposure to the sun throughout each day. With a dry climate too, these conditions cause the grapes to mature slowly, giving the wine an exceptionally intense flavour, while the grapes' thicker skins also result in a great intensity of tannin, transforming the wine's colour and mouthfeel. In this climate, robust wines like Malbec, Tannat, Merlot, Cabernet Sauvignon and Torrontes do especially well, of which Torrontes is said to be the region's greatest success.
WINERY TOURS Explore Cafayate, which lies at over 5,500 feet above sea level, by hiking and riding on horseback through the surrounding landscape and by taking a tour of the boutique wineries. The hotel Grace Cafayate is set amidst the 1,360-acre La Estancia de Cafayate wine estate, so stays there encompass tours of the estate's vineyards with tastings of their own Torrontés, Malbec and Cabernet Sauvignon. Vinas de Cafayate Wine Resort is another spot to head to for the chance to stay amongst picture-postcard vineyards; The wine resort arranges tours of the most prestigious wine producers in the region and hosts wine tastings in their own wine cellar. One of Argentina's oldest wineries is Bodega Colomé, which was founded in 1831 and located in the upper Calchaqui Valleys. In addition to tours of the winery, the bodega has a museum that's dedicated to installations by the artist James Turrell.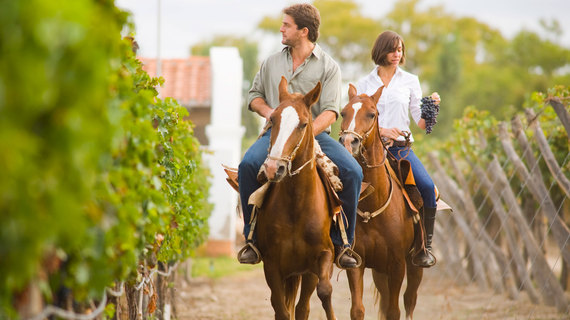 THE REGION'S WINE The central-west region of Cuyo encompasses Argentina's most well known wine regions: Mendoza and San Juan with La Rioja nearby. From Mendoza's Uco Valley to Famatina in La Rioja, these viticultural areas lie in the foothills of the Andes with a desert-like climate alongside rivers that flow down from the mountains; An environment that produces an exceptionally high yield of high quality of grapes for winemaking. Malbec garners most of the attention in Mendoza, which is produced alongside Cabernet Sauvignon, Chardonnay, Bonarda and Syrah, with Torrontes produced in La Rioja too.
WINERY TOURS Stay at the stylish Vines Resort & Spa in the Uco Valley to visit the Vines' own biodynamic Winemaker's Village, or stay at the boutique family-owned winery Montequieto for a tour that includes tastings of their award winning wines. Take part in a private wine blending experience with Argentina's most awarded winemaker Alejandro Vigil at the pioneering winery Bodega Catena Zapata, or join a sparkling wine masterclass at Bodega Cruzat. Finca Dinamia is Argentina's original biodynamic winery, and the winemaker that started it all, Alejandro Bianchi, now gives visitors an insight into this unique production process and the wines it produces. Bodegas Salentein in the Uco Valley offers tours and tastings of the winery, and houses collections of contemporary Argentine and classic Dutch art works for visitors to peruse. These exceptional wineries can be incorporated into a wine tour of Mendoza and beyond, with the unrivalled expertise of a local guide.
THE FESTIVAL Since 1936 the winemakers of this region have gathered together in Mendoza City for the Grape Harvest Festival, giving the community and visitors the chance to celebrate with them. Each March around 2,000 people arrive for the event's parades, performances, wine tasting and fireworks.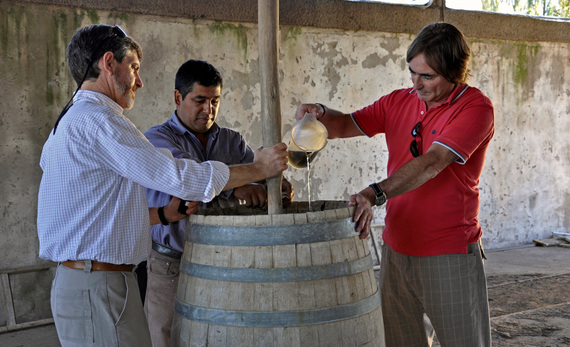 Alejandro Bianchi of Finca Dinamia
THE REGION'S WINE Argentina's southernmost wine producing region is an area that extends over 300 kilometres of Patagonia, incorporating Neuquen and the valley of Rio Negro. Lower in altitude than the other wine regions, this land lies at around 1,000 feet above sea level but is still characterised by desert-like landscape with rivers that flow down from the Andes. Patagonia's colder climate results in slowly-ripening grapes with high sugar, acidity and tannin, producing intensely flavoured wines of both red and sparkling varieties. Pinot Noir reigns above all other varieties here, but Malbec, Sauvignon Blanc, Chardonnay and Riesling are also suited to the climate.
WINERY TOURS Bodega del Fin del Mundo is credited with starting the wine industry in Neuquen back in 1999. Here, you can take tours of the vineyards and taste your way around the winery. Also hosting wine tasting tours is Familia Schroeder, another of Neuquen's leading wineries. In the more established wine region of Rio Negro, the wine estate Bodega Humberto Canale - founded by an engineer of the same name in 1909 - gives tours of its vineyards, colonial-style winery and on-site museum.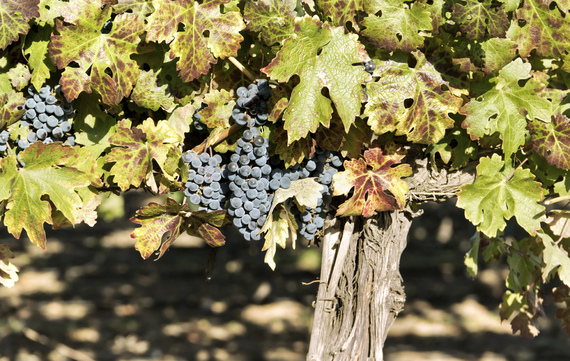 SUBSCRIBE AND FOLLOW
Get top stories and blog posts emailed to me each day. Newsletters may offer personalized content or advertisements.
Learn more