Jeff Bezos came to New York today to release his bigger e-reader -- the Kindle DX.
The DX makes it easy to read 8.5" by 11" docs with a larger screen and includes more memory -- enough for 3,500 books and a stash of documents. The DX also changes from portrait to landscape when you rotate it just like an iPhone.
Jeff was clad in his usual jeans and blue blazer and still has that bit-too-thin look of someone training for a 100-mile marathon. I hope he starts eating more now that the kindle is doing well.
The Kindle DX will retail for $489 and will be available this summer. In addition to the Amazon website, the DX will be distributed by various newspapers inlcuding the New York Times which will offer it at a steep discount in exchange for a long-term subscription to the e-paper.
The main drawback of both the kindle 2.0 and the DX is that E-ink which provides the technology has still not fixed the disturbing flash you get whenever you turn a page. It is odd that E-ink could not provide a memory buffer to smooth out this problem.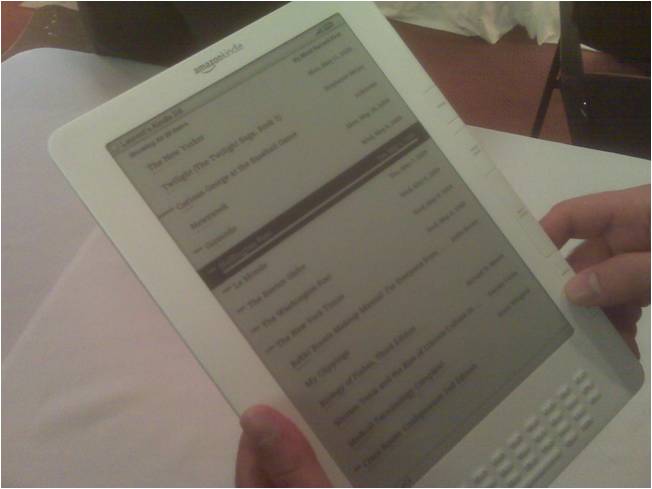 At one point in the demo the projector reversed everything on the screen. Jeff laughed and said, "I am going to choose to find this hilarious... imagine you are looking at this through a mirror."
At the launch of the Kindle 2.0 he brought Stephen King (click here for HP interview).
This time around his focus was on the larger format of the DX and partners such as the New York Times and a group of universities for textbook use of the DX. Arthur Sulzberger, Jr. of the Times spoke as did Barbara Snyder, the president of Case Western.
Sulzberger said that "we knew for more than a decade that one day an e-reader would be a significant platform of distribution for our content."
Six universities will pilot the DX as a textbook reader including Pace which hosted the event today. It is curious that Amazon did not get more universities to sign up to this program as a test. I assume more will come soon. Snyder noted that her students at Case Western may study better with this device and, without all the books to weigh them down, will "stand taller."
Bezos noted that he hopes the DX will lead to a reduction in printing of regular documents. "The paperless society never came," he said, "we are printing more than we ever did." He showed a web page from Amazon selling a printer toner cartridge -- "We sell a lot of these... for some reason I always run out of cyan first."
If future Kindles can get rid of the between-page flash then I believe this product will really take off and then we can get back to the paperless revolution that was supposed to come a decade ago.