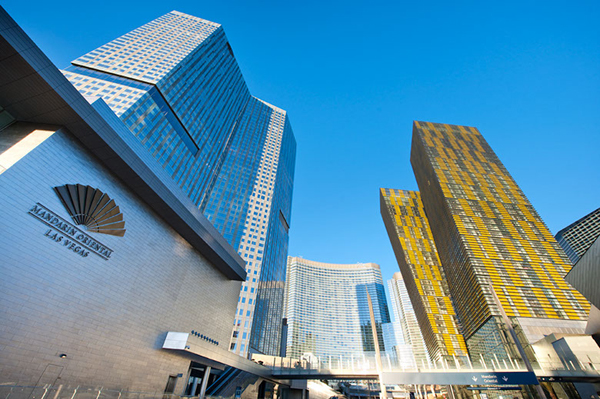 Building view from front exterior. Photo by George Apostolidas.
In late 2009, the Mandarin Oriental and the ARIA opened their doors to guests. A year later, in late 2010, the Mandarin Oriental and the ARIA both received the AAA Five Diamond Award. This is quite an achievement for MGM Resorts' City Center, a colossal $9 billion dollar development that often appeared as though it would never be completed due to decaying financial conditions.

Nonetheless, even in the face of the many daunting events of the time, MGM Resorts managed to build-out 18 million square feet, nearly 6,000 hotel rooms, 2,400 condominiums, 38 restaurants and bars, a convention center, a shopping mall, a 150,000 square foot casino and more. In my opinion, this triumph is largely due to the premier-quality design talent MGM retained to direct these efforts, a startichtect ensemble including Gensler, Ehrenkrantz Ekstut and Kuhn, Cesar Pelli, Kohn Pederson Fox, Helmut Jan, Norman Foster, Rafael Vinoly, Daniel Libeskind, and noted Interior Designers such as David Rockwell and Adam D. Tihany.

Adam D. Tihany, revered as the foremost hospitality designer in the world, designed the interiors of the Mandarin Oriental, as well as a handful of restaurants at the ARIA. I spent some time with Adam before the holidays and here are highlights from our conversation.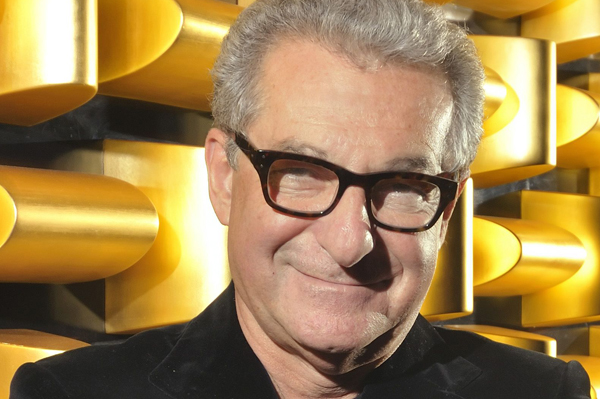 Portrait of Adam D. Tihany. Photo by Bill Hughes.
Jacob Slevin: Please state the design thesis for the Mandarin Oriental.

Adam D. Tihany: The Mandarin Oriental Las Vegas pays homage to its Asian roots through a design that is sophisticated, urban and sexy - not unlike modern day Hong Kong.

Jacob Slevin: Your background somewhat makes you a man of the world. Born in Transylvania, raised in Israel, studied design in Italy, and today Principal of your own international design firm headquartered out of New York City with an office in Rome. How does this narrative affect your work?

Adam D. Tihany: The international prospective I bring to my work is rooted in my background and in the multi cultured cross section of designers and artists we have been working with through the years. Growing up in countries that embraced immigrants has made me very comfortable with languages and foreign cultures. My work touches upon various disciplines including Architecture, design, social behavior and habits, art, cooking & Gastronomy, trends and opinions. As such, I welcome learning and integrating experiences from around the world. In the hospitality business, global prospective is what keeps us ahead of the curve.

Jacob Slevin: Tihany Design has worked on projects of all kinds across the world. What makes Las Vegas special as a site?

Adam D. Tihany: I find Las Vegas to be the most important hospitality design laboratory in the world. It is a city full of venues that constantly compete with each other for attention and need continuously to reinvent themselves to stay relevant. The visitors demand unforgettable experiences and the owners are willing to take chances with innovation and at times "over the top" design.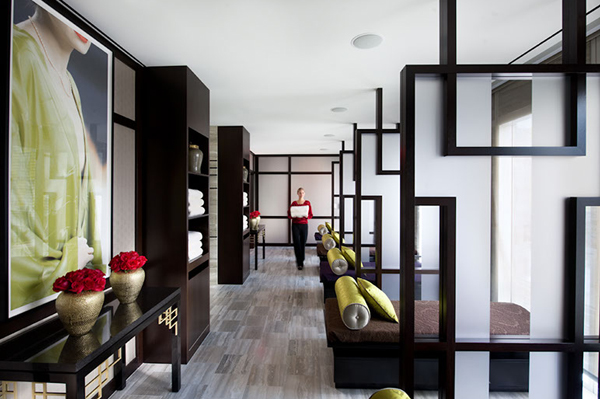 Spa. Photo by George Apostolidas.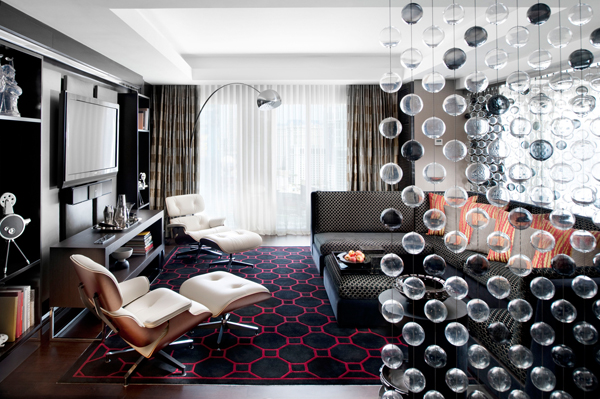 Emperor, Black & White, Presidential Suite. Photo by George Apostolidas.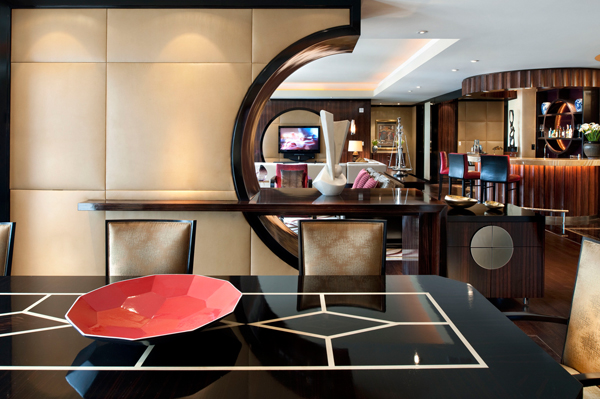 Taipan, Contemporary Asian, Presidential Suite. Photo by George Apostolidas.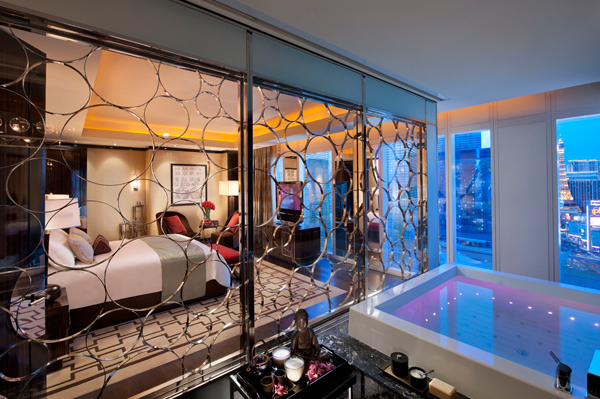 Mandarin, Art Deco, Presidential Suite. Photo by Eric Laignel.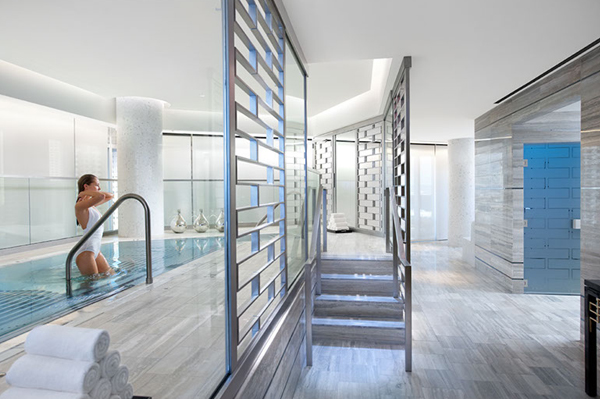 Spa, Vitality Pool. Photo by George Apostolidas.
Jacob Slevin: Las Vegas is arguably (possibly undeniably) artificial and decadent. Are those words you'd ever use to describe the Mandarin Oriental? If not, how did you escape this pre-determined sense of place?

Adam D. Tihany: I would not describe Las Vegas as "artificial." The immediate images that Las Vegas conjures is "The Strip," which overshadows the fact that Las Vegas is a living and bustling metropolis of over 1.5 million people with a major industry driving it's economy. It has its own sense of authenticity and strong presence. The Mandarin Oriental is a non-gaming luxury hotel, and by definitions, it stands apart from the "Mega Casinos" surrounding it. It is meant to be a special oasis, elegant and sophisticated, yet with a strong sense of style and design.

Jacob Slevin: What local icons along the Strip did you look to while designing the Mandarin Oriental? How did this possibly influence the design process?

Adam D. Tihany: The global perception of the Strip was the driving Icon, and by that I mean the ever present "International Theme" . A trip down the Strip takes you to New York, Monte Carlo, Paris, Venice the Pyramids and back in one hour...My Mandarin Oriental is your Modern Asian stop on this fantastic rollercoaster journey.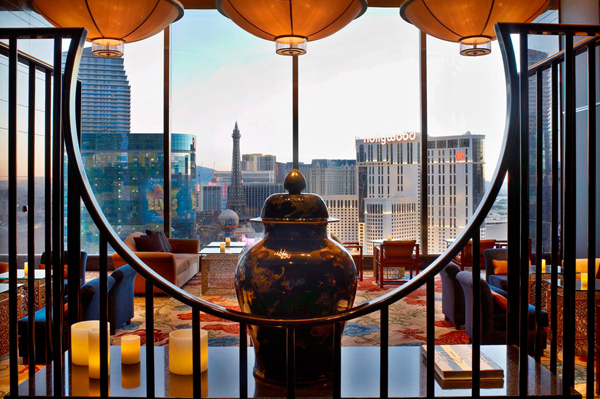 Sky Lobby Tea Lounge. Photo by Eric Laignel.
Jacob Slevin: At City Center, you were collaborating with a wide group of talent from many firms. What was this experience like for you?

Adam D. Tihany: We always work as consultants to local architects in Vegas. It is a practice that I followed for the last 15 years, and you may say that it is the only way I know how to work in Vegas. 35 architectural and design firms worked on Aria alone. One would think that putting all these egos together in one project is a sure recipe for a modern day "Tower of Babylon". The MGM team behind this daunting coordination effort effort was such a professional and inspiring group of people that we all ended up contributing our best without once stepping on each others toes. The Mandarin oriental however was pretty much a "solo flight" as, together with KPF, Gensler and Aadamson, we had a very tight professional team taking direction from a single design source.

Jacob Slevin: There's no question that the economic downturn that first stormed the globe in late 2007 created various challenges for City Center. How did these financial conditions possibly affect the Mandarin Oriental? How were these issues resolved?

Adam D. Tihany: Financing is not my field of expertise therefore I must limit my comments on this issue. All I can say is that there was a period back in 2008 where we were asking ourselves whether or not the project will be completed and open. We went through a series of value engineering phases and got it back on track. At the end of the day, that is all that matters.

Jacob Slevin: Hospitality is experiential. When designing the Mandarin Oriental, where did you identify this experience beginning and ending for guests? How does this possibly influence the design thesis?

Adam D. Tihany: What I want the customer to take away from a stay at the hotel is an understanding and appreciation of the Mandarin Oriental Brand Philosophy and a memorable design experience. The design highlights the bespoke nature of the service philosophy of the brand and its strong ties to Asian hospitality.

Jacob Slevin: What is your favorite design moment within the Mandarin Oriental?

Adam D. Tihany: The "Wow" moment is the "gold bullion" wall at the sky lobby arrival. It is the essence and the summery of the design philosophy of the hotel.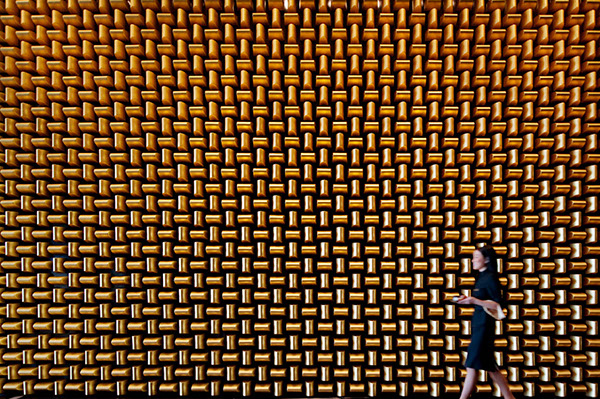 Gold Buillon Wall. Photo by George Apostolidas.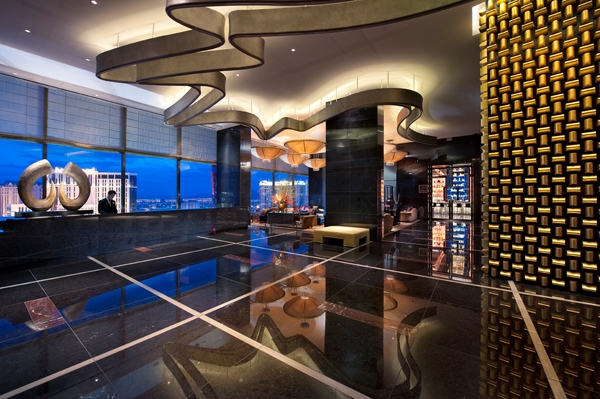 Sky Lobby. Photo by George Apostolidas.
Jacob Slevin: Given your body of work, does the Mandarin Oriental fit within those boundaries, or is the Mandarin Oriental an indication of a new period of work for you?

Adam D. Tihany: My relationship with the Mandarin Oriental goes back twelve years. Through the years we have done several restaurants, bars and lobbies for them in London, Geneva and Hong Kong. This is the first entire hotel project - rooms, suites, SPA, Pool, Ballrooms - we have done together. I hope this will certainly open up a new page in my professional association with the brand and for many more projects together.

Jacob Slevin: What's next for Tihany Design?

Adam D. Tihany: We continue working with clients who understand and appreciate a truly original custom made product. We are designing projects in London, Bangkok, Rome, Los Angeles, Dubai and Seoul. My goal is to design a significant hospitality project in the major cities of the world, and there are opportunities out there. Collaborating with our Rome office strengthens our international reach and allows us to better service our European and Middle East clients. In addition, we are looking forward to partnering with international luxury product manufacturers to develop new furniture and accessories for the hospitality and residential markets.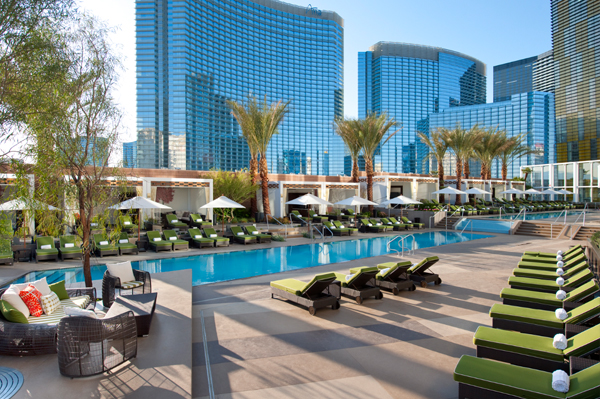 Pool & Cabanas. Photo by George Apostolidas.
SUBSCRIBE TO & FOLLOW CULTURE SHIFT
Every Friday, HuffPost's Culture Shift newsletter helps you figure out which books you should read, art you should check out, movies you should watch and music should listen to. Learn more