NEW YORK, NY -- Last night I spoke to our fellow Webby nominees and notables on the red carpet in New York City about what is hot in politics online, and it's not just Obama Girl. Efforts like ours at Why Tuesday? and OffTheBus that use citizen journalism on the campaign trail to bring attention to oft-ignored issues was a hot topic.
Why Tuesday? is an effort to make America's democracy stronger through increased voter participation; we work to make election reform an issue that our politicians cannot afford to avoid. Read more campaign coverage from OffTheBus by clicking here.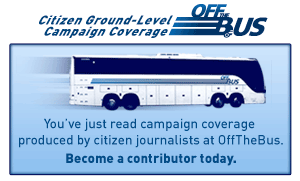 SUBSCRIBE AND FOLLOW
Get top stories and blog posts emailed to me each day. Newsletters may offer personalized content or advertisements.
Learn more