Jayson Brunsdon, designer, just hours before his Thursday night showcase in The Salon at Bryant Park.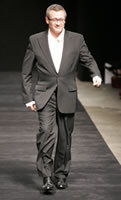 1) One word to describe your experience as this year's Fashion Week?
Satisfying.
2) What thought is going through your mind as you watch a model suddenly trip on the runway?
Get up and get on with it.
3) What do you hate most about putting on a show at the Bryant Park Tents?

Nothing.
Hitha Prabhakar, fashion and retail expert via e-mail.
1) What was your favorite show so far?
My favorite show was J. Mendel. I loved it because he [Giles] stayed true to form. Everything was tasteful, luxurious and looked like it was made for some totally wealthy woman who hits galas and red carpets every night. It was almost like he was saying, "Recession? What recession?" through his collection. It was fantasy, fantastic and having the show in the Grand Ballroom at the Plaza made his point resonate that much more. Just brilliant.
2) At Tracy Reese, I saw one model trip twice, what was the worst foot fumble you saw this week?
Hmm. I guess the worst foot fumble I saw this week was at the BCBG runway show on Friday but it wasn't by a model. This woman tripped over my friends umbrella while trying to get to her seat and fell flat on her perfectly made up face. Then she proceeded to yell at my friend. I get that she was embarrassed but was it necessary to yell? I mean, c'mon!
3) What was the worst item received in a gift bag this week?
Oh man. The worst item I recieved in a gift bag were those damn "Sweetriot" dark chocolate nibs! I hate those things!! They taste bad and the are just annoying!!
Faran Krentcil, nylonmag.com and fashionista.com via facebook.com.
1) What was your favorite show so far?
It's actually been Rodarte. I thought the clothes looked incredibly modern and terrifying in the best possible way - they were scary because they both looked new and really, totally possible as a future way that women dress. It was captivating, and cool. Nice to see they've stopped making pillowcases-as-dresses, too. Ruffian's a close second, because I would wear absolutely everything, and I loved Chris Benz' Margot Tennenbaum outfits.
2) What was the worst foot fumble you saw this week.
Well, Karlie Kloss has been having a rough week. She's suddenly the new hot girl, she's been thrown into every show imaginable - and she's only fifteen. She's still learning how to walk in heels and gowns, and so she's been a little bit wobbly all week. Jessica Stam also slid at Earth Pledge but she just giggled and kept going - after her Chloe fall, I don't think anything can phase her ever again!
3) What was the worst item received in a gift bag this week?
Ummmm... I mean, do you need another bottle of heat-styling hairspray?
Cori Bardo, Stylist for Sebastian Professional
1) What was the motivation behind the hair looks for the Rodnik "This is not a rock band" rock show?
The motivation behind the hair for the Rodnik show was a combination of the great rock/chic vibe that the night was all about and a collaboration of visions between the Sebastian Professional hair team and the designers.
2) Who is your style icon?

Bianca Jagger, Audrey Hepburn and Bridgitte Bardot (for her amazing hair)
3) What do you love about fashion week?
The high energy and the creativity.
SUBSCRIBE TO & FOLLOW LIFESTYLE
We're basically your best friend… with better taste. Learn more