Five days ago, the great river Indus continued its rush to the sea and flooded the plains of Thatta and Sujawal, towns located about 90 minutes outside of Karachi. Dr. Rashid Bhajwa hosted my husband, Chris Anderson, and me to visit the camps his organization is supporting there. Dr. Bhajwa, a thoughtful man in his mid-fifties with salt-and-pepper hair, a mustache and intelligent eyes, trained as a medical doctor. In 1992, he founded the National Resource Support Program (NRSP) to bring services to the poor across the country. Less than 20 years later, his nonprofit company employs 5,000 professionals, manages a $200 million budget and serves four million individuals.
We drive north along the old highway from Karachi to Lahore. The road is uneven; the colorful trucks, as big as buildings, are overstuffed with sugar cane and wheat and even rocks to such a degree that they look unreal. We pass ragged communities of people living in makeshift tents along the roads.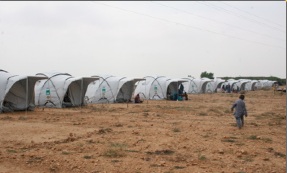 That there is any organization at all is extraordinary -- in the past four days, 650,000 individuals have left their homes and 100,000 houses have been lost. People were given a day's warning to evacuate, so most people were able to hold onto their belongings. I'm struck by how little they have even in good times: a roped bed, a few blankets, some pots and pans, a few items of clothing, maybe a cell phone, although I don't see a single one all day -- right now, they are too expensive to use.
We turn down a side road to arrive at a community of 100 tents situated in a circle. I've been prepared for the kinds of camps we've seen previously: hundreds of tarpaulins lined side by side and row by row with people sitting in their own abodes, rarely mingling. This community, in contrast, has been created on a human scale. The air feels fresh, and there is room for people to feel a greater sense of freedom. The tents, made by Shelter Box (and donated by Rotary Club), are made of nylon, dome-shaped with double layers for insulation and zippered windows and doors. Rotary pays a high price for each -- about $250 -- but the privacy, coolness and safety from the poisonous snakes that have come out in force communicate a powerful sense of dignity. In some ways, these tents are a step up from the mud and thatched roof homes that were flooded. This plus the distribution of free food twice a day, the provision of clean water and the security of the community make some nervous that people will not want to go home. "We need to help transition people to a more self-sufficient, not less self sufficient state," says one of the men with us.
The circle formation of the tents seems to promote interaction among these temporary residents. Nearly everyone is outside, cooking, playing or just sitting and watching the world. And people were able to bring their animals, which now constitute almost their only wealth. Most have constructed shelters for their cattle, goats and chickens. Perhaps this feeling of security in knowing at least some wealth is preserved counts more than any other reason for an entirely different feeling in the air.
We meet a slender woman dressed in tans and pinks, squatting on a piece of cardboard beside her stove built over three big rocks, cooking chapattis among pots and metal dishes. She rolls the dough into balls, flattens them into a large circle, and cooks them with just the right amount of oil so that they are golden brown. It is the first time in the past few days that I've seen a woman cooking for her own family: again, dignity. Although her mud and thatched house is underwater, she's now safe with the total of her meager belongings, all six of her children, the family's animals and some sense of normalcy.
A few doors down, we meet Nazreen, an older, tribal, bright-eyed woman with flecks of gray in her hair. She has made a broom out of twigs and is sweeping the area outside her tent. Her black-and-white dress is beautifully embroidered and she exudes a sense of confidence and strength that would make her stand out anywhere, but especially among a traumatized community.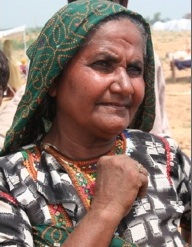 "Why are you cleaning?" we ask. "What else should I do?" she says with sweet defiance. "This is our home for now, and I will do what is needed."
"What does your husband do?" I ask, and she says she's a widow. Her family owns a bit of land, and her eldest two children, a daughter and son, grow sugar cane and sell it for income. I ask what she needs now, and she answers, "light." Did she have light in the village before the floods? I asked. "No" is her honest answer.
I dare to ask her whether she feels hope, this salt-of-the-earth woman with a seemingly indomitable spirit. It is as if a cloud descends. "For what can I hope?" she answers quietly. "We have lost everything. What good can come now?"
More images: Two newborn goats tied beneath a shelter behind the tents. An old man with a dark green cap cares for his cow. A young twig of boy with a big stick holds a poisonous snake he's just killed -- children gather around him with fear and fascination. An elderly imam sits quietly outside his tent on a small prayer rug.
Here is a slender child in a turquoise shalwar with a red scarf on her head, carrying her little brother. There is a ten-year-old beauty in a blue shalwar -- she uses her purple scarf to hide her shy laughter when I tease her with my camera.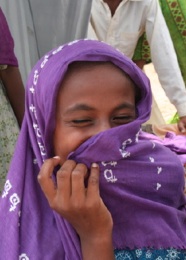 Here is a tiny girl with a pierced nose and a tribal shawl fringed with brightly colored tassels. I want to know what they dream about, these children of God who share a sense of grace and joy despite having lost their homes and part of their childhoods.
A friend, Adnan Asdar, shows up with a bag containing a soccer ball, several cans of tennis balls and a cricket bat. Chris, Dr. Bhajwa and I all cheer, but the children seem not to know what to make of it. They look on shyly with little response to Dr. Bhajwa's offer of the ball.
Dr. Bhajwa finally chooses an older boy to bowl the tennis ball while he stands at bat. The boy throws the ball like a baseball, and Adnan tells me it is a crime for a Pakistani not to know how to play cricket, but these kids are so isolated they may never have seen a game.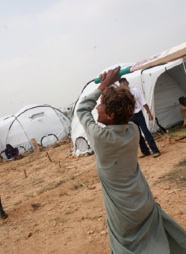 Dr. Bhajwa is talented. He can hit whatever balls come his way, and now the other children in the camp start to gather around. Chris gives a quick lesson to the bowler, and we're all laughing and cheering. The camp is transformed, at least for a moment.
As we leave, the men come in from the field with a long line of cows. The imam continues to sit with a peaceful gaze. The women cook. The camp leader gathers the bag of sporting equipment to put away for a while although Dr. Bhajwa promises to check that he's organizing the kids at least twice daily. There are definitely better ways to design a camp, and this is one of them. Obviously, there is no perfect model when 20 million people lose their homes, and we've seen many different styles and approached. Indeed, I'd be interested in a paper or talk on "The Best Design Practices for Refugee Camps." Instead, you can't help but get the sense that there is little sharing of lessons and enormously divergent approaches based on what donors give and not always on what people most need. Traumatized communities -- all of us, really -- deserve better than that.
SUBSCRIBE AND FOLLOW
Get top stories and blog posts emailed to me each day. Newsletters may offer personalized content or advertisements.
Learn more