We are in Kibera, where one year ago a group of young men looted the Toi Market, killing a number of people and in burning down the market entirely, destroyed the livelihood of thousands of people. We are visiting the offices of Jamii Bora, Kenya's fastest-growing microfinance institution, with more than 170,000 borrowers. My organization, Acumen Fund, has invested in Jamii Bora's efforts to develop a community outside Nairobi that will house members, many of whom currently live in the Kibera slums. Kibera is 2.5 square kilometers, in which 1.5 million people live; the slum includes about 42 tribes.
A mix of boys, though mostly Luo and Nubian, were at the core of the violence. Andrew, a Luo himself, and Gabriel Kadidi, a Kikuyu who was serving as Director of Communications for Jamii Bora, were charged with rebuilding Toi Market. They knew they needed to get the boys on their side before they rebuilt the market, or it would be torched again, with perhaps even with more violence.
Jamii Bora devised a plan to "redistribute the marketplace" by expanding it from 1,776 stalls to about 2,500, providing a stall to each of the 200 young attackers. They also hired the boys to rebuild the market and provide security at night (every stall member now pays 10 shillings per month for security).
John, the leader of the 200 boys who destroyed Toi Market, was given a place to work on the edge of the market, next to Jamii Bora's office. It was a controversial move by Jamii Bora, for this guy was known to have been serious trouble for nearly 15 years.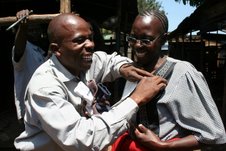 John told us his story. "I dropped out of school as a young guy - I was really bright, you see, and there was nothing useful or interesting for me there. But then without school, I would sit home and be lonely without anything to do. A group of guys playing cards noticed me - and I noticed them. I approached the group one day and asked where they got the money to do this casino thing they were doing. The gambling looked cool to me. They told me I could have a job carrying water all day long for the women who made illegal brew - and for that, I'd be paid 200 Ksh (Kenyan Currency).
"I was 19 years old and for the first time, was able to wear nice clothes, go out to dinners, and buy whatever I wanted. Life was good."
The gang then offered him a job mugging people; he'd be paid 5,000 Ksh each time. "I saw that I could earn a lot and didn't need education to do it."
By the time he was 30, John knew how to use every weapon available to the gangs, and everyone knew that fact. "I was the most respected because I could use all the weapons and I wasn't afraid. During the riots, I was among those who destroyed everything in this area. We thought now we have land and so now we can finally build our own houses."

John and Andrew both knew that the other traders in the market now had to accept the fact that the dangerous boys who had done so much damage would now have the right to sell things besides them, in the same market where they lost everything. "I went to the women and asked for their help. I said, "Look if you help these boys, we will have peace. But if you don't there will be trouble."
Andrew keeps close watch on John and the boys. They managed to repay loans they were given to start. John says, "I'm very happy. I am walking free. Before I couldn't be with anyone either. But because of Jamii Bora, my girlfriend married me, and I can be proud to be with my wife and son."

Between 1996 and 2008, John didn't see his mother out of both shame and fear that something might happen to her. With Jamii Bora's encouragement, he finally went to visit her last June. As he described their reunion, it was the first time I could see any trace of vulnerability in John's face. "I told her the bad things I'd done, and that I was reforming and becoming a real man. You know, I am the last born and so, as a Luo man, I am supposed to look after my mother. Now she is so happy."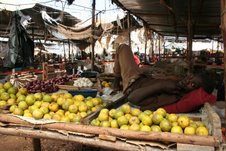 As I reflect on the definite tension in the air at Toi Market, the way I heard murmurings this time rather than the familiar shouts of hawkers selling their vegetables or fabrics, I have conflicting emotions. I can't imagine how I would feel if the thug who had destroyed my livelihood - everything I'd owned - was not only given a loan and a stall without earning it (indeed the boys had done the opposite), but he was the center of attention for foreigners coming into see the new marketplace. How can you create a sustained culture of peace when such impunity exists? What kind of retribution would I want from John if I were his neighbor whose business had been harmed?
On the other hand, I've met a culture of forgiveness in low-income communities in East Africa that is awe-inspiring. Maybe the women who see John know he could be their son, and if he finds the light and starts giving back, well then their sons can too. Maybe they see the suffering in one another's eyes and know the deep imperfections of life, that there are never easy answers when so few institutions are on your side. When the police don't protect you and the government doesn't serve you, then you only have your community, however flawed it may be. In that forgiveness as well is perhaps the deepest part of our own humanity that bespeaks of our true ability to endure.
FOLLOW HUFFPOST