This morning, Lahore is hot and sunny. Former Acumen Fund Fellow Jawad Aslam meets us in our guesthouse lobby and we drive through the city, passing Lahore's beautiful fort and mosque, admiring the mix of cars and donkey carts, of morning life, though traffic is easier before nine as the days start and end later here. I'm happy to be out, happy to be seeing our work. Indeed, I'm never happier than when I'm in communities, talking to people who are making a difference in their own lives.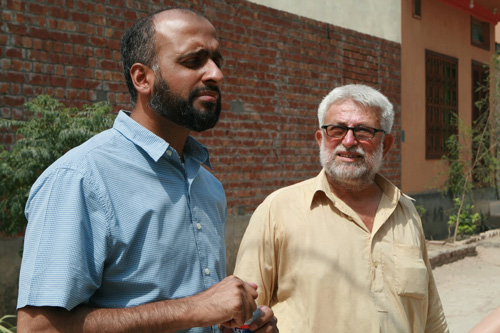 Saiban's Khuda-ki-Basti 4, the housing development project led by our former Fellow Jawad, has sold almost all of its low-income plots now and fully repaid Acumen Fund. In total, 450 families will live in the development, 75 percent of which are sold to families earning between $2-4 a day, and 25 percent of which are sold on the open market, cross subsidizing the low-income plots. On what was once a moon-like landscape is now a vibrant community with parks and schools, a mosque and even a "shopping mall," nearly built, where shopkeepers have retail space that is separate from the blocks on which people reside. Many of the trees now tower over my head. And people are beginning to take their homes seriously.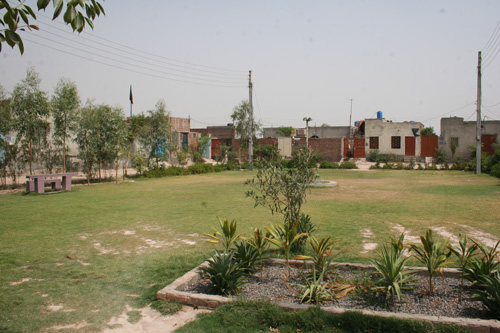 We visit one of Jawad's team members who also lives in the community. He had worked for the railway all his life and then couldn't find an affordable place to buy or rent once he had retired. Finally, he came across Saiban and bought a standard plot. His son now works in Portugal and sends remittances, so now he has upgraded his entire home. The floors are not just bricks, but colorful tiles. He has made several individual rooms and has a fan, furniture and a television. The pride with which he showed us his home was deserved and infectious. His neighbor's home looked like most of the others -- very simple and bare -- but the mix of incomes is welcomed and, indeed, encouraged.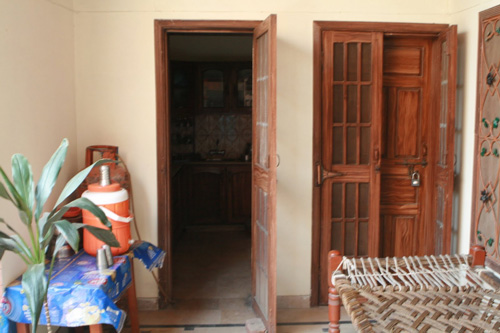 A group of community leaders waits for us inside the school built by Development in Literacy (DIL). Saiban's stability and safety enabled a nonprofit like DIL to have the confidence to establish itself here. They are teaching the children English and every man at the table sends his children to the bright school, complete with bookshelves lining the walls and displays of clay gourds to demonstrate different weights (1 kg, 500 mg, etc). I ask the men if they send their daughters to school as well.
Apparently, I hit a nerve. "Madame, the Quran tells us that education is a blessing and a responsibility for all Muslims. You must learn throughout your life. It doesn't matter if you are a man or a woman. It is your responsibility. We educated our daughters and our sons."
I tell them I agree with them, I am impressed and I also know many parts of Pakistan where girls have no education. "Madame, that should change," another community leader tells me. "It is wrong not to educate our children, boys and girls."
The community leaders are a mix of carpenters, rug traders, drivers and retailers. Many have taken a hit on income to live here. To pay the down payment (and most paid that in installments), they had to borrow from family and sell their wives' gold jewelry. And all of them say they are glad to be living here.
I share my concern about measuring social impact after explaining what Acumen does. "Can you help me with what we can measure in terms of how your lives have changed now that you own houses here?" I ask them. The men think. The chairman who trades carpets, answers, "You see, in the city we were distant from our neighbors. We didn't know them, so it was difficult to trust them. Here we have built great trust with each other. There is peace in this area, there is stability.
We are doing things to make the community better, and this gives us hope and strength. And maybe mostly, we have greater confidence to know we can make more changes together."
I laughed, telling them they sound like me. I know that hope and confidence, safety and community are among the most important things we cannot measure. This is Acumen's great challenge as we try to show the world that there is outsized social impact to be had through a patient capital investing approach. Patient capital is philanthropic money invested as debt and equity in social enterprises that deliver critical goods and services -- like safe housing -- to the poor. We can count the value of the house through the loans that are secured using the house as collateral. We can count change in income and savings due to the proximity of the DIL school. But we can't count -- at least not easily -- the change in their daughters from attending school, from learning English, from dreaming. We can't count the tolerance they are gaining from leading one of the only communities in Pakistan where people of many sects pray together in a single mosque. We can't easily count the impact on healthier families and communities, and on what it means to have a housing model centered in community that actually works.
In the long-term, I imagine housing values will rise, maybe more than in more difficult areas. In the long-term, some of those children will go onto do great things and invest income back into this and other communities. In the short-term, we have to do better than we've done while also keeping the long-term changes we hope to see in mind.
We also visited AMC, Jawad's newer for-profit housing company, whose first project Immersion looks today like KKB-4 did four or five years ago: the moon. This time, things are moving faster, though. It took six instead of 18 months to register the project with the local government. A team is already moving on installing water, electricity and gardens. This time, Jawad will develop everything in the beginning rather than incrementally, since the business model is a mixed-income model, which means he also will be competing for lower middle income customers to come alongside the lower-income ones. This client wants to see more progress in the short-term, as well as things like parks and schools that promise stability as well as prosperity. Low-income clients, it turns out, like this too, though in very low-income communities, the only way to build sustainable housing is through the incremental approach.
We're learning a lot. On this trip, maybe more than any before, I am struck by how the poor of Pakistan -- meaning 80 percent of the population -- constitute the true treasure of this country. Whether in the mountains of Chitral or the cotton fields of southern Punjab, I met extraordinary ordinary individuals, trying to scratch out a simple living. This is a country of upwardly mobile people who are overcoming extreme circumstances to create lives of survival, lives of productivity.
Those of us with privilege face a choice. We can choose to benefit from the opportunities of the global economy and allow a widening gap between rich and poor. We can choose not to see so many prospects for real change. Or we can choose to follow a path that allows, indeed embraces, passionate idealism tempered with practical realism and an unwavering determination to execute. We can choose to use the markets as a guide for listening to the poor as customers and build solutions that make sense for those most affected. What is most exciting to me is the wave of change I see among the young people in Pakistan -- and across the world -- who want to take the second path. We need to identify those exceptional leaders among them, nurture them, link them, inspire them and support them to take on the great challenges of our time. For what will work in Pakistan will work in other countries, and more than ever in history, we need to learn from one another.
I feel eternally grateful for the people I know, the friends I have, the entrepreneurs with whom I work and the customers we ultimately serve in Pakistan. They have all been my greatest teachers. In many ways, the journey is just beginning as the layers begin to unfold. And I know that our team and I have never felt readier to take the next step, wherever it may lead us.
SUBSCRIBE TO & FOLLOW TRUMP'S FIRST 100 DAYS
How will Donald Trump's first 100 days impact YOU? Subscribe, choose the community that you most identify with or want to learn more about and we'll send you the news that matters most once a week throughout Trump's first 100 days in office. Learn more