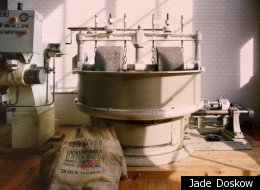 The large brick building near Coffey Street in Red Hook in Brooklyn, New York, had always caught my eye--especially when it was renovated to create double-height 30+ foot ceilings and a correspondingly gigantic set of doors. There was always a bustle of people in and out, and it seemed that some sort of wonderful and top-secret operation was going on at all times.
It turns out that I was right in my suspicions. Behind those huge doors were bags and bags of cacao beans, and some magnificent machinery specially invented to create artisanal chocolates and correspondingly sweet rum. And seeing as Valentine's Day is right around the corner, what better time to turn my lens to such a subject?
The founder of Cacao Prieto is Daniel Preston, an aerospace engineer turned chocolate entrepreneur. Bringing together his expertise in engineering, science, and business, Preston's chocolate begins at his family's farm in the Dominican Republic and ends up in the hands of head chocolatier Damion Badalamenti as he carefully turns out trays of stunning bon bons (some with gold leaf) and delectable bars.
On photographing the Cacao Prieto factory, tasting freshly churned chocolate was equally exalting to photographing 'Carl' (the giant copper distillery) and the chocolate grinder by the window. Enjoy, and Happy Valentine's Day!
Cacao Prieto's retail space will open in April 2012 at Coffey and Conover Street in Red Hook, Brooklyn. Through Valentine's Day you can get some of their chocolates at a pop-up shop in Soho at ER Butler & Co., located at 55 Prince Street (btwn Lafayette & Mulberry).
Upon entering the building, golden rays of light fell on the old wood floor and the huge, high windows help illuminate the cavernous space.

In case you can't tell the scale.....these are very, very large bags of chocolate beans.

Aka Melangeur, the chocolate grinder.

Taken from the Scharffenberger factory when it closed down

Head chocolatier Damion Badalamenti took great care with his precise creations of bars and bon bons --- he explained that essentially chocolates have been a bit of a by-product of the industrial revolution, rather than handled with smart and careful chemistry, growing techniques, and production, such as is done here.

The charming illustrations on the bars were specially created by Brooklyn artist Sophie Blackall.

The rums and liquers include Don Esteban, Don Daniel, Don Rafael, Don Antonio, and Don Juan Salvador.

A perfect pairing, rum and bon bons.

Some of the flavors here include Hazelnut & Cassia, Conquistador, Spiced Rum, Hazelnut & Raisin, and Coconut. Yum.

And lastly Carl, the giant copper still, also designed by Daniel Preston. The Still rises around 30 feet above the factory floor.
To see more great photography visit HuffPost Exposure.

Follow Jade Doskow on Twitter: www.twitter.com/jadedoskow