One of the most striking features of a South Asian bride is undoubtedly the layers of intricate henna patterns adorning her arms and legs. Mehndi ceremonies are one of the most longstanding traditions of a big, fat Indian wedding celebration, and the exquisite patterns have become a standout symbol for any South Asian wedding celebration.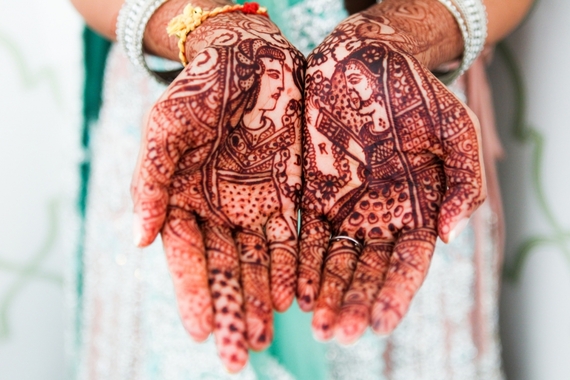 Image courtesy of Donna Newman Photography.
But the beauty of traditional henna patterns doesn't have to be limited to bridal mehndi. Whether you're having a traditional South Asian bash, not getting any mehndi applied or you simply want to extend the beauty of henna patterns to your non-South Asian wedding, we've got seven stunning ideas that will have the magic of mehndi making a high-impact style statement on your big day!
7 Ways to Add Mehndi Patterns to your Big Day
Colored henna lets a bride coordinate the exquisite designs to the color palette of her choosing. Choose the same color as your outfit for a modern and monochrome take on tradition! Image courtesy Go Nakamura Design by Akiyo Henna

Combine the beauty of henna patterns with the richness of fall wedding decor by decorating pumpkins with the intricate patterns. Studded embellishments add some glam to this DIY decor project. Image by www.alisaburke.com

Mehndi gets a sweet makeover when henna patterns are used to decorate desserts and other treats. Image courtesy Creme Delicious

Henna patterns can stunningly spruce up even the smallest decor items, whether it's small jars accompanying the centerpiece on each table, or even favors you're sending your guests home with. Image courtesy by LITDecor

Traditional henna patterns are a symbol of a big, fat South Asian wedding -- send the signal to your guests from the start by incorporating pretty patterns into your wedding save-the-dates and invitations. Image courtesy Lotus Designers

Champagne flutes embossed with intricate henna patterns are a small detail that can make a big impact. We love the idea of personalized glasses for the bride and groom -- it's an easy way to make an already heartwarming toast even more special. Image courtesy Mehndi Glass

The simplicity and beauty of henna patterns make them a natural choice for brides testing out DIY wedding projects. Wine bottles that have been repurposed as a simple flower vase get an added touch of pretty when decorated with paisley henna patterns. Image courtesy SoniKaur Creations.