How did I come across such an awe-inspiring organization like Kiva.org? I came home one evening after a day of work and evening classes and threw myself on the living room sofa. Going to school while working part-time can be arduous at times, so television becomes a well-earned privilege. That night PBS was broadcasting an intriguing documentary which dramatized a lender from Kiva and an African woman receiving a loan of about $400 to purchase a machine that would aid her business in the production of peanut butter.
My first thought was "What? Peanut Butter?! I love peanut butter! It's part of my daily breakfast!" Then, I saw the lender who made the loan, and he was an ordinary San Francisco resident. I heard his personal testimony about micro loaning and I also witnessed how big of a difference the loan made in this woman's life. With the relatively small amount of money that was loaned to her, she was able to purchase a peanut butter machine that would allow her to efficiently produce a lot of peanut butter. She testified that the machine dramatically raised her sales, and, of course, made her job much less laborious. I checked the balance in my bank account, visited kiva.org, and logged in to my PayPal account to complete the transaction. It was an action that opened the door to one of the most rewarding experiences of my life.
As I browsed Kiva.org, I came across the profile of Euloterio Salazar Segura, a general store owner in Mexico, who lives in a town only a few miles from where I was born. This information automatically and emotionally took me back fourteen years. In 1984, I was born in Salamanca, a relatively small town in the Mexican state of Guanajuato, but I lived in a remote and small town approximately thirty minutes away from Salamanca. I personally know how hard it is to live in place with limited resources. Best of all, reading Mr. Segura's profile also brought back so many memories of my father who still lives in Mexico, and who also owns a small general store in his small town.
According to his profile, Mr. Salazar Segura was in need of $475 to purchase additional merchandise to increase the capacity of his sales. I checked my bank account and realized that loaning $200 to Segura would not be a huge burden. This information also made me think of the difficulty of expanding a business when you have few resources within reach. I see myself as the agent that aided Segura in expanding his general store and helping it thrive. Overall, it was an extremely emotional and inspirational experience for me. Within minutes, I was able to reach out to someone who just a few years ago was so close to me.
Some claim that micro lending will not do much for entrepreneurs who lack educational skills and even literary skills. However, I tend to question that. I do know that micro lending might not make individuals rich, but it will definitely make their life much easier and will raise the revenue of their business. The woman in Africa who received a loan to purchase a peanut butter machine did not elevate herself to the next socioeconomic level, but I am convinced that she was able to start making more money and it also made her job much less tedious. I know this from my own personal experience:
For the last five years I've worked at a bakery in Houston called Dessert Gallery, and it has sustained me through college. I started making tres leche cakes every weekend, and the popularity of the has grown dramatically. I started very humbly with a small handheld mixer which I used to mix my cake batter. After subjecting my small mixer to vigorous jobs, I eventually broke it, along with three others.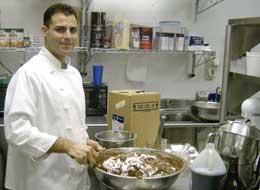 A year later, the same person that hired me to work for Dessert Gallery, Chamonix Guevara, gave me the best Christmas gift ever: a heavy duty Kitchen Aid mixer. This marvelous piece of equipment definitely has made my job a lot more efficient and much less laborious. This is one of the reasons I absolutely believe in Kiva. These micro loans do make a major difference in the lives of these entrepreneurs who hardly have any resources to better themselves. Kiva lenders aid these entrepreneurs take the next step in their business.
This is what so distinctive about Kiva: it allows lenders to find entrepreneurs who they can connect with. I know how difficult it is to continue thriving in a developing country. I lived in one of these countries for the first nine years of my life, and fortunately, I was able to come to the United States where I have found many opportunities I would otherwise be lacking. I have learned the importance of being socially conscious. We can all reach out to others in need of help, and Kiva is one way to make this happen. I know that I have the capability of easily reaching out to people who want to better their lives and the lives of their families. This entire experience reminds me of a Buddhist saying: "If you light a lamp for somebody, it will also brighten your path".
SUBSCRIBE AND FOLLOW
Get top stories and blog posts emailed to me each day. Newsletters may offer personalized content or advertisements.
Learn more