Your local hardware store could also be the next "It" neighborhood gallery if they take Joe Franquinha's lead.
The second generation owner of Crest Hardware in Brooklyn's north side has been launching an art show for the last few years in this former working class neighborhood that began swimming with artists a decade ago. While the hardware based theme is sometimes stretched beyond plausible connection and Joe's curatorial method stretches to every artistic ability, the elitists who once mistakenly sniffed at the idea of an art show in a hardware store now find themselves needing to stop by if only out of curiosity, or a pack of light bulbs.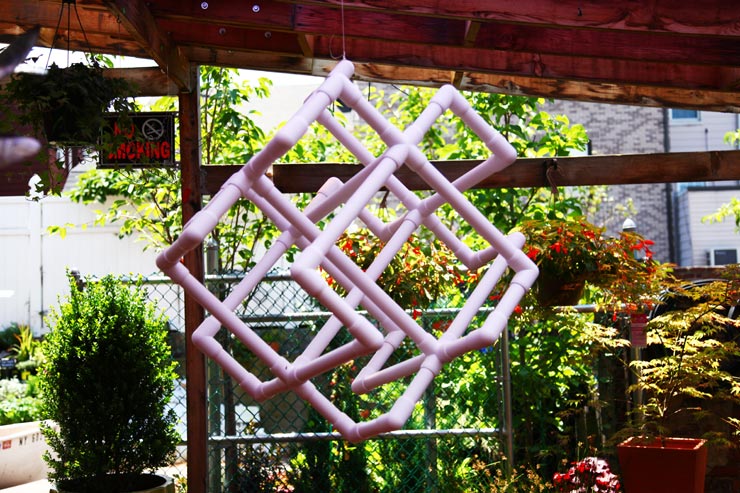 A sculpture by Matthew Warren made with PVC pipes hangs in the garden section. (photo © Jaime Rojo)
And what will they see? Among the mop handles and caulking guns they'll find work that surprises, disarms, causes a chuckle, and sometimes even looks amazing. Regardless of your expectations, you will not be bored by this collection of about 300 pieces and you'll find work by some pretty well-known names also. You might also meet Joe and Liza's pig, a local celebrity named Franklin.
Here are some images from The Crest Hardware Art Show just opened this week.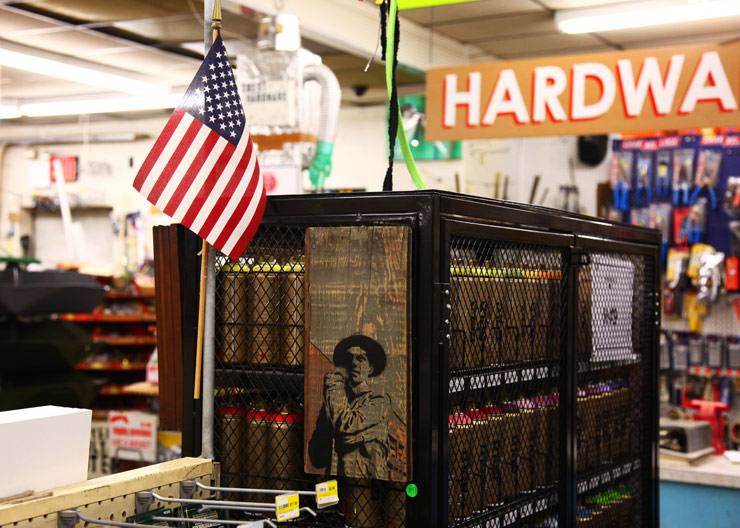 Chris Stain's stencil doesn't stray far from the spray paint. (photo © Jaime Rojo)

Max Zorn creates portraits made from packing tape, here displayed on a light box in the front window. (photo © Jaime Rojo)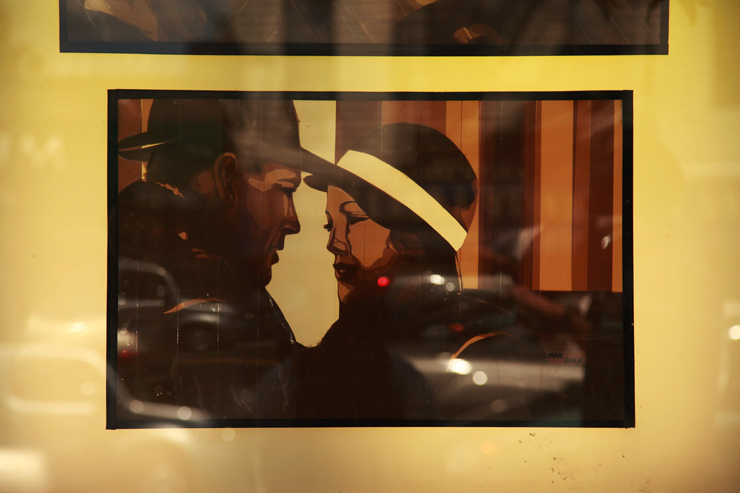 Max Zorn. Detail of the installation. (photo © Jaime Rojo)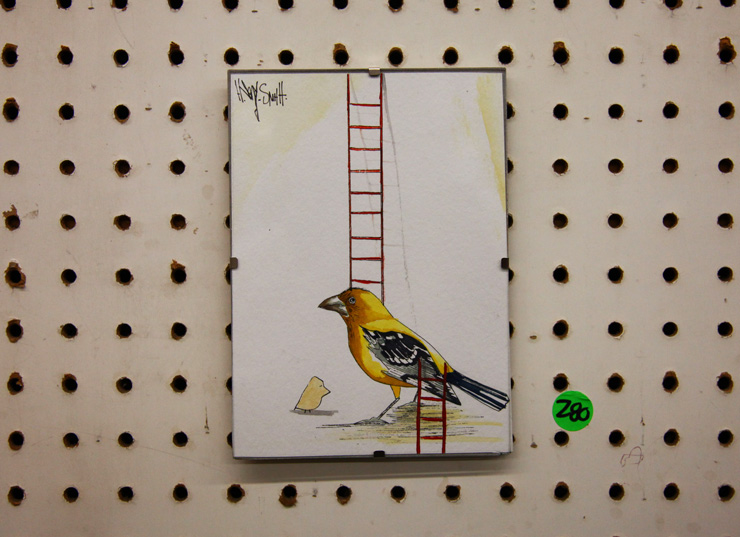 Street Artist Veng RWK (photo © Jaime Rojo)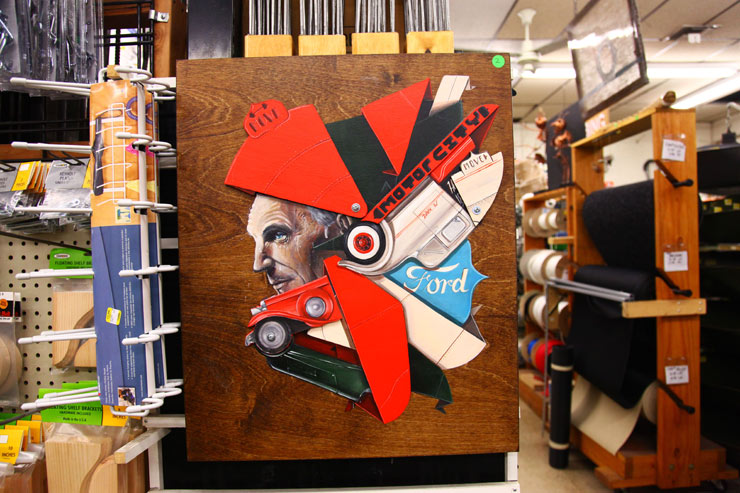 A portrait of Henry Ford by Daek One. (photo © Jaime Rojo)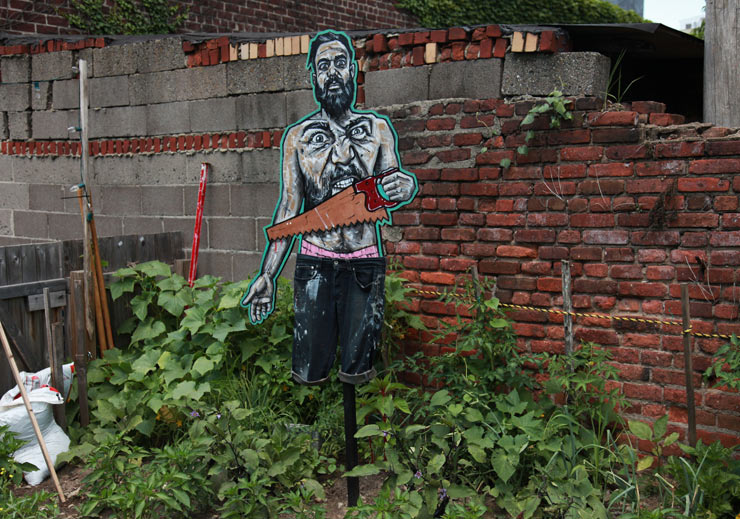 Quel Beast turns Joe into a scarecrow. (photo © Jaime Rojo)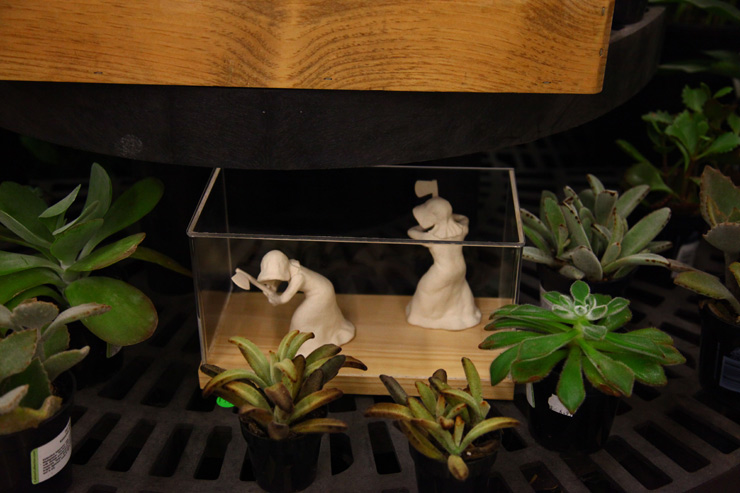 Rachel Farmer (photo © Jaime Rojo)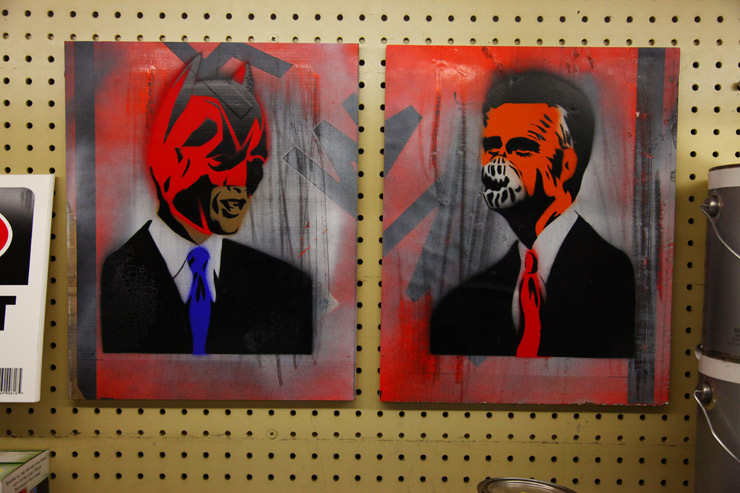 Street Artist General Howe "Super PAC" characters; Obama as Batman, Mitt Romney as Bane. (photo © Jaime Rojo)
The "Super PAC" are characters of the 2012 presidential election portrayed as characters in the Batman mythology. Obama as Batman, Romney as Bane, Gingrich as Penguin, etc... Presidential elections and summer blockbuster movies have become the same thing. There is an epic battle of good vs evil and the fate of the world is up for grabs," says the artist.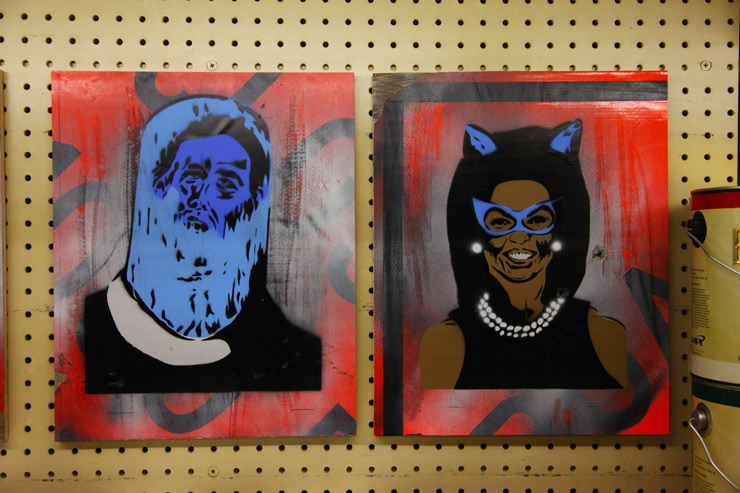 General Howe depicts Michelle Obama as Cat Woman. (photo © Jaime Rojo)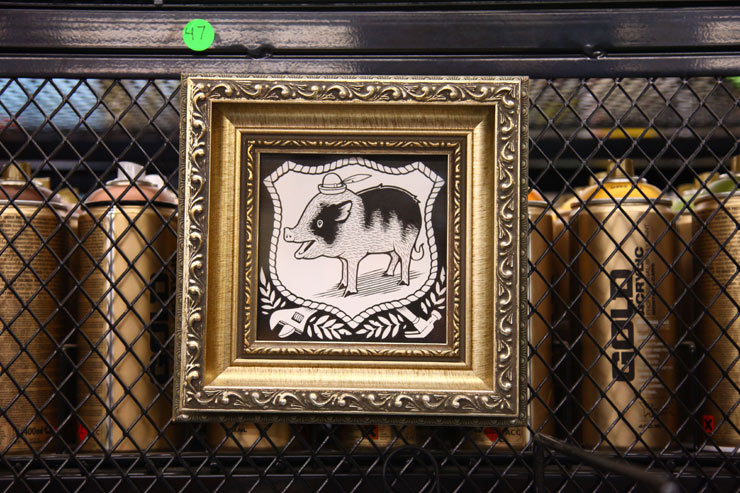 Jeremy Fish created this portrait of the store celebrity, Franklin. (photo © Jaime Rojo)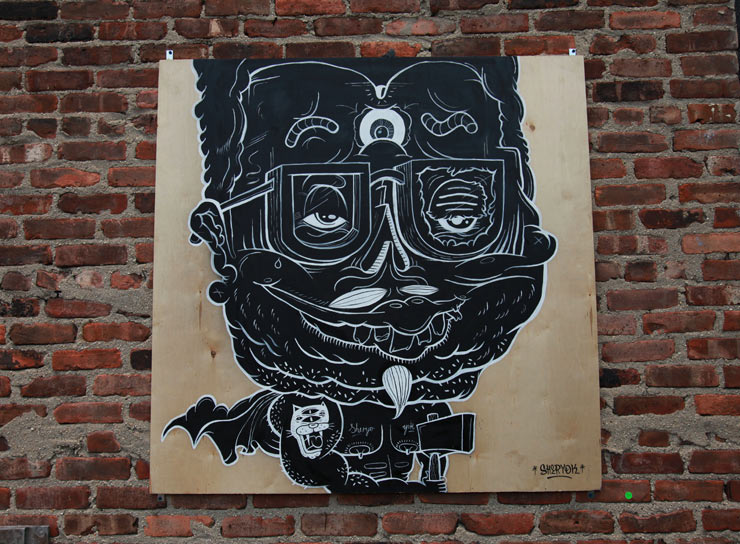 Street Artists Sheryo and The Yok contribute a collaboration. (photo © Jaime Rojo)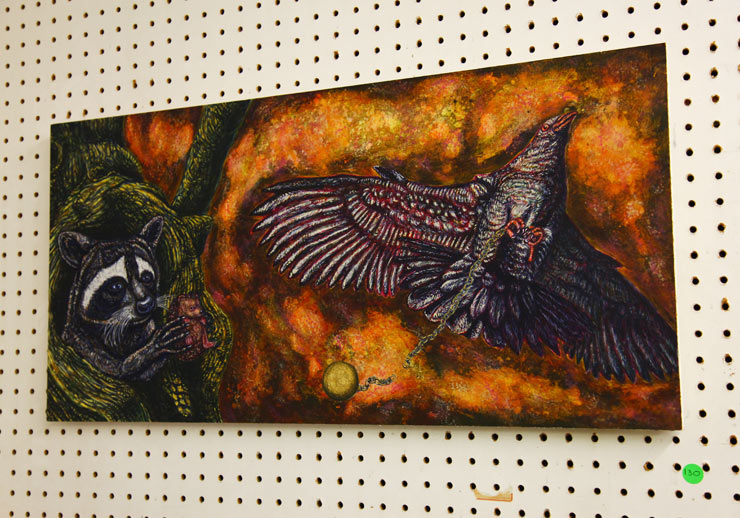 Street Artist Willow contributed a piece. (photo © Jaime Rojo)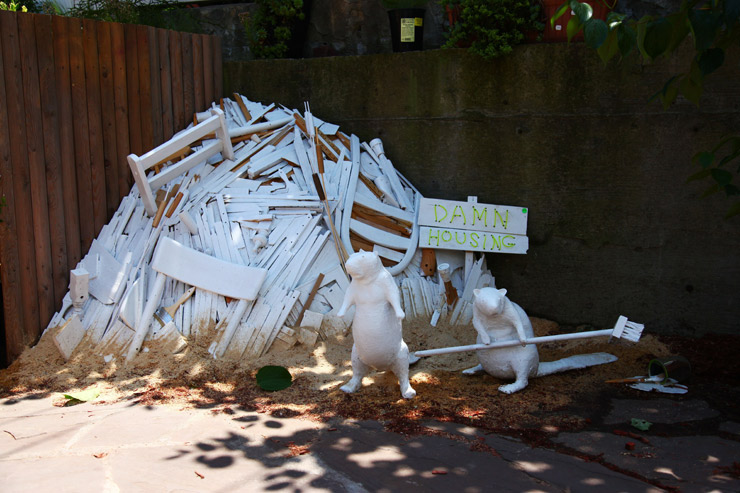 A sculptural beaver dam by Peter Pracillio (photo © Jaime Rojo)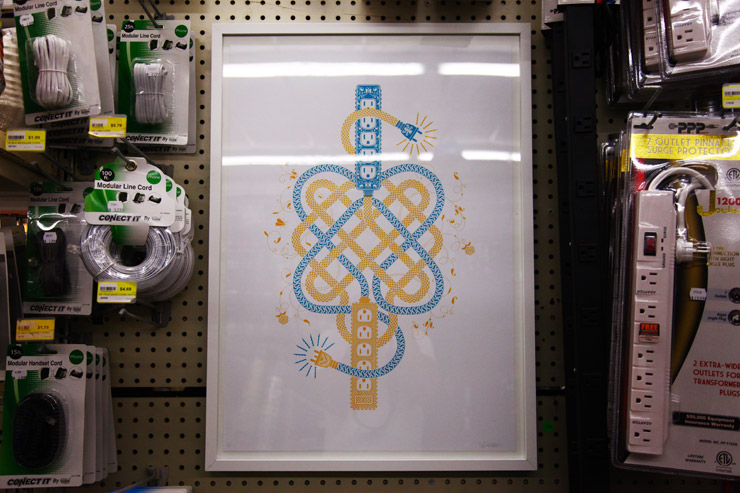 Dan Funderburgh (photo © Jaime Rojo)

Lilia Trenkova creates this chess set made with bolts, nuts and color chips. (photo © Jaime Rojo)\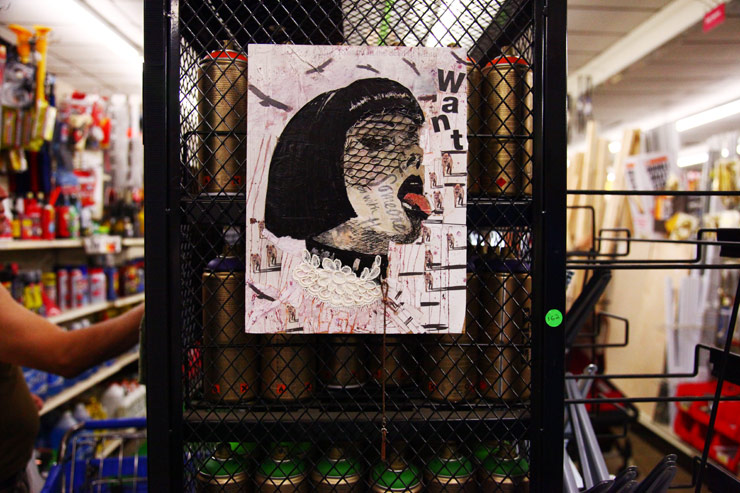 Astrodub (photo © Jaime Rojo)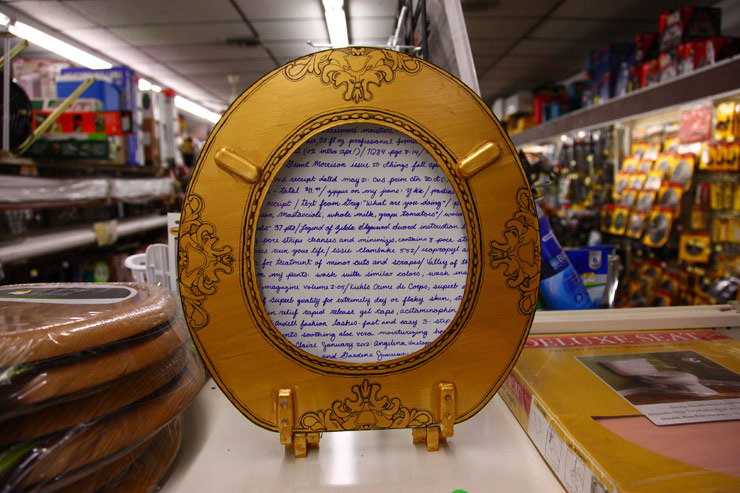 Dave Tree spent some time writing on the toilet. (photo © Chelsea Bahr)

Bernard Klevickas created this sculpture from reclaimed parts of old bikes. (photo © Jaime Rojo)
Follow Jaime Rojo & Steven Harrington on Twitter: www.twitter.com/bkstreetart