HuffPost Arts and The Museum of Contemporary Art, Los Angeles (MOCA) hosted a presentation and panel discussion given by Brooklyn Street Art founders Steven P. Harrington and Jaime Rojo Saturday at the Ahmanson Auditorium with 150 guests. Five days after the closing of the record breaking "Art in the Streets" show at MOCA, which was seen by over 200,000 visitors, BSA charted some new ground going forward in the ever evolving graffiti and street art movement.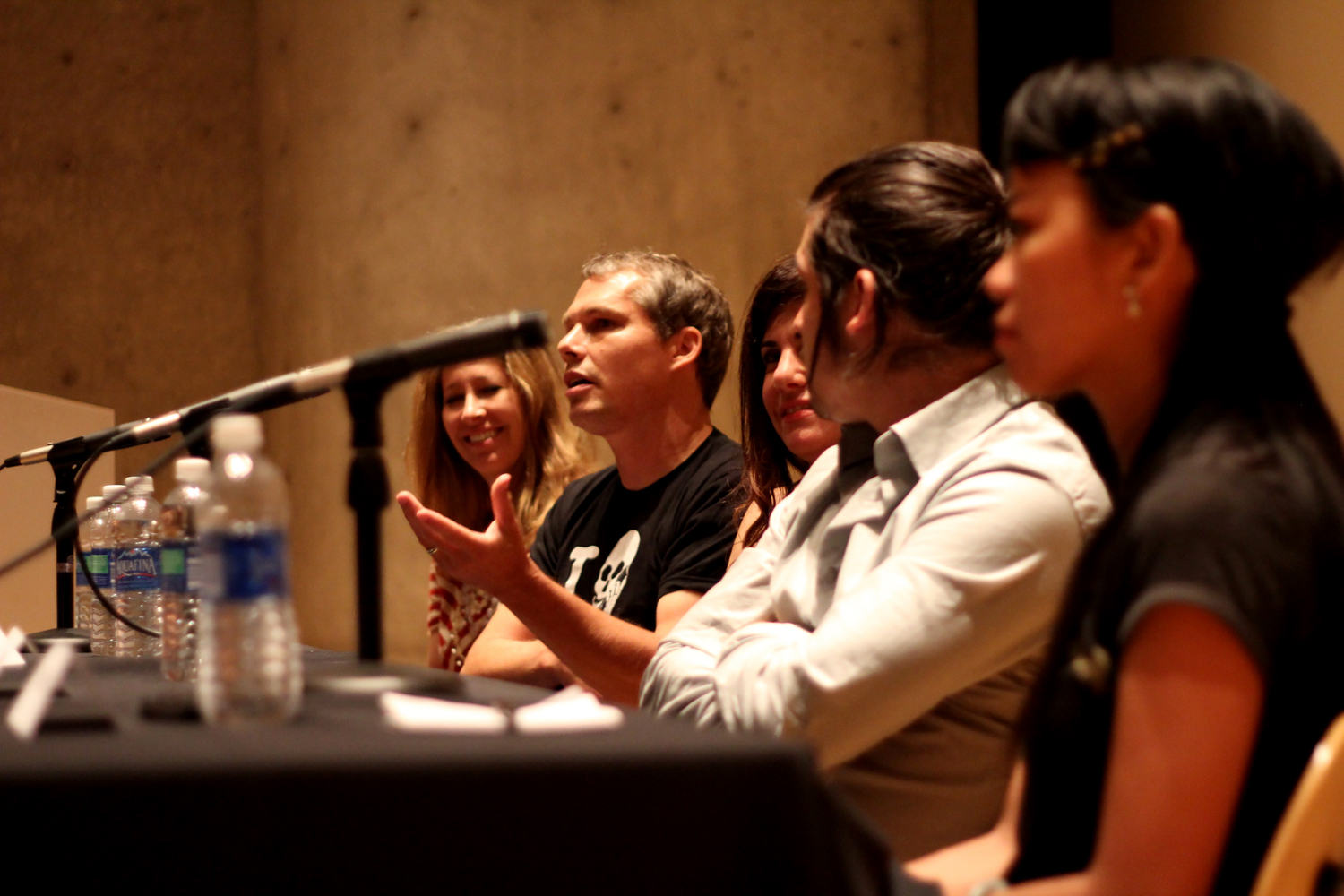 Panelists having a good time at "Street Art Stories" hosted by HuffPost Arts and LA MOCA at Ahmanson Auditorium at MOCA Grand in downtown Los Angeles. (photo © Carlos Gonzalez)
The panel, which included HuffPost Arts Editor Kimberly Brooks and Street Art phenom Shepard Fairey, watched an animated presentation by Harrington and Rojo about a new storytelling direction that artists are bringing to the streets of New York and other cities around the world. With examples of relative newcomers whose work had not been seen by many in the audience, they pointed to precursors from the last 40 years to this storytelling practice. They also questioned how the sudden growth of highly personal, labor-intensive works that have a narrative may be evolving what we have been calling "Street Art" for the last decade.
(Story continues below.)
Brooklyn Street Art presents
In this 10 foot tall hand-colored linotype print called "Brother Can You Spare a Dime?", Street Artist Elbow Toe addressed the housing crisis in the U.S.. The man has all his worldly possessions on his back as he marches barefoot westward in a reference to the Depression and the dust bowl. Tied around his waist is a rope dragging an open suitcase with an inert, fat cat. (photo © Jaime Rojo)

LA MOCA Director Jeffrey Dietch and HuffPost Arts Editor Kimberly Brooks cross paths on stage before the show. (photo © Carlos Gonzalez)

Steven P. Harrington, Editor in Chief at Brooklyn Street Art, shows Martha Cooper's image of a memorial wall by Tats Cru to illustrate the tradition of graffiti and street artists offering a public place for people to remember and pay tribute to others who have passed. (photo © Carlos Gonzalez)

BSA's Steven P. Harrington gestures toward the screen while panelists look on in the front row. (photo © Carlos Gonzalez)

As part of a series of Street Art pieces on people who recycle cans and aluminum and other materials on the street, Specter took photos of people he met in New York and talked with them a little while to learn about their daily life. Returning to the studio to hand paint large one-off versions of these portraits, he considered the conversation. When installing on the street, each painting is accompanied by the name of the person and where Specter met them. (photo © Jaime Rojo)

BSA co-founder and Director of Photography Jaime Rojo introduces the panelists. (photo © Carlos Gonzalez)

Contemporary American Painter and the Founding Arts Editor of the Huffington Post, Kimberly Brooks next to street artist Shepard Fairey at "Street Art Stories" Panel at LA MOCA. In response to Shepard talking about why he got into Street Art in the first place, Brooks said "At the Huffington Post, what Shepard said about Street art is why bloggers blog. We too don't want to wait for some Op Ed editor to tell us they have the room to print our ideas. We have something to say and want to get it out there for as many people to see right away. Blogging is the Street Art of the mind." (photo © Carlos Gonzalez)

(photo © Carlos Gonzalez)

Street Artist Shepard Fairey has reliably used his work on the street for at least the last decade to actively advocate and educate around themes that he is personally concerned with; social justice, civil liberties, human rights, environmental degradation, even political candidates. In some ways it could be said that Fairey's insistent return to these themes helped usher in this new storytelling practice by many of today's Street Artists who are bringing personal and political narratives into their work. Or he may simply be the most visible in a field of many. (photo © Jaime Rojo) Also in photo is a piece by Invader.

(photo © Carlos Gonzalez)

(photo © Carlos Gonzalez)

Street Artist LUDO tells cautionary tales of nature and science gone awry with large wheat - pasted hybrids of high tech military equipment merged with plants or insects. A critique of the unquestioning approach he thinks people are taking to the industrial development of nanotechnology, biotechnology, and automated war, his hybrids can spook you once you study them. (photo © Jaime Rojo)

(photo © Carlos Gonzalez)

Marsea Goldberg, Director of New Image Art Gallery in West Hollywood, who since 1994 has launched or mobilized the careers of artists such as Shepard Fairey, Ed Templeton, Neckface, Faile, the Date Farmers, Judith Supine, and Bäst just to name a few. Next to Ms. Goldberg is Ken Harman, Managing Online Editor at Hi-Fructose Magazine, the owner and curator at Spoke Art Gallery in San Francisco, and the creator and editor of the the "Art of Obama" website. (photo © Carlos Gonzalez)

Taking his nom de street from a British General in the American Revolutionary "Battle of Brooklyn", Street Artist General Howe constructs battles on the street at historical locations where they occurred in Brooklyn. Using glued troops in historically accurate uniforms, wheat-pasted skeletons, and even sculpted bones, General Howe uses the streets as classroom and museum, hoping to also raise awareness about US wars of the past and present. (photo © Jaime Rojo)

Ethel Seno, Curatorial Coordinator for the MOCA exhibition "Art in the Streets" at the Geffen Contemporary at MOCA and the Editor of of the book "Trespass: A History of Uncommissioned Urban Art" published by Taschen. (photo © Carlos Gonzalez)

Panelists consider a question from the audience at LA MOCA's Ahmanson Auditorium. (photo © Carlos Gonzalez)

The panelists at Ahmanson Auditorium (photo © Carlos Gonzalez)

Using symbolism and metaphor, Street Artist QRST canonizes friends and family with a story told with hand painted and cut paper, wheatpasted on the street. The process can take many days, and the piece may be damaged or destroyed instantly, but QRST has already completed an important process by paying tribute. (photo © Jaime Rojo)

Edward Goldman, LA art critic, Huffpost blogger, and host of KCRW's "Art Talk" for 20 years, poses a question on the effect of a big museum show like "Art in the Streets" on the new generation of would be street artists. (photo © Carlos Gonzalez)

Director of the Museum of Contemporary Art, Los Angeles, Jeffrey Deitch stayed after the presentation and panel discussion to talk with guests, including panelist Shepard Fairey.
After a conversation with panelists Brooks, Fairey, Marsea Goldberg, Ken Harman, and Ethel Seno, which covered topics like the paucity of females in the street art scene, the influence of the Internet on "getting up", and the significance of personal engagement in the work of many of today's new street artists, Harrington and Rojo opened the discussion up to the auditorium. Here topics ranged from LA's evolving approach to Street Art to include public and permanent art, the influence of money on street artists, and how a show like "Art in the Streets" effectively influences the next generations' perception of street art.
The packed event was interesting enough to bring many audience members down to the stage after the show to continue the conversation and meet the panelists. LA MOCA Director Jeffrey Deitch, who took great interest in the presentation, even stayed a while talking with guests and panelists on stage. Fairey, with his wife Amanda at his side and a healing black eye from his recent trip to Copenhagen (see his account for HuffPost Arts here) gamely took on questions from many in the audience and posed for pictures after the event and at the reception that HuffPost Arts hosted afterward.
<<><><><<<><<><
See our interview on HuffPost Arts "Shepard Fairey : Too 'Street' For Corporate, Too Corporate For The Street"
See our review of "Art in the Streets" when it opened this spring on HuffPost Arts
"Red Hot and Street: 'Art in the Streets' Brings Fire to MOCA"

Great LA Street Art:
"Hitting Up LA: The Streets Outside the Show (SLIDESHOW)"
See all the pieces in "Street Art Saved My Life : 39 New York Stories" a show curated by Steven P. Harrington and Jaime Rojo now on view at C.A.V.E. gallery in Los Angeles until September 4.
See new images from around the world of Street Art and read scintillating interviews every day on Brooklyn Street Art.
Follow Jaime Rojo & Steven Harrington on Twitter: www.twitter.com/bkstreetart