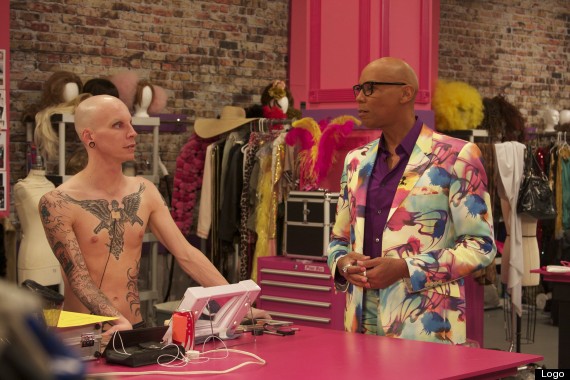 Note: Do not read on if you have not seen Season 4, Episode 3 of "RuPaul's Drag Race."
Latrice Royale is sad to see that all of her girls are gone from "RuPaul's Drag Race" and Princess, as the shantayed queen, is given the honor of wiping LaShauwn's lipstick message off the mirror. She says she had fun lip-syncing for her life, Even though being in the bottom two was awful. She thinks Jiggly deserved to be there instead of her and I'm pretty sure she says that in front of Jiggly.
Anyway, ohhhh, gurl. We got SheMail. Ru says if you want to live forever, you can be a champion. Then she drops some more song titles in her spiel, which she notes, are all available on iTunes.
"This mini-challenge, we're going to do something for someone else," says Ru, who's clad in a watercolor-inspired shirt. She wants to show the girls a special video of Piyah Martell, who was born with a condition that prevents her legs from growing. But that hasn't stopped her. In fact, she's delivering Mariah Carey realness and she comes out to talk to the girls.
She moves Chad to tears and then, they find out that they have to create a headpiece for Piyah for her next video in groups of two. Since there's an odd number, Jiggly's left alone and she can choose her team. She wisely goes with Kenya and Phi Phi, who win the mini-challenge, while the other pairs are: Latrice and Milan; Sharon and Madame LaQueer; Chad and Willam; and Dida Ritz and The Princess.
Now it's time for the main event (are you read-ay?!). This week, the girls' challenge is to create an informercial for Ru's albums "Champion" and "Glamazon." They'll each be assigned a song and they'll have to sell that track based on personal memories.
Phi Phi and Kenya are named team captains, thanks to their win and the teams are ...
GLAMAZON: Kenya, Chad, Willam, Milan, Princess and an unhappy Madam LaQueer who was picked last and got no love from her fellow Puertorriqueña.
CHAMPION: Phi Phi, Sharon Needles, Dida Ritz, Latrice, Jiggly Puff
They only have hour an a half to memorize their song, do a dance, make costumes and put their face on? Phi Phi is feeling the pressure and Sharon feels like she's on the team of the busted and she wants to be on the team of the dusted.
Over on Team Glamazon, Milan takes control since there's a language barrier with Kenya. He chooses 80s as the team's theme and when Ru comes in, he's soon wondering who's in charge. Also, Ru will not take Princess' excuse about not being given an opportunity to shine. She can be shining right now, she asserts!
When Ru moves on to Team Champion, i am scared. Latrice is looking like Uncle Scar.
Time to start the shoot shoot and thanks to the Pit Crew and some miscellaneous Party City-suited goods, the ladies are set. "You just gotta return them when you're done," Ru jokes of the men.
First up is Team Glamazon and the girls are shooting their opening scene, which is awkward as all hell. Princess cannot deliver a two-sentence line. Then Willam starts sniffing the Pit crew and Milan makes "so emotional" and "greatest love of all" references that seem particularly poignant this week. "Any bitch with common sense knows, don't shine on Whitney Houston in a RuPaul informercial," Willam asserts. As we mourn Whitney, Ru moves on to Kenya, who's picked up some bones from a Leopardosaurus. She's licking them. Of course.
Then it's Team Champion's turn and Phi Phi kicks us off with a piñata and a forty in a brown paper bag. Ru tells her to give it her all and she claims she's giving them "Phi Phi fierce hair down." Personally, I am cringing. She does not do chola well. Jiggly goes Asian and a line about "soy sauce in your panties" doesn't go over well. Meanwhile, Sharon looks horrifying and Ru is looking for funny. Plus, Dida's sexual innuendo doesn't go over too well and Ru tries to make her push further.
After a quick glimpse of the queens getting ready (What? They don't sleep in the work room?), it's elimination day! Sharon is nervous because she's "working with a whole bunch of amateurs" and Phi Phi preemptively says that the bitch should have worked her singular assignment (i.e. be goth, i.e. her only schtick.)
Next, we meet guest judges Natalie Cole and "Glee" star Amber Riley and it's metallic runway time. Ru is rocking a snood courtesy of Reynolds Wrap and introduces her judges, while admitting she's a big gleek.
Milan is in a gold jumpsuit and says Jackie Joyner-Kersee has nothing on her.
Chad Michaels's goal was to emulate the Versace medallion with her gold-painted forehead.
Willam says her theme was "Clash of the Titans," if "Clash of the Titans" was filmed at a strip club.
Sharon is serving T-bird and says she's "not afraid to be bizarre." In fact, she likes it and Ru creates a new portmanteau for her Elvia/Elvis look: Elvirus!
Phi Phi istrying to serve the judges Beyonce meets The Jettson's realness. But Ru just thinks she's serving Jiffy Pop instead.
Madame is in an odd cut out number, which prompts Ru to joke ... Space: The Final LaQueer.
Princess apparently stole Ru's snood idea, but skips the wig because she thinks, "Bald is beautiful."
Jiggly is in a gunmetal minidress, prompting Michelle to scream, "There's an asteroid heading straight for Planet Ru."
Dida is feeling confident. "Look at these legs ... I'm pummeling the runway ... I am serving Naomi Campbell realness." Everyone guard their Blackberries.
Latrice is giving 24-carat realness and Ru will have a Latrice Royale on the rocks.
Kenya looks like a sexy R2D2 and Ru warns: In space, no one can hear her queen.
Time for informercial viewing. First, Team Glamazon. Madame LaQueer is speaking Spanish and looking like Kathy Najimy when suddenly, she asks about first times? But afterwards, Ru says, "Gag me with a spoon" and Princess thinks they nailed it.
As for Team Champion, Phi Phi's chola impression is horrible. I can't see past it.
Ru says Milan, Willam, Latrice, Jiggly and Phi Phi are all safe and may leave the stage.
Michelle isn't a fan of the green in Madame LaQueer's ensemble, saying it looks like fungus.
Everyone drools over Chad Michaels, but Michelle Wants to see her let loose a little. (Note: They look like twins.)
Michelle says The Princess fell flat.
Michelle, who is clearly monopolizing the panel, loves Kenya's performance, which was "so sick that it was right."
They loved Dida's runway look, but her appearance in the informercial did not impress at all.
Sharon throws Phi Phi under the bus, but they still liked her spook factor.
Natalie Cole loves Sharon. Santino loves Sharon and Kenya and Amber loves Chad.
Natalie says Princess and Madame are her least favorite. Michelle agrees and says she'd rather see more of LaQueer. Amber isn't a fan of Dida ... her video and runway didn't match.
The deliberation is over and Sharon wins! This bitch is unstoppable. Phi Phii calls it a nightmare come true. Sharon admits she is such a loser back home so she's loving this turn of events.
Chad and Kenya Michlaes (no relation) are safe, as is Madame LaQueer.
Dida and The Princess are both up for elimination and are assigned to lip-sync for their lives to "This Will Be An Everlasting Love" by Ms. Cole herself. Dida just kills it. Latric calls it "high drag at its finest" and when they're don, we see LaQueer mouth "wow." Ru echos the sentiment.
Dida is staying. "That's the queen [Ru] wants to see from now on. From now on, queen, from now on." Oh, RuPaul So puny.
Ru says Princess will still be royalty before she sashays away. "I'm not the type to get upset or angry," she says later. "But i don't think it was right to send me home."
SUBSCRIBE TO & FOLLOW ENTERTAINMENT
HuffPost Entertainment is your one-stop shop for celebrity news, hilarious late-night bits, industry and awards coverage and more — sent right to your inbox six days a week. Learn more