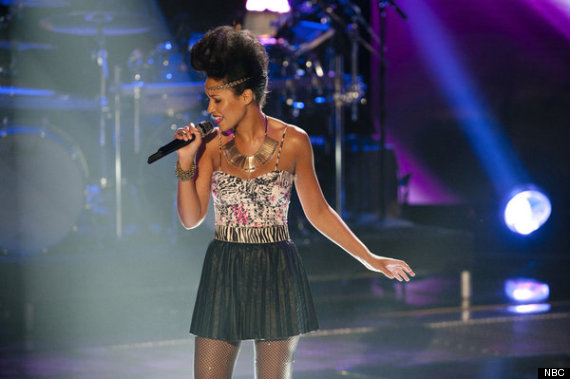 A week later and they still haven't changed clothing. In the third installment of "The Voice's" blind auditions, Adam Levine, Cee Lo Green, Christina Aguilera and Blake Shelton take their red-spinning seats in the same attire they've been donning since the Super Bowl. "‪I like how they try to think us into thinking it's a different day of blind auditions, but they're in the same clothes‬," Chelsey notes.
And the show opens with the type of contestant we've been waiting for: an androgynous woman. With Season 1's Beverly McClellan and Vicci Martinez, "The Voice" became known for accepting performers of all shapes, sizes and -- most notably different from "American Idol" -- sexual orientations.
Sadly, there is no performance from the judges, but a hell of a lot to choose from with the contestants. So let's get started ...
Pip
Our first favorite of the night was 19-year-old babyface Pip (no, that's not a typo), who takes pride in his original fashion choices, as evidenced by his suspenders and bow tie. We've got another Warbler on our hands!
Jaimie: "BLAINE STOLE MY WARDROBE!"
Fashion choices aside, when Pip starts singing his rendition of The Animals' "House of the Rising Sun," we are pleasantly surprised by both his beautiful voice and his overly excited family (mostly we're glad to see that he's not an orphan, as his name would suggest). 
The judges are just as pleased with young Pip as he manages to turn the chairs of all four coaches. We both notice, however, that Blake never seems to press his button first.
Jaimie: "Blake will not turn before someone else does."
Chelsey: "I know! He is NEVER first. Bandwagon."
Jaimie: "It's a bitch move. You have to call BS to win BS."
Alas, it's that time again for the four coaches to bicker and persuade Pip to choose them. Adam (shocker) goes with his "I won last season" pitch. Christina seems to have resorted to quoting her own songs, telling Pip, "I am a fighter. And I will fight for your ass!"
Chelsey: "We get it, Christina.  You sang a song about being a fighter."
Jaimie: "I think it makes her that much strong"
Chelsey: "Makes her work a little bit harder, some might say."
Jaimie: "I'd actually say you gotta rub her the right way, hunnay."
Pip, perhaps too gentle to be on the team of a "fighter" like Christina, chooses Adam's, or "the salesman's" team, as Christina continuously refers to Mr. Levine. Pip Pip Hooray for Team Adam! (Couldn't resist.)
Katrina Parker
It is not 34-year-old insurance worker Katrina Parker's fault that she happens to take part in "The Voice's" shameless product placement. "Carson Daly, the knight in shining armor, riding in on his Kia to save the day," Chelsey notes as the host heads to Parker's insurance company cubicle to break her out of the nine-to-five grind (his words, not ours). Thanks to his GPS, he's able to find Katrina's office on Hollywood and Highland, where she does a lot of copying, scanning and filing. Painfully staged DeVry-like commercial, the fact that she calls herself a "completely ninny" and sob story about mold aside, Parker eventually took the stage to perform "What If God Was One Of Us" by Joan Osbourne.
Chelsey:  "HOW IS THIS YOUR SOB STORY. TAKE IT TO DISCOVERY CHANNEL"
Jaimie:  ‪"But I like her voice‬."
Chelsey:  ‪"Yeah. She's good‬."
Looking like a grown-up version of viral sensation Alanna from "Toddler and Tiaras," we must say, we were pleasantly surprised to see that she definitely has some special juice that could help her win.
Adam was first to press the button with his head resting on his podium the entire time. When he saw her though, his face lit up. The girl had ringlets, people.
No one else pushed his or her button, but, of course, Cee Lo still hit on her.
Chelsey: "S‪he's the only one that giggles at Cee Lo's advances‬"
Nevertheless, Katrina moves on to Team Adam and we're hoping she's got go go juice to go around.
James Massone
James Massone is a 23-year-old Bostonian (with the accent to prove it) who works in his family's auto shop. James wants to get out of the body shop and make a career out of his singing, and he has the support of his family. Cue sad piano music.  James had a group of friends who were shot and murdered when a fight broke out in their basement rap studio. He wants to carry on his musical dreams for both himself, and in honor of his friends.
Happy times are here again, though, when James hits the stage in his varsity jacket to sing Drake's "Find Your Love." It doesn't take Christina and Blake long to hit their buttons, with Cee Lo not too far behind.
Jaimie: "I feel like with training, he could be great. But also, he needs to stop using car grease from the auto shop on his hair."
Chelsey: "Well now that he's out of the shop he can do that."
Adam, seemingly the toughest to please of the night, is the only one not to get onboard the James train. An emotional James calls Adam out for not pressing his button. "Adam what happened with you?" he bravely asks.
Chelsey: "Well played, young greaser."
Jaimie: "I shall call him Ponyboy."
Chelsey: "And he will stay gold."
When it comes time for James to choose his team, he goes with the ever-so-creepy and T-Rex-armed Cee Lo.
Chelsey:  "I had a feeling he would choose the pedo-saur."
Jaimie: "I am excited about this. But I think it was a bad choice."
James excitedly runs backstage to meet his family and bursts through the doors yelling, "HOW DO YOU LIKE THEM APPLES!?" How else does someone from Boston get excited besides quoting "Good Will Hunting"?
Chris Cauley
It's kind of hard not to fall for a grandma's boy -- even if he is wearing a newsboy cap. Atlanta native Chris Cauley, now 27, got his first guitar from his late grandmother, who was a bluegrass musician. "She had the most beautiful voice you could ever hear," Cauley said, showing Carson Daly a clip of her performance on a Sprint tablet (cha-ching). Carson compared her to June Carter before Chris took the stage to live out his grandma's legacy.
Singing his own slowed-down version of Bruno Mars' "Grenade," Chris made us swoon and finally, Cee Lo turned around for him, followed by Adam.
Chelsey:  "They make really good use of that Sprint item"
Jaimie:  "Chelsey. I want him to win. I am smitten"
Chelsey:  ‪"AHHH‬. I LOVE IT"
Jaimie: "His pants are too tight. I'm ignoring it."
Chelsey:  "‪I disagree ...‬ ;)"
Cee Lo called him "wonderful" and said it was "the best entire performance of a whole song" of the day. Of course, Christina interjected (despite the lack of button-pushing) and Adam said he "had" to push the button. Chris joked that he wanted Cee Lo and Adam to arm wrestle for his voice, but eventually, he went with Adam, who was "blown away by his consistency."
Chelsey:  "I KNEW HE WOULD CHOOSE ADAM. such a good match. i love it"
Jaimie:  ‪"Me too‬ ... Best match of the night"
Jordis Unge
The last singer of the night is half-Tongan and half-Swedish Jordis Unge. Jordis' parents accompany her to the audition, her father clad in hibiscus print from head to toe. In an incredibly unrehearsed scene, Carson asks Jordis' parents how they met, and Papa Unge explains their first encounter at a nightclub as Polynesian ukulele music plays in the background. Because, you know, he's Tongan.
Chelsey: "Her papa is wearing a dress."
Jaimie: "He's kind of presh."
Chelsey: "Well, yeah."
Jordis sings "Maybe I'm Amazed" by Paul McCartney and Adam immediately declares his love for the song. He then proceeds to sing along with Jordis, as if he needed to prove his love of the song to audience. It's okay, buddy. We believe you. Let Jordis sing now, k?
Blake is the first to turn his chair around, which pleasantly surprises us.
Jaimie: "Blake is really stepping up his game."
Chelsey: "Big time. Good for him."
By the end of the song, Christina and Cee Lo have joined Blake on the other side, and Adam officially wins the title of pickiest judge of the night keeping his back to the amazing Jordis ... though the reason is that he probably couldn't hear her performance over his own singing.  
The three coaches plead their cases to Jordis. Cee Lo doesn't really say much, which we can only assume is because he's too busy thinking about how he can't wait to have Purrrfect back in his tiny arms. Christina promises Jordis "time and attention" about 12 times. Blake argues that he has Dia Frampton, his finalist from last season, on tour with him right now. Christina responds by telling Jordis that she can offer her all the "time and attention" in the world because she's not promoting anyone right now, which raises two thoughts: A) Poor Beverly McClellan and B) Aren't you a mother, Christina?  
For these reasons, and so many more, we were both quite content with Jordis' decision to join Team Blake.
Jaimie: "Good choice, Jordis."
Chelsey: "Blake plays such a good Papa Bear."
Jaimie: "He really nurtures his team members."
And here's a breakdown of the rest of Episode 3's "The Voice" performances:
Sarah Golden
Drilling home the point that this series is about vocal talent versus physical appearance, the episode kicked off with this androgynous Texan hopeful. "It's unique ... It doesn't sound like anybody else ... you just have an honest sound," Blake said. Cee Lo also turned his chair around and said, "You can't handle us both, baby." When Blake mentions his competitor's approach, he referred to him living in Cee Lo Land. "‪Sounds like my dream land‬ ... Dino arms and kitties."
Song: "You and I" by Lady Gaga
Team: Cee Lo
Jaimie:  "You can show her face now. ‪WE GET IT‬"
Chelsey:  ‪"OH MY GOSH HER NAME IS SARAH!!! SHE'S A GIRL!! WHOA!!!‬"
Elley Duhe
The fresh-faced 19-year-old dropped out of school her senior year to pursue her musical career. And even though no one turned around for her, she kept her spirits high and got a hug from Christina, who said she had the "best attitude."
Song: "Mercy" by Duffy
Team: None
Chelsey: " ‪I like that her sob story is that she quit school and has supportive parents‬"
Jaimie:  "Oh I do NOT like this‬"
Chelsey:  "‪Me neither‬ ... Stay in school"
Erin Willett
Hailing from Maryland, 22-year-old Erin is very close with her family and got her start singing with her piano-playing dad. Sadly, "The Voice" hopeful recently learned her father has pancreatic cancer, but says "it is such a blessing" to audition for the show.
Song: "I Want You Back" by Jackson 5
Team: Blake (who pressed the button first for the first time in our memory and was the only judge to do so)
Chelsey: ‪"C‬hristina is always for the first to speak without fail"
Jaimie: "B‪utton or no button‬"
Chelsey:  "‪Usually no button especially, actually‬"
David Grace
Former football star-turned-singer had the judges all daring each other to press their buttons.
Song: "Sweet Home Alabama" by Lynyrd Skynyrd
Team: None
Chelsey:  ‪"Football gone singer is another big one this season‬. 'The 'Glee' effect' if you will"
Jaimie: "True. But he is clearly better and has more rhythm than Corey Monteith or Chord Overstreet."
Chelsey: "N‪ot too hard to accomplish that‬"
Geoff McBride
Father of three Geoff McBride wears his shades due to an old boxing injury, but considering he's singing Stevie Wonder and hoping Cee Lo will turn his chair around, it's difficult not to draw comparison.
Song: "High Ground" by Stevie Wonder
Team: Christina
Chelsey:  "‪Is he blind?‬"
Jaimie: "T‪humb to the eye‬ ... 'This is not a cool factor'"
Chelsey:  "‪There it is‬"
Jaimie:  ‪"His kids are gorgeous‬, but sound like Phoenixes"
Chelsey:  "‪They're BEAUTIFUL‬, but yes ... because one is named River"
Erin Martin
Former model Erin Martin loves that the judges won't be able to see her, but when their chairs do spin around, she believes they'll think two things. 1) Egyptian Warrior Princess 2) She's so weird.
Song: "Hey There Delilah" by Plain White T's
Team: Cee Lo
Chelsey:  "‪OH MY GOD‬. Cee Lo's 'you're right' is creepy as hell"
Jaimie:  ‪"He bit his finger‬. Chelsey. I cannot handle this. I'm uncomfortable."
Chelsey:  ‪"So. Disgusting.‬"
Note: "After this, cut to an overjoyed Cee Lo petting Purrfect. "
Chelsey: ‪"All I hear when Cee Lo talks is blah blah blah SEX blah blah can someone bring me my kitty?‬ ... I think whenever there are those like 20 minute gaps where we hear nothing from Cee Lo, he's staring at Purrrfect offstage with her handler. So he just checks out for a while."
Winter Rae
This 26-year-old likes her job at Lucky Strike because she can have blue hair and tattoos. Also, she's friends with Perez Hilton, who comes to her audition.
Song: "Take a Bow" by Rihanna
Team: None
Chelsey:  "‪Lindsay Pavao just got out-bad assed‬"
Jaimie: "S‪he is with someone without pants‬. Oh, it's her sister ... like the you to the me"
Chelsey:  ‪"O‬h, casual...my friend Perez Hilton"
Chelsey:  "‪Excuse me, Winter Rae, you might want to pick up that name you just dropped‬"
Jaimie:  "‪She looks like Jane Curtain‬, i.e. Mrs. Conehead"
Jaimie:  ‪"What if they just Rick Rolled her‬ as she said, 'I'm never gonna give up'?"
Nathan Parrett
The 24-year-old is someone his new coach sees as an underdog.
Song: "The Joker" by Steve Miller Band
Team: Adam
Brian Fuente
The rocker easily won Blake's heart.
Song: "Paris (Oh La La)" by Grace Potter and the Nocturnals
Team: Blake
Moses Stone
"The Voice's" first ever MC moved Christina with his energy. "He gives the voice a whole new meaning."
Song: "Let's Get It Started" by Black Eyed Peas
Team: Christina
SUBSCRIBE TO & FOLLOW ENTERTAINMENT
HuffPost Entertainment is your one-stop shop for celebrity news, hilarious late-night bits, industry and awards coverage and more — sent right to your inbox six days a week. Learn more