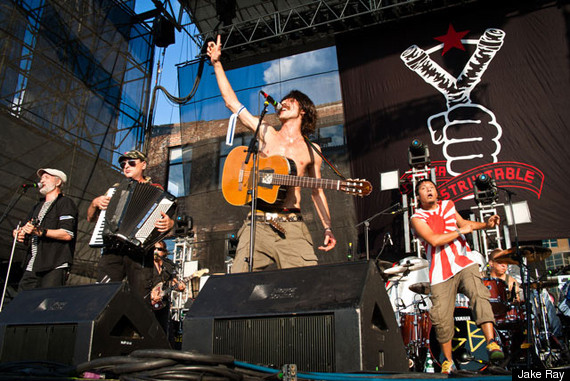 Friday was a perfect Brooklyn night for two of the most unique bands out there to make a sold out stop at the Williamsburg Waterfront.
Gogol Bordello opened for Primus with a ridiculously energetic opening set. If one person could become one of those little cans of 5-Hour-Energy it would be Gogol's frontman, Eugene Hutz. The entire set featured him running all over the stage, the crowd and his fellow band members. Gogol Bordello is classified as 'gypsy-punk', but that seems to sell them short. The eight other members of the group come from Scotland, Ethiopia and Russia, and each bring examples of their native sound. These days they they spend most of their time on the Lower East Side, and are currently promoting their latest album, Trans- Continental Hustle. During their set, they played much of the new album, including, "Pala Tute", "The Sun is on My Side", and of course, their 2005 hit, "Start Wearing Purple". Though the crowd was largely there to see Primus, they cheered along to every song. And, when Eugene left the stage after playing for more than an hour and promising an after party at Brooklyn Bowl, it was obvious that many would be joining him.
Primus has been around since the 90s, and they have mastered the world of oddball rock. Singer/Bassist extraordinaire, Les Claypool, plays so well, it can feel unworldly. His hands almost seem like rubber, and his voice has an odd, nasally tone. Both of these qualities have long anchored the band's sound, but it's not unlike watching a cartoon character lead a musical circus. Because of that, their stage set is always something to see. This time was no different with large inflatable astronauts waving at the crowd and Les dancing around in an Abraham Lincoln top hat as the light show changed colors with the beat. Les and guitarist, Larry LaLonde, were both enamored with the gorgeous view of Manhattan, explaining to the audience that back in California, they have nothing like it. Primus fans flailed and sang along to every song as the band roared through hits like "Jerry was a Race Car Driver", "Tommy the Cat", and "American Life", adding their own extended jams at the beginning and end of many of the songs to keep them fresh.
In typical New York summer concert style, two great, wholly original bands put on their own brand of spectacle for their fans.