As summer gets hot here on the east coast, the chives I've been growing are trying to bolt and bloom. They are on their last leg and it's time to harvest the last little green patches. Fresh Chives from the market or your garden are crucial; don't use the dried stuff out of a spice jar for this recipe.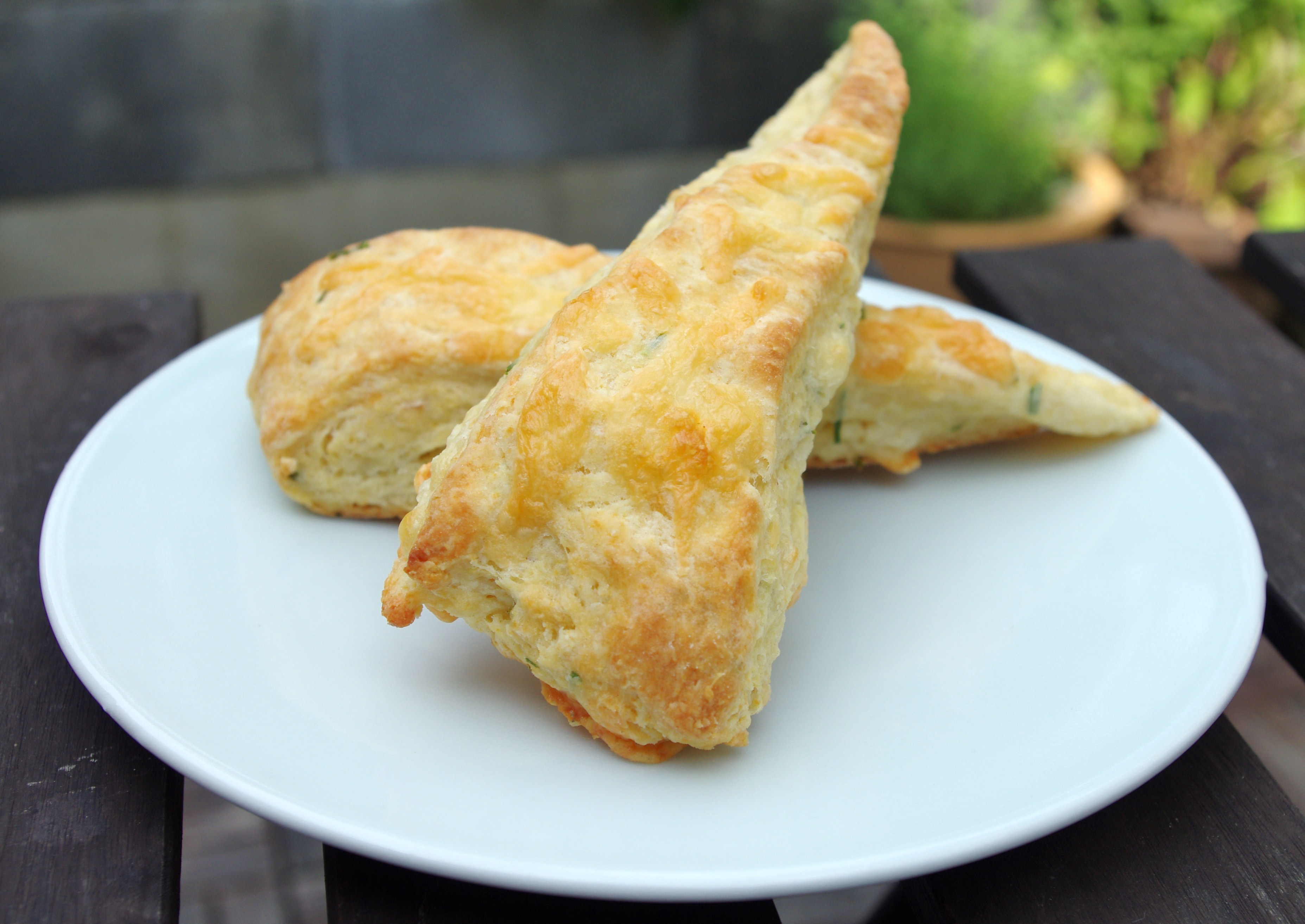 To get started preheat your oven to 375 degrees Fahrenheit. Set out a large mixing bowl and a small-medium mixing bowl. You'll also need something of a mesh sieve to sift with.
Ingredients:
2 Cups All Purpose Flour
½ Teaspoon Salt
1 Tablespoon Baking Powder
1 Tablespoon Granulated Sugar
2 Eggs
1/3 Cup Sour Cream or Greek Yogurt
2 Tablespoons Dijon Mustard (and yes, I use the classic)
1 ½ Cups Grated Sharp Cheddar Cheese
¼ Cup Fresh Chives Finely Chopped
6 Tablespoons Unsalted Butter (very cold)
Whisk together the eggs, sour cream, and Dijon mustard in the small-medium mixing bowl, set aside. Sift the flour, sugar, salt and baking powder into the large mixing bowl. Cut the cold butter into small cubes and add to the flour mixture. Make sure you have clean, dry hands for this next step. With your fingers rub the cubes of cold butter into the flour. In the end you want to rub in all the large pieces of butter until the mixture is like a very coarse cornmeal. Toss in the Chives and 1 cup of the grated cheddar cheese with the flour mixture, reserve ½ cup of cheddar. Add the wet ingredients to the dry ingredients, mix just until combined (you can add 1-2 tablespoons of cold milk if the dough is very dry).
Dust your counter liberally with flour. Turn the dough out onto the floured surface and gently shape the dough into a long rectangle that is 1 inch thick. Start at one end of the rectangle cutting the dough into right triangles. Place the scones on a parchment lined baking sheet about 1 inch apart. With the remaining half cup of grated cheddar place a little bit of cheddar on top of each scone.
Bake for 20-22 minutes until golden. This recipe yields 10-12 scones. The smell of the cheddar and Dijon baking now elicits a Pavlovian response in my home... Really amazing fresh and just as good a day old when toasted.