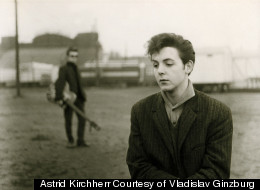 To spend time in 20 Forthlin Road, the small brick row house in the Liverpool suburb of Allerton where Paul McCartney lived from age 13 until two years or so after he became a Beatle, is to know both far more about him -- and far less -- than all the records, photographs, books, and interviews can ever convey.
The two-floor house is tiny, and dowdy in that lower-middle-class British way that Americans have a hard time wrapping their heads around -- where are the radiators? where is the shower? -- and for anyone with even a smattering of knowledge about McCartney's history, being in this place, with this particular Northern light shining palely through the parlor window, feels almost embarrassingly intimate, and unbearably poignant.
It was Paul's mother Mary's income as a midwife that allowed her small family -- her husband Jim, a cotton salesman by trade and an amateur musician by avocation; Paul and his younger brother Mike -- to move to this new council house in 1955, a move up in the world after the smaller flat they'd occupied in a tougher neighborhood called Speke, close to the River Mersey. Allerton was the suburbs, or the Northern English version of them, anyway.
Yet the family had occupied the place for only a year when cataclysm struck: on October 31st, 1956, at age 47, Mary McCartney died of breast cancer. Paul was 14; Mike, 12. Jim reeled with grief. "That was the worst thing for me, hearing my dad cry," Paul remembered. "I learnt to put a shell around me at that age." But somehow the three of them braced up and carried on, and music had everything to do with it: Jim once more began to plink on the parlor piano; Paul, of course, picked up the guitar.
A black-and-white photograph taken by a teenaged Mike McCartney hangs on the wall of that parlor: it shows Paul and John Lennon, twentyish, sitting knee to knee, guitar to guitar, composing, in that very spot. A school notebook with scribbled lyrics sits on the floor. The song is "I Saw Her Standing There." A great reckoning in a little room, as another Englishman wrote. And a great mystery as well -- how on earth did all that come from here?
James Kaplan is the author of TIME Paul McCartney: The Legend Rocks On [TIME, $19.95].

At 69, McCartney gets married, for the third time, to Nancy Shevell, 51, at the same London town hall where he was first wed.

On its first trip to Hamburg, in 1960, the Beatles take on a harder look and sound, as well as rowdy new fans and an entourage of young Germans that includes photographer Astrid Kirchherr, who chronicles its rise with moody shots like these at the Hamburg fairground.

The Beatles, with their new suits and haircuts in 1963, are restyled. Manager Brian Epstein has "changed the group from John Lennon's into Paul McCartney's. He's completely smoothed them out."

Paul wigs out on a U.K. tour.

Fans hold an image of their icon, the "cute Beatle" at a Milan concert in 1965.

John and Paul arms crossed on set at Granada TV program.

Paul marries Linda in 1969, accompanied by her daughter Heather. Were his 1968 lyrics to "Hey Jude," far right, a foreshadowing?

At the last concert played at New York's Shea stadium, the scene of Beatlemania a generation earlier, Paul joins Billy Joel as a surprise guest.

In a fun moment, Paul photographs Ringo.