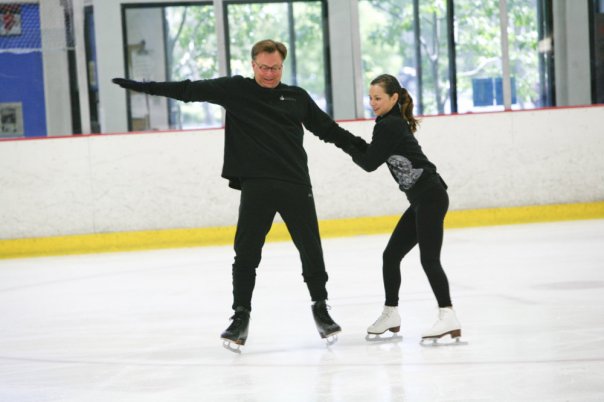 Sometimes catastrophe is the perfect catalyst for making lemonade from lemons. Such was the case when I skated with 2006 Torino Olympic silver medalist Sasha Cohen. A freak accident precipitated a great friendship.
As an adventure junkie, I have done my share of cold, physical things with metal attached to my feet, including trekking to the South Pole on skis and summiting the Matterhorn with crampons. Curiously, I had never been on skates. For a tongue-in-cheek escapade, Sasha agreed to give me a figure skating lesson. The only stipulation: I had to fly to her turf, Newport Beach, CA, from New York.
The Aliso Viejo Ice Palace, where Sasha's trained for the last decade, would be our classroom. Her coach, John Nicks (whose former students include gold medalists Peggy Fleming and Kristi Yamaguchi), was there for support. First, I bought my own pair of skates because rented ones, from abuse by customers, often don't have proper ankle support. I declined a helmet. Headgear, while standard in hockey, is disdained in figure skating for esthetic and balance reasons.
On TV, figure skating looks smooth and ethereal, but seeing it live and up close, you appreciate the strength required. At 5' 2" and maybe 100 lbs., Sasha could be mistaken for a china doll on the street. But on ice, she dominates. She approaches 30 mph rounding the rink, coming within inches of the walls. When she noisily lands a big jump, chunks of slush fly from beneath her skates. Every move is powerful, calculated -- and risky. Sasha's mom, Galina, watching me watch Sasha warm up, remarked that I was white as a ghost.
There have been notable accidents in figure skating. Perhaps worst was Paul Binnebose's fall in 1999 in Newark, DE, training for Skate America. He wound up in a lengthy coma after splitting open his skull, and nearly died. Sasha herself, at age 12, was sideswiped by another skater, whose sharp blade passed through her calf. She needed 21 stitches.
In our first exercise, Sasha had me close my eyes, then pulled me along, encouraging me to feel the shifting balance points on different parts of my feet. It was fun, hypnotic. Next we tried "swizzles." I put my blades together in a V position with my heels touching. Then, on my inside edges, I pushed outward, then inward to bring my toes together and make them touch. Done right, your skates describe the shape of a fish on the ice. I'm not sure which animal mine described, but I only managed to stay vertical by holding the rail.
Next was a simple spin. Mimicking Sasha, I got into a partial crouch position. To rotate, she said, swing my arm, as if punching someone. The weight shift should magically carry me around. Sasha made it look easy. I tried once, then again, clumsily. I got only a half-turn but at least was standing. On the third attempt I decided to swing harder. Here comes the lemons part of the story.
When I came to, I was in an ambulance strapped to a board. A video camera had recorded the event. My feet slipped from under me and, as my skates tangled, I did a face-plant onto the ice. More horrifying (when I later watched the footage, now on YouTube) were expressions of the people, including Sasha, watching as I lay unconscious on the ice. I suffered a level-3 concussion and a night in the hospital, and needed 11 stitches above my left eye. Coach Nicks tried to cheer me by telling me that 1976 Olympic Decathlon champ Bruce Jenner, when practicing for Skating with Celebrities, had fallen the same way.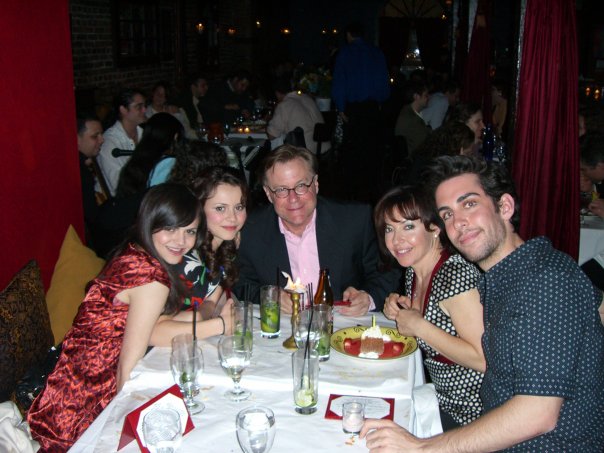 Now comes the lemonade part. A week after the accident my skates arrived via UPS, inscribed playfully by Sasha: "What doesn't kill you makes you stronger!" The next time she and her family were in New York, we got together. Now we have become good friends. When they're here, we try new restaurants, go to plays (this week we're seeing the new off-Broadway Harold Pinter production). Natasha, Sasha's younger sister and a recent Phi Beta Kappa graduate of Barnard College, interned with me one summer. And when Sasha skates locally in "Smucker's Stars on Ice" shows (the new season just opened in Lake Placid), I try to attend. The horror of the accident has faded with time.
But will I ever skate again? Probably not. At Sasha's 26th birthday party on the left coast last month, I met up with coach Nicks for the first time since my fall. He greeted me with a twinkle in his eye, said he'd wondered what had become of me. I assured him I was fine now, that long ago I had hung up my skates. He nodded wisely, said he understood. From the corner of my eye, I swear I saw Sasha sigh with relief.