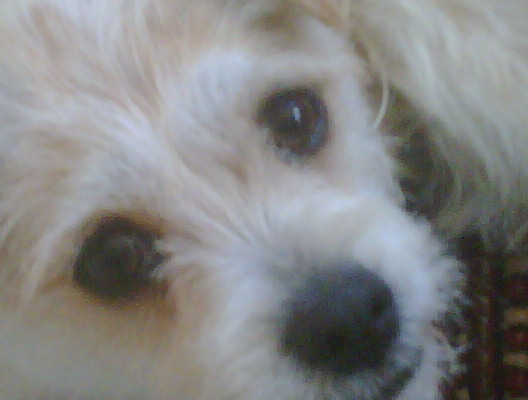 My friend (and inspiration) Dr. Judith Rich just posted an article on her site, Rx for the Soul, entitled 'For the Love of a Dog'. It's funny, because I stumbled on it while I was on her site looking for an older article she wrote that listed ways to extend your life, Would You Want To Live To Be 100? . I remembered reading that flossing could add six years to your life and a dog would add only two. Flossing has a bigger payoff, yes, but I got a dog instead.
I need to add a few years to my life since this Tuesday, March 2, I'll be 53 and, even though my wife and friends say I look 52.5 at most, my youngest daughter will be graduating from High School about the time I'm eligible for the senior's discount at the restaurant when we take her out to celebrate! I have no choice but to do all I can to make sure I can live longer and healthier so that I'm not walking either of my daughters down the aisle from a wheelchair.
At times I don't know why owning a dog adds two years to your life (having a spouse or life partner only adds 1 year) and I think there are times when our new dog will shorten my life. Hearing the screams from other parts of the house when the dog excretes something from one end or the other or being tripped or angered by another pair of chewed up shoes seem to sap the life from me rather than increase my longevity.
I think though, the way the dog adds years to my life might be that he needs to poop and pee. It's a long, long, cold and snowy winter in Illinois, the most extreme weather I can remember in the 20 years I've been here, and even the hardiest of folk want to stay inside and watch TV, read or play on the computer. The dog makes it necessary for me to go out and walk several times a day no matter what the weather.
Note: no kidding at all but I just had to take a pause in my typing to clean up some poop from under the piano. Honestly, he rarely messes in the house and that he did it just now is just for dramatic effect.
Our dog, JoJo, came from a shelter and was two years old. A mixed terrier, he fit in instantly and although the pretense was that he was a gift for my son's 10th birthday the real dark not-so-secret secret is that I wanted companionship while I work, mostly, from home. He came to us mostly trained, is a ball of energy and can actually catch his own tail.
Our walks can be a quick jog around the block during the freezing sleet, when he's as glad to do his business and get back to the fireplace as I am, but can also be wonderful meditations. This morning we walked in foot high snow to the rose garden a quarter of a mile away and the stream beside it. It was sunny and crisp in such a way as to make me feel fully alive.
Last night we walked for a half hour in 20 degree white-out conditions. I looked like a snow man when I came in and I was so covered in a layer of white that my family thought I'd actually lain in the snow and rolled around. I wouldn't have gone out last night except for the dog and I would have missed an intense, ethereal transformation that is nearly impossible to describe in its beauty and awe-inspiring intensity. Sure it was cold, but that's a small price of admission for what I got.
I still don't get it why flossing can add 6 years to your life while owning a pet only 2 so I went back and re-read Judith's article and I noticed I missed something. Laughing for at least 15 minutes a day can add 8.5 years to your life and having a positive attitude can add 9 years!
I just came from a walk in the most beautiful, sunny and bright of days and will attest that it sincerely improves my attitude and helps me slow down every time I have to leave my desk and go for a walk in the middle of the day instead of taking a break to watch yet another TED lecture ('crows using vending machines?!).
But the laughter, that part is huge! If I were to think of the one thing that this dog has added to our family it's more laughter. Whether he's caught his tail and is spinning endlessly or is playing fetch, dancing and jumping with my children or just doing something silly, there is WAY more laughter in our home because of him. I'll sometimes stop and listen to someone laughing at the dog and that moment overwhelms any of the regrets and pitfalls of owning a dog.
So if I actually floss, 6 years, am married, 1 year, have a positive attitude, 9 years and laugh at least 15 minutes a day, 8.5 years, then my relative age on Tuesday will be 28.5 I may look 52.5 on a good day, but I am definitely grateful to this little poop machine for adding so much to my life and my family's joy.