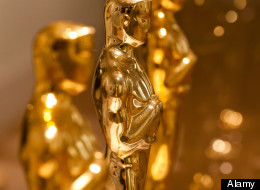 Maybe you're tossing a few bucks into the office pool to see if you can predict the winners of this year's Academy Awards. Well, why throw your money away on trying to guess which narcissist in formal wear is going to take home the little gold statue? Why not vote in a contest in which you might have a little more personal experience with the nominees? It's time to weigh in on the people you work with and how many of them deserve these dubious distinctions!
Ladies and Gentlemen, Vote Now in Your Workplace Oscars!
Much like those who leg it as soon as they see that the photocopier needs more toner, these key players in the workplace dynamic deserve their place in the pantheon. Who will win the title in your workplace?

Even when they're out in public, they try to play it low key, but it is that very playing it low key that gives them away, isn't it?

Can you identify the incompetent douchebag in this photo? Both look innocent enough, but one is an idiot who repeatedly undoes the good work you have done and repeatedly gets away with it. Sadly, the person you name the winner in this category may coast forever on not knowing how to do a damn thing, and that's what makes life so unfair.

You are ten thousand times more qualified to hold his or her position and corner office status than he or she is. However the only, and most well-regarded thing he or she is better at than you (as demonstrated by this photo) is never being there.

What can I get ya, my superior at work? Coffee? Dry cleaning? A plaque commemorating your best-bossness ever? I'm on it!

Sometimes it is a time-honored kitty hanging on a push-up bar with the "Hang On Baby, Friday's Coming" caption, or perhaps a Garfield or Ziggy homage. Either way, the saccharine makes your teeth hurt just walking by the space of this nominee.

Once you are within the blood-draining vortex of the workplace emotional vampire, you will be twice as tired after every workday and not even know why. Who's yours?

"Hi, how's it going?" I'll ask approximately eleven more times today, as you walk by. You know, just so you feel even more uncomfortable about keeping your distance.

The line of customers is twenty deep, but you can't help because someone has to do bathroom duty since Christian has not come back from roaming around Urban Outfitters on his break. Who is your workplace long break-taker?

Whether they call you an associate, a team member or a personal customer care representative, you are cog in the machine, and no fancy semantics is going to change that.

Be careful. This field has a lot of strong contenders. Including you.
James Napoli is an author and humorist. More of his comedy content for the Web can be found here.
Follow James Napoli on Twitter: www.twitter.com/JamesNapoli