God's Top Ten New Year's Resolutions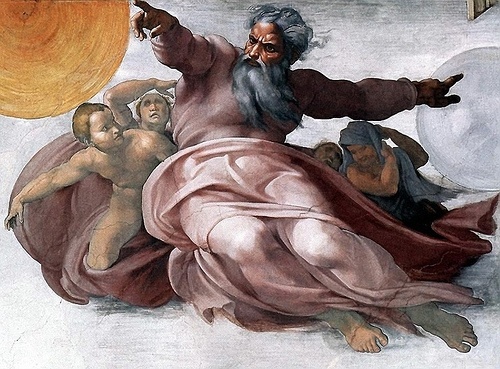 Hey, everybody, God here. Like most of you, I am prone to self-reflection as one year passes inexorably into another. It is a time to think about what I might be able to do differently and how I might improve myself and my position in the world. By demonstrating that even I, an all-powerful entity, would still like to get a leg up on things, I hope to provide inspiration and motivation to you mere mortals. So come on, lowly sinners, make this year your best ever!
God's Top Ten New Year's Resolutions, 2014
Why the hell not? Everyone else has.

I had finally adjusted to being used by politicians for stirring up hatred on every ideological issue under the sun. And when they spoke as if they had talked to me personally, I guess it appealed to my ego. Now, here comes this wild man trying to tell everybody my message has something to do with helping the poor and being a little less greedy. Dang, even I have to take a minute to regain my senses on that one.

I know I am supposed to be all forgiving, but I am not interested in how much you're (your) tomato's (tomatoes) are a pound, or in how its (it's) going with you lately. I mean, if thievery and adultery can land you in hell, why not this?

How would you like to bark a question into your smartphone and have GOD give you the answer? Bite me, Siri!

Yes, I'm sorry. It is the exact opposite of what so many of you will be resolving to do this year, but it's not easy being ethereal, you know. Most of the time, I'm barely there. (And no sarcastic comments about how you knew that already, atheists.)

You think it's easy to be omniscient? I may have been all-seeing and all-knowing a few thousand years ago, but there are just too many of you now. It's time I had an assistant. Thanks, Amazon.com for the inspiration!

Stress is a killer, and I have possibly the most stressful job in the universe. It's about time I got some health coverage. And since my annual income is, um, zero? I should hope they'll give me a break on the rates.

I am so far behind, you have no idea. Please don't give me a hard time.

Even if only a tenth of the world's population goes the extra mile when they post me a Facebook message on my birthday, that's still around 700 million Starbucks gift cards. Whoo-hoo!

The moochers in heaven have been living off entitlement programs long enough. There's money to be made in angel indoctrination school, trumpet lessons, choir practice and those rich guys that die and then always want to get sent back down for a second chance. It's time I showed my shareholders that there's profit potential in this long-term retirement community I call home.
More of James Napoli's comedy content for the Web can be found here.
Follow James Napoli on Twitter: www.twitter.com/JamesNapoli