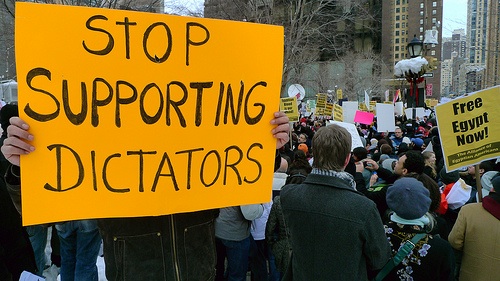 There is a lot of unrest in the world right now, and it seems there are forces that may be pushing some long-established dictatorships toward change. Therefore, it could perhaps be helpful to provide some sort of barometer for those who might, in the future, be experiencing democracy for the first time. A handy guidebook, if you will, to some of the more common characteristics of the democratic society; so that the transitional period from one form of government to the other can be more effectively finessed for the average citizen. It is in this spirit that the following list is offered.
Top Ten Signs You've Become a Democracy
Once it's clear that nobody is going to stand for the my-way-or-the-highway tactics of an autocrat, you will notice that the top dogs in a democracy come out with some mind-bending insults to your intelligence that nobody but you seems to notice. This is normal. Just put up with it and do your job (which we guarantee will earn you a fair wage).

You know you have crossed over into democratic rule when your neighborhood gets one of these delightful little markets that soon take over your whole life to the point where all you talk about at parties is how little you shelled out for that unbelievable hummus. The unhealthy attachment one feels for these stores is so great that it's worth putting up with their slightly annoying faux camaraderie and the fact that they discontinue all your favorite stuff on a regular basis.

People in democracies never cover up their flesh and are usually seen wearing little or no clothing. This turns them into decadent, walking advertisements for sex, which, depending on how you feel about your new political circumstances, is either a sign of the coming apocalypse or the most awesome thing in the world.

The people who were recently brought down by social networking know that to deprive a society of Facebook and Twitter will simply not stand. However, giving citizens the opportunity to waste time discussing movie nude scenes and reality TV instead of public policy seems to help make a democracy run much more smoothly.

Freedom of speech means that anybody can say anything they want and the rest of us can suck it. It's really kind of beautiful, despite the aggravation.

Sorry. Some things just don't change for working people from one form of government to another.

Go ahead, try and endure the stress of choosing which one you want without succumbing to an embolism. We dare you!

Given the vicissitudes of an entrenched political system, there is a very good chance that the person you vote for will retain roughly 6.5% of the passion and conviction he or she demonstrated during his or her election campaign!

You'll be glad to know that in a democracy, the wealthy are simply waiting for you to join them in the lap of luxury. And they want to give you every opportunity to be just as rich as they are. That's what democracy is all about!

At last, you have access to hats with fake moose antlers attached to them, hipster t-shirts and potato guns just to name a few. Life is good.
James Napoli is an author and humorist. More of his comedy content for the Web can be found here.
Follow James Napoli on Twitter: www.twitter.com/JamesNapoli