For anyone who takes inspiration from one Muse or another and has wondered how to compartmentalize that pursuit with other dreary and more pedestrian ones, you might profit from Anton Chekhov's observation that "Medicine is my lawful wife and literature my mistress; when I get tired of one, I spend the night with the other."
It being the 150th anniversary of his birth, what better way to commemorate the event than to cite productions of some of his work? Though he made major contributions (stream-of-consciousness, stories whose loose end refused to tie together) to the short story genre, he's arguably best known for the four major dramas he left behind, stories that not only reflect the changes about to occur in Russian society that would subsequently affect world history but which have also secured him a place as among the world most renowned dramatists.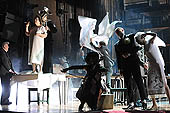 WHAT: "La Noce," by Anton Tchekjov (Performed in Bellorussian and Russian with French subtitles)
WHERE: Theatre des Abbesses, Paris, France
WHEN: October 19 - 23, 2010
HOW: http://www.theatredelaville-paris.com/index
Directed by Vladimir Pankov for the Théâtre Yanka Koupala Company, this tale of a wild and unrestrained wedding party becomes increasingly chaotic but ends up where it started, with songs.
WHAT: "The Seagull," by Anton Chekhov
WHERE: The Goodman Theatre, Chicago, Illinois
WHEN: October 16 - November 14, 2010
HOW: www.goodmantheatre.org
Armed only with his imagination and expansive recent study of the writings of Konstantin Stanislavsky, Artistic Director Robert Falls presents a story whose unforgettable characters reveal the passion and pathos of everyday life. When famed actress Irina visits her family with her young lover Trigorin in tow, they become ensnared in a tragicomic tangle of romance, intrigue and unrequited love.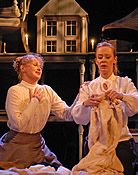 WHAT: "The Three Sisters," by Anton Chekhov (Performed in Russian with English subtitles)
WHERE: The John F. Kennedy Center for the Performing Arts, Washington, D.C.
WHEN: October 19 & 20, 2010
HOW: http://www.kennedy-center.org/
Directed by Declan Donnellan and designed by Nick Ormerod, this exclusive North American engagement of "The Three Sisters" is presented as part of the Chekhov International Theatre Festival. Following the disappointments of an upper class Russian family at the turn of the 20th century, the story recounts how three sisters encounter love, lust, and compromise under the roof of their provincial homestead.
All The World's a Stage," a regular feature exclusive for The Huffington Post, will span the globe, from San Diego to New Brunswick, from London to Tel Aviv and down to Sydney, covering everything from regional repertory to national theatre companies. In no way encyclopedic, it will function a voltage tester: what's going on here, what's up over there. In process more a soupcon, in content usually grouped thematically, it will remind those who already know - and proselytize those who don't - that live theatre is as much a source of higher truth as it is a font of entertainment. Even if you don't live near the particular productions cited, it is the aim of this monthly digital lintel planted over the HP's Arts portal to pique your interest, to suggest, politely but adamantly, that, to quote John Lennon, while life might be what happens when you're making other plans, live theatre is what happens when you buy a ticket.
Whether your tastes run from Shakespearean tragedy to barroom melodrama, from Ibsen to Durang, from decked-out, strike up the band productions in lavish musical halls to the evisceration of the psyche in bare bones black box venues; whether you want to have your heart tugged, your spirits lifted, your prospect on the human condition darkened or at least twittered, you can find it in live theatre. There's a troop and a trope for every taste, for every wallet, for every age, for every cause.
James Scarborough is an art, theatre, and film critic. He's a former member of the Los Angeles Drama Critics Circle. He studied art history at Berkeley and the Courtauld Institute at the University of London and has published essays and art criticism for such publications as Apollo, Frieze, Art in America, Flash Art, art+text, New Art Examiner, Art Monthly, and Art Press and has written numerous exhibition catalogue essays. His recent collected writings can be found at http://perhapsperhapsperhaps.typepad.com and at http://www.huffingtonpost.com/james-scarborough/.

SUBSCRIBE TO & FOLLOW CULTURE SHIFT
Level up. Read THIS and be the most interesting person at your dinner party. Learn more