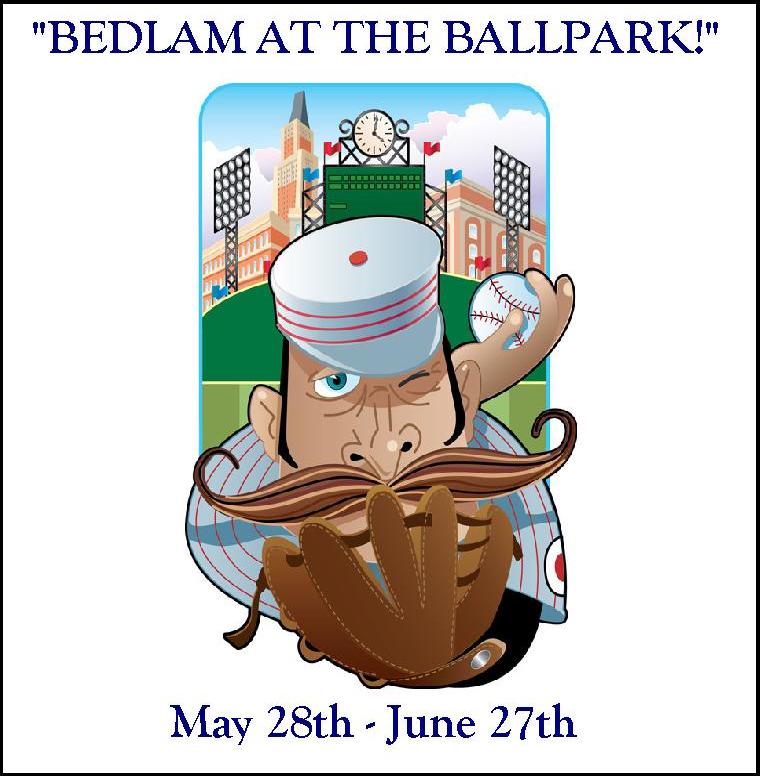 What's the proper response to a production that hits every pitch out of the park? A dash through Shoreline Village with M-80s and a megaphone might elicit a response from Homeland Security, and yet a smug smile hardly seems enough. However you commemorate it, Ken Parks's Bedlam at the Ballpark at the All American Melodrama Theater & Music Hall raises the bar for good old-fashioned, kid-friendly, adult raucous entertainment.
The piano playing of Rick Illes sets an arcadian tone that nicely complements the story, as do Ida Noe's costumes, especially the baseball uniforms, which give the show its retro feel of seemingly (but not really) more innocent days. At least the transgressions then weren't chemical. And the comic strip backdrops remind us how much can be done with so little.
As comfortable as the scenic touches are they don't overwhelm the story (as if, with this cast, such a thing could be done). Our hero K.C. Clutchhitter (Kevin Kem) is a rube (but a rube with integrity) whose baseball prowess will enable our heroine Penny Less (Amber Luellan), owner of the Sludgeville Sluggers, to fulfill her Father's (Paul Carganilla) dying wish to win the pennant. She is so stalwart to these wishes that her response to the smitten Clutchhitter's marriage proposal must wait until the season's end.
First she must contend with the snide banker Basil Batcrack's schemes to raze the stadium and lay train track. Then she must deal with further Batcrack treachery: he blackmails the good but nonetheless hard-boiled egg Carmen Gettit (Emily Pessano) into tricking (read: seducing) K.C. to sign a contract with an opposing team, thus squashing the Sluggers' hope for the pennant. (P.S., it's not that hard: K.C. is a baseball with loosely sewn seams).
The cast pitched a perfect game. As befits the interactive (boo, hiss, aw, hubba-hubba!) nature of melodrama, the especially lively audience inspired the already stoked cast, which in turn inspired the audience, so on and so hilariously forth. Parks's Basil Batcrack was snide and snarky to the nth degree. Kem's K.C. Clutchhitter, with an audacious face that belongs on a baseball card, should be nominated to comic baseball's Hall of Fame, as should Paul Sharaba's Pee Wee, the Sluggers's Lou Costello-esque player-coach. As a utility player, Paul Carganilla turned in exquisitely outlandish performances in a variety of roles, none funnier than an exchange between he as the nebbish railroad owner Lionel Train and Carmen that, in honor of her Argentine heritage, poignantly linked maracas and you-know-whats. Finally, what is melodrama without comely comediennes? One virtuous, the other smoldering, Luellan's Penny Less and Pesano's Carmen Gettit were the cat's pajamas, first meowing with feline jealousy and later toothing and clawing their way back from despair to thwart the canine claptrap and conniptions of one Basil Batcrack.
Performances are 7:30pm, Fri. & Sat., 4:30pm, Sat., and 7pm, Sun. The show runs until June 27. Tickets are $14-20. The Theater is located at 429 Shoreline Village Drive. For more info call 495-5900 or visit www.allamericanmelodrama.com
SUBSCRIBE AND FOLLOW
Get top stories and blog posts emailed to me each day. Newsletters may offer personalized content or advertisements.
Learn more