Without sacrificing one for the other, Cirque du Soleil's, Quidam merges spectacle with story to form a visually stunning and compelling narrative, with a beginning (our bored and lonely heroine Zoe takes a trip to Quidam), a middle (the extraordinary things she sees there), and an end (she reconnects with her parents once her father gets his groove on). Proving yet again (different generation, different circumstances) that you shouldn't trust anyone who acts like they're over 30, the production offers unadulterated escapism for grown ups and kids, provided you embrace your playground imaginations and aren't afraid of heights.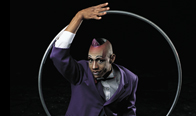 Like all good once upon a time stories, the evening begins as simple as can be. On a barely-lit stage stand a door, two chairs, a lamp, a coat rack, a table and, of great significance, a suitcase and a bird cage that houses a glowing red ball. That suitcase suggests a pending voyage; that red ball suggests a fettered bird (it darts around the stage in the course of the evening). Quickly evolving from a scene of domestic boredom to an Alice-down-the-rabbit-hole odyssey, Zoe's trip begins when an enormous, headless stranger appears at the door. She dons the open sesame hat he offers, and off she goes into the wonderland of Quidam.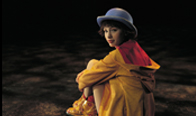 You relate to the evening through Zoe's eyes. She's a cross between Paddington Bear, Amelie, and the figures in Georges Seurat's "Bathers." She's a blank slate; though she looked liked her parents' daughter, she was open-minded, unjaded, and had yet to fall into their middle class, middle age rut.
The production hinges on two meanings of "gravity." First there's the parental variety, too much -- a serious, no-fun Dad who reads the paper and a mother who pays Zoe no attention at all. Then there's the Quidam variety, which is to say, none at all. In Quidam, gravity is defied, denied, and decried. Daredevil exploits include a German Wheel, a Cloud Swing, Hand Balancing, and an Aerial Contortion in Silk. Mini-narratives feature an Aviator with unserviceable wings, Boum Boum the Robot, and Mark the Clown, all attended to by John the Ringmaster, a disheveled, Pee Wee Herman, alter ego of Zoe's father.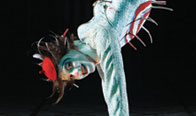 Zoe's (and our) excursion into what the Surrealists called the Marvelous has the spectacle of the dream sequence in Tchaikovsky's "Nutcracker Suite" and the out-of-time irrationality of that insane asylum in the World War Two-set movie King of Hearts. That's because Quidam's climate is contagious, provided you can accommodate surprise, and still have the spirit for fun. By the end, Quidam-therapy reconnects Zoe to her family; it re-links us to when we were kids on the playground.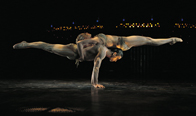 It's an interactive evening. We just don't witness what's possible, but, in two hilarious audience-participating scenes (Mark the Clown takes a young woman on a date in his jalopy; he makes a movie about a love triangle), we get to experience how enchantment is just a ruby slipper heel click away.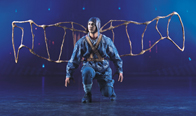 The most fun of an evening of ecstatic fun is a jump rope hootenanny. It begins with two figures jumping rope, just like at recess. Then the pace picks up exponentially, the moves become more complex. Then more and more characters join in until it's complicated beyond complicated, and yet executed with the perfect aplomb of a carefree kid. The skill level of this act and all the others may be out of this world (or at least not of it), but the evening's abandonment and exuberance remind us of the fun we had when we did mortal versions of them when we were kids.
Performances are 7:30 pm, Wednesday and Thursday, April 27 and April 28; 3:30 and 7:30 pm, Friday and Saturday, April 29 and 30; and 1:00pm and 5:00 pm, Sunday, May 1. The show runs until May 1. Tickets are $28-$95. The Citizen's Business Arena is located at 4000 East Ontario Center Parkway, Ontario, California. For more information call (800) 745-3000 or visit www.cirquedusoleil.com.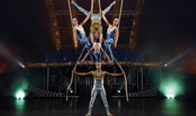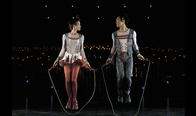 SUBSCRIBE TO & FOLLOW CULTURE SHIFT
Level up. Read THIS and be the most interesting person at your dinner party. Learn more